Please enter your birth date to watch this video:

You are not allowed to view this material at this time.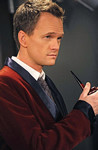 Episode Details & Credits
CBS |
Air Date:
March 23, 2009
Summary:
Marshall and Barney lie to keep Ted from finding out the headquarters he'd been hired to design for GNB has been cancelled. The gang try to decipher the story of a celebrity encounter Robin once had.
Seasons & Episodes
Season 9

Season 8

Season 7

Season 6

Season 5

Season 4

Season 4 Overview

Air Date: September 22, 2008

S4:E24. The Leap

Air Date: May 18, 2009

S4:E23. As Fast As She Can

Air Date: May 11, 2009

S4:E22. Right Place Right Time

Air Date: May 4, 2009

S4:E21. The Three Days Rule

Air Date: April 27, 2009

S4:E20. Mosbius Designs

Air Date: April 13, 2009

S4:E19. Murtaugh

Air Date: March 30, 2009

S4:E18. Old King Clancy

Air Date: March 23, 2009

S4:E17. The Front Porch

Air Date: March 16, 2009

S4:E16. Sorry, Bro

Air Date: March 9, 2009

S4:E15. The Stinsons

Air Date: March 2, 2009

S4:E14. The Possimpible

Air Date: February 2, 2009

S4:E13. Three Days Of Snow

Air Date: January 19, 2009

S4:E12. Benefits

Air Date: January 12, 2009

S4:E11. Little Minnesota

Air Date: December 15, 2008

S4:E10. The Fight

Air Date: December 8, 2008

S4:E9. The Naked Man

Air Date: November 24, 2008

S4:E8. Woooo!

Air Date: November 17, 2008

S4:E7. Not a Father's Day

Air Date: November 10, 2008

S4:E6. Happily Ever After

Air Date: November 3, 2008

S4:E5. Shelter Island

Air Date: October 20, 2008

S4:E4. Intervention

Air Date: October 13, 2008

S4:E3. I Heart NJ

Air Date: October 6, 2008

S4:E2. The Best Burger in New York

Air Date: September 29, 2008

S4:E1. Do I Know You?

Air Date: September 22, 2008

Season 3

Season 2

Season 1