Please enter your birth date to watch this video:

You are not allowed to view this material at this time.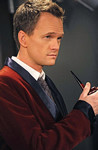 Episode Details & Credits
CBS |
Air Date:
April 13, 2009
Summary:
Ted goes out on his own as an architect and hires an intern to help get things started, but all he helps himself to is Robin. Meanwhile, news of impending layoffs at GNB has Marshall looking for a schtick to make him indispensible.
Seasons & Episodes
Season 9

Season 8

Season 7

Season 6

Season 5

Season 4

Season 4 Overview

Air Date: September 22, 2008

S4:E24. The Leap

Air Date: May 18, 2009

S4:E23. As Fast As She Can

Air Date: May 11, 2009

S4:E22. Right Place Right Time

Air Date: May 4, 2009

S4:E21. The Three Days Rule

Air Date: April 27, 2009

S4:E20. Mosbius Designs

Air Date: April 13, 2009

S4:E19. Murtaugh

Air Date: March 30, 2009

S4:E18. Old King Clancy

Air Date: March 23, 2009

S4:E17. The Front Porch

Air Date: March 16, 2009

S4:E16. Sorry, Bro

Air Date: March 9, 2009

S4:E15. The Stinsons

Air Date: March 2, 2009

S4:E14. The Possimpible

Air Date: February 2, 2009

S4:E13. Three Days Of Snow

Air Date: January 19, 2009

S4:E12. Benefits

Air Date: January 12, 2009

S4:E11. Little Minnesota

Air Date: December 15, 2008

S4:E10. The Fight

Air Date: December 8, 2008

S4:E9. The Naked Man

Air Date: November 24, 2008

S4:E8. Woooo!

Air Date: November 17, 2008

S4:E7. Not a Father's Day

Air Date: November 10, 2008

S4:E6. Happily Ever After

Air Date: November 3, 2008

S4:E5. Shelter Island

Air Date: October 20, 2008

S4:E4. Intervention

Air Date: October 13, 2008

S4:E3. I Heart NJ

Air Date: October 6, 2008

S4:E2. The Best Burger in New York

Air Date: September 29, 2008

S4:E1. Do I Know You?

Air Date: September 22, 2008

Season 3

Season 2

Season 1