Please enter your birth date to watch this video:

You are not allowed to view this material at this time.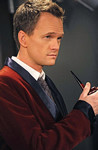 Episode Details & Credits
CBS |
Air Date:
January 3, 2011
Summary:
Marshall and Lily see a fertility specialist who bears a striking resemblance to Barney. Robin begins her research job at Worldwide News, but is shocked to discover Sandy Rivers works there and mortified when he reveals her embarrassing past.
Seasons & Episodes
Season 9

Season 8

Season 7

Season 6

Season 6 Overview

Air Date: September 20, 2010

S6:E24. Challenge Accepted

Air Date: May 16, 2011

S6:E23. Landmarks

Air Date: May 9, 2011

S6:E22. The Perfect Cocktail

Air Date: May 2, 2011

S6:E21. Hopeless

Air Date: April 18, 2011

S6:E20. The Exploding Meatball Sub

Air Date: April 11, 2011

S6:E19. Legendaddy

Air Date: March 21, 2011

S6:E18. A Change Of Heart

Air Date: February 28, 2011

S6:E17. Garbage Island

Air Date: February 21, 2011

S6:E16. Desperation Day

Air Date: February 14, 2011

S6:E15. Oh Honey

Air Date: February 7, 2011

S6:E14. Last Words

Air Date: January 17, 2011

S6:E13. Bad News

Air Date: January 3, 2011

S6:E12. False Positive

Air Date: December 13, 2010

S6:E11. The Mermaid Theory

Air Date: December 6, 2010

S6:E10. Blitzgiving

Air Date: November 22, 2010

S6:E9. Glitter

Air Date: November 15, 2010

S6:E8. Natural History

Air Date: November 8, 2010

S6:E7. Canning Randy

Air Date: November 1, 2010

S6:E6. Baby Talk

Air Date: October 25, 2010

S6:E5. Architect of Destruction

Air Date: October 18, 2010

S6:E4. Subway Wars

Air Date: October 11, 2010

S6:E3. Unfinished

Air Date: October 4, 2010

S6:E2. Cleaning House

Air Date: September 27, 2010

S6:E1. Big Days

Air Date: September 20, 2010

Season 5

Season 4

Season 3

Season 2

Season 1