Please enter your birth date to watch this video:

You are not allowed to view this material at this time.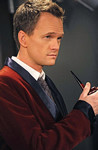 Episode Details & Credits
CBS |
Air Date:
November 8, 2010
Summary:
When the gang goes to a black tie event at the Natural History Museum, Ted gets introduced to Zoey's husband, The Captain, while Barney and Robin entertain themselves by touching as many of the museum's "Do Not Touch" exhibits as they can. Lily is aghast to learn Marshall plans to accept a long-term contract with GNB.
Seasons & Episodes
Season 9

Season 8

Season 7

Season 6

Season 6 Overview

Air Date: September 20, 2010

S6:E24. Challenge Accepted

Air Date: May 16, 2011

S6:E23. Landmarks

Air Date: May 9, 2011

S6:E22. The Perfect Cocktail

Air Date: May 2, 2011

S6:E21. Hopeless

Air Date: April 18, 2011

S6:E20. The Exploding Meatball Sub

Air Date: April 11, 2011

S6:E19. Legendaddy

Air Date: March 21, 2011

S6:E18. A Change Of Heart

Air Date: February 28, 2011

S6:E17. Garbage Island

Air Date: February 21, 2011

S6:E16. Desperation Day

Air Date: February 14, 2011

S6:E15. Oh Honey

Air Date: February 7, 2011

S6:E14. Last Words

Air Date: January 17, 2011

S6:E13. Bad News

Air Date: January 3, 2011

S6:E12. False Positive

Air Date: December 13, 2010

S6:E11. The Mermaid Theory

Air Date: December 6, 2010

S6:E10. Blitzgiving

Air Date: November 22, 2010

S6:E9. Glitter

Air Date: November 15, 2010

S6:E8. Natural History

Air Date: November 8, 2010

S6:E7. Canning Randy

Air Date: November 1, 2010

S6:E6. Baby Talk

Air Date: October 25, 2010

S6:E5. Architect of Destruction

Air Date: October 18, 2010

S6:E4. Subway Wars

Air Date: October 11, 2010

S6:E3. Unfinished

Air Date: October 4, 2010

S6:E2. Cleaning House

Air Date: September 27, 2010

S6:E1. Big Days

Air Date: September 20, 2010

Season 5

Season 4

Season 3

Season 2

Season 1