Please enter your birth date to watch this video:

You are not allowed to view this material at this time.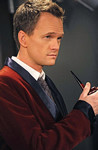 Episode Details & Credits
CBS |
Air Date:
November 5, 2012
Summary:
Ted asks Marshall and Lily for advice as he considers the future of his relationship with Victoria. Robins discovers that Barney's new wingman isn't human.
Seasons & Episodes
Season 9

Season 8

Season 8 Overview

Air Date: September 24, 2012

S8:E24. Something New?

Air Date: May 13, 2013

S8:E23. Something Old

Air Date: May 6, 2013

S8:E22. The Bro Mitzvah

Air Date: April 29, 2013

S8:E21. Romeward Bound

Air Date: April 15, 2013

S8:E20. The Time Travelers

Air Date: March 25, 2013

S8:E19. The Fortress

Air Date: March 18, 2013

S8:E18. Weekend at Barney's

Air Date: February 25, 2013

S8:E17. The Ashtray

Air Date: February 18, 2013

S8:E16. Bad Crazy!

Air Date: February 11, 2013

S8:E15. P.S. I Love You

Air Date: February 4, 2013

S8:E14. Ring Up

Air Date: January 21, 2013

S8:E13. Band or DJ?

Air Date: January 14, 2013

S8:E12. The Final Page, Part Two

Air Date: December 17, 2012

S8:E11. The Final Page, Part One

Air Date: December 17, 2012

S8:E10. The Over-Correction

Air Date: December 10, 2012

S8:E9. Lobster Crawl

Air Date: December 3, 2012

S8:E8. Twelve Horny Women

Air Date: November 26, 2012

S8:E7. The Stamp Tramp

Air Date: November 19, 2012

S8:E6. Splitsville

Air Date: November 12, 2012

S8:E5. The Autumn of Breakups

Air Date: November 5, 2012

S8:E4. Who Wants to Be a Godparent?

Air Date: October 15, 2012

S8:E3. Nannies

Air Date: October 8, 2012

S8:E2. The Pre-Nup

Air Date: October 1, 2012

S8:E1. Farhampton

Air Date: September 24, 2012

Season 7

Season 6

Season 5

Season 4

Season 3

Season 2

Season 1