Network:

Syfy

Series Premiere Date:

Apr 11, 2016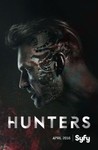 Starring:

Gareth Davies

,

Julian McMahon

,

Lewis Fitz-gerald

Summary:

Baltimore FBI agent Flynn Carroll's (Nathan Phillips) search for his missing wife leads him to the classified alien Exo-Terrorism Unit (ETU) and is paired with Regan (Britne Oldford), who may be more than she seems in this sci-fi drama based on Whitley Strieber's novel Alien Hunter.

Genre(s):

Drama

,

Action & Adventure

,

Science Fiction
Season 1 premiere date:

Apr 11, 2016

Episode Length:

60
The conspiracy thickens without ever grabbing you--mostly because Flynn is so, so boring. The show tries to add some juice to his story line by hinting that Abby might be an alien herself, but good luck trying to muster up the energy for caring about that. ... Hunters does have some things going for it: Britne Oldford, who steals scenes as the conflicted agent. ... Speaking of watchable aliens, the main baddie McCarthy is another treat. Julian McMahon plays him with a deranged sense of fun.

Bad and dark and confusing things ensue, but the human characters are so completely unengaging.

Much of Hunters seems like torture porn. McMahon overacts as the unhinged Hunter who seems to want to destroy humanity but is taking the long road to armageddon. Phillips is just miscast as humanity's best hope.

It panders to [its audience] so insultingly that most probably wouldn't mind an episode of Warehouse 13, even at its absolute kookiest, in the place of this show's early installments. Hunters isn't part of the network's identity crisis: it is the network's identity crisis.

Utterly generic, conceptually cynical and instantly forgettable.

The action is sluggish and perfunctory, with most encounters playing out as shadowy warehouse chases where tension is equated with lack of situational awareness by the heroes. The Hunters themselves are a nondescript jumble of alien races we've seen many times before.

One of the schlockiest, most amateur series to come along in the #PeakTV era, Syfy's Hunters delivers a mashup of a terrorist-tracking drama and alien invasion story.
It is true that the pilot is somewhat disjointed, but by episode three Hunters become stylistically reminiscent of Torchwood. If you want

It is true that the pilot is somewhat disjointed, but by episode three Hunters become stylistically reminiscent of Torchwood. If you want happy, silly, blood-free, sanitized entertainment, go watch something else ("Saved by the Bell", perhaps)

All the foundation elements for a great long-term series are in place. The villain is most excellent, best one I've seen on tv in a decade. The mystery element is extremely promising: How do you deal with an infiltration by an apparently hostile force that has unknown (possible unknowable) motivations and capabilities?

The characters do take time to develop - it must be really annoying for the cheapo "critics" who prefer to announce their verdict based on fast-forwarding through the pilot. But those of us who stick with the show will enjoy the ride.

Hunters will develop to be better than X-Files or Fringe, a successor worthy of our gritty age.

…

Expand

Great post 9/11 sci-fy show. Yes, the pilot is not great as it does not hint enough on what's next. But it is something that happens for a ton

Great post 9/11 sci-fy show. Yes, the pilot is not great as it does not hint enough on what's next. But it is something that happens for a ton of show. It is a matter of being willing to go past the first episode. It gets better and better by the episode

…

Expand

Pilot was fairly crappy, but they got their act together afterwards. Since then, It just keeps getting better. A Scifi equivalent of Homeland.

Pilot was fairly crappy, but they got their act together afterwards. Since then, It just keeps getting better. A Scifi equivalent of Homeland. Awesome!!!

…

Expand

It looks rather cheap, boring characters & cast, and the writing isn't good at all. After only a few minutes you know that sadly it's a waste of time.

Sometimes new shows are great and draw you in. Sometimes new shows leave you scratching your head asking what did I just watch. "Hunters"

Sometimes new shows are great and draw you in. Sometimes new shows leave you scratching your head asking what did I just watch. "Hunters" falls into that latter category. I watched the pilot. I'm not sure what it's about, where it's going, or why I would ever want to watch again. That's a problem.

…

Expand

Boring characters, unimpressive story line, a total disappointment. The main character is so unlikable that if they cut him out right now you

Boring characters, unimpressive story line, a total disappointment. The main character is so unlikable that if they cut him out right now you wont notice. The plot thickens as it goes but it was not interesting to begin with. I gave it the benefit of the doubt as a si-fi fan but I cant take it anymore!

…

Expand

A rather pitiful show from a company that had of late produced some real winners. They turn down making great shows like descendants and

A rather pitiful show from a company that had of late produced some real winners. They turn down making great shows like descendants and instead produce f grade rubbish like this which has a interesting idea but poor characters shallow script lines that are forgettable and lead characters that are a really good reason not to watch this sad excuse for a show

…

Expand