Network:

TV LAND

Series Premiere Date:

Jul 15, 2015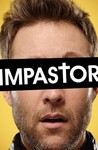 Summary:

Buddy Dobbs (Michael Rosenbaum) is on the run from a loan shark, when he steals someone's identity and ends up in a small-town posing as their new gay pastor.

Genre(s):

Comedy
Season 1 premiere date:

Jul 15, 2015

Episode Length:

20
Please enter your birth date to watch this video:
You are not allowed to view this material at this time.
Buddy is the improbable antihero of a cheerfully improbable comedy. [13-26 Jul 2015, p.12]

Impastor has a stronger­ point of view [than The Jim Gaffigan Show] but fewer laughs.

Impastor plays right into the stereotypes. Impastor has an edgy veneer--but once it rubs off, you're left with an entirely ordinary show.

Ultimately, it feels like one joke stretched far too thin, with the added complication that its jokey approach to religion is likely to offend some people without compensating for that with thoughtful satire.

Nothing is at all believable in the script, and nothing's very funny, either. On top of that, the charm and abilities of Rosenbaum and Sara Rue, who plays the church secretary, are wasted with bad writing.
I couldn't wait anymore to see Michael Rosenbaum in a new tv show and I'm happy he's in this one!
This is the best new comedy show of thisI couldn't wait anymore to see Michael Rosenbaum in a new tv show and I'm happy he's in this one!
This is the best new comedy show of this summer!
All the cast is very funny and hilarious, the writing is witty and clever, the soundtrack is amazing!
Every episode is 20 minutes of laughs and pure fun!
I hope it will be soon renewed for season two because I'm loving this show always more and more!
To watch!!

…

Expand

This show rocks! I hated all those multi-cam "laughers" TV Land used to put on, but Impastor is brilliant! The acting, writing and look of

This show rocks! I hated all those multi-cam "laughers" TV Land used to put on, but Impastor is brilliant! The acting, writing and look of the show are all excellent. It's very funny, and if they keep it as interesting as the pilot, I'm in for the season!

…

Expand

I laughed out loud multiple times during the first episode. And i honestly can't remember the last time that I did that during a show. Yes,

I laughed out loud multiple times during the first episode. And i honestly can't remember the last time that I did that during a show. Yes, there are a couple of stereotypical characters, but that happens during a 22 minute first episode that has to jam in an entire backstory for a show. The cast is very strong, especially Rosenbaum and Rue and I'm just really looking forward to see what happens next.

…

Expand

This show is well acted,original,funny and entertaining.While some things seems far too unrealistic (like most shows) it still is one of the

This show is well acted,original,funny and entertaining.While some things seems far too unrealistic (like most shows) it still is one of the best show currently playing.

…

Expand

What to make of this show? It's a possibly interesting concept -- a man contemplating suicide is given a chance to start over as someone else.

What to make of this show? It's a possibly interesting concept -- a man contemplating suicide is given a chance to start over as someone else. In addition, having said man attempt to impersonate a priest who recently came out of the closet could be fun, too. This feels like the kind of idea that could make for a light-hearted and wacky 90-minute film. As a series, I'm not sure it's going to work. The cracks began to show in the pilot, which was uneven.

…

Expand

Disgraceful... get some character TV Land. I have no idea what happened to this network but it has gone down the tubes for a some dirty

Disgraceful... get some character TV Land. I have no idea what happened to this network but it has gone down the tubes for a some dirty laughs... well, I am not laughing. †

…

Expand

One of the lowest of bad comedies on TV, if TV Land qualifies as a channel. Stereotypes run rampant. Made by straight people who like to

One of the lowest of bad comedies on TV, if TV Land qualifies as a channel. Stereotypes run rampant. Made by straight people who like to laugh at gay people :-(

…

Expand