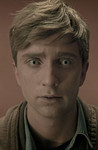 Starring:

Ricky Tomlinson

,

Sandra Huggett

,

Kenneth Cranham

Summary:

Kieran Walker (Luke Newberry) dreams of escaping Roarton as a new political party threatens to break the fragile peace between the residents in town.

Genre(s):

Drama

,

Horror
Creator:

Dominic Mitchell

Season 2 premiere date:

May 10, 2014

Episode Length:

60
In the Flesh is of course a complex and thought-provoking allegory.

Gritty-smart horror that nicely complements BBC America's sci-fi sensation Orphan Black. [9 May 2014, p.57]

Thanks to the six-hour order, there's no shortage of subplots for the many returning faces, all of which still smartly stay close to the community hearth.

A creepier, freakier Resurrection, in which the returned are almost human but just "other" enough to cause problems, Flesh aims high as an allegory of social prejudice and political extremism.

There are shades of "True Blood" and "Being Human" here, and you hope that the show doesn't drift away from the everyday dilemmas of the Walkers, who are excellently portrayed by Mr. Newberry, Harriet Cains (Kieren's no-nonsense sister) and Marie Critchley and Steve Cooper (their parents).
Great show! I can honestly say that i can relate to all of the characters. Very well written. Kind of dark and sometimes funny. I am

Great show! I can honestly say that i can relate to all of the characters. Very well written. Kind of dark and sometimes funny. I am personally very impressed.

…

Expand

Never in my life have I seen my own life reflected through a TV series. Without being stated, I felt as though I'd gone through Kieran's'

Never in my life have I seen my own life reflected through a TV series. Without being stated, I felt as though I'd gone through Kieran's' story when I came out as gay to my family and the trials I'd gone through. The storyline is fresh for a zombie-based series and it promises to become a smash hit; how it hasn't been widely recognised by the public yet baffles me.

…

Expand

Refreshingly different to other sci-fi dramas out there. Credit to the creators, especially the writers as they have built something tight

Refreshingly different to other sci-fi dramas out there. Credit to the creators, especially the writers as they have built something tight that can't collapse as do so many dramas. The premise, outrageous but simple, is now established. What is really fascinating is the number of avenues for exploration - family and society drama, sci-fi and big brother, coming of age and sexuality, it's all in there and if the writers are careful this could run for many series yet. And all this with zombies...sorry, Partially Dead Syndrome sufferers.

…

Expand

Decriminalizing a sickness is a first for Western Civilization if Britain can still be considered as such.

This is a delightful take onDecriminalizing a sickness is a first for Western Civilization if Britain can still be considered as such.

This is a delightful take on traditional zombification. This season treats rebelliousness of youthful zombies and different addiction topics

…

Expand

Absolute must see if are interested in horror. The story is convincing and clever, the direction the same among the genereal accepted. Clear

Absolute must see if are interested in horror. The story is convincing and clever, the direction the same among the genereal accepted. Clear case, when the screenwriter is better than the graphic designer.

…

Expand

I felt that season one was remarkable. It couched the zombie story in a sensitive and sensible way. I am so sick of watching ugly zombies

I felt that season one was remarkable. It couched the zombie story in a sensitive and sensible way. I am so sick of watching ugly zombies chasing around and chomping on hapless still-living human beings. Haven't we a;; "been there-done that" enough already? Season two was a little disappointing since we now have zombie/human conflict that is beginning to get a bit close to chasing and chomping. I understand the political and social allegory going on here and it is quite good. Still, a little disappointing but also, still, the best zombie show out there.

…

Expand

An English oddity in the same vein as League of Gentlemen. American TV is so full of colour and British is so drab that it manages to make

An English oddity in the same vein as League of Gentlemen. American TV is so full of colour and British is so drab that it manages to make everything appear near death, zombie or not. We are set in the dreariest village of all time where mobile phones or police (or anyone with architectural taste?)are non existent. The show attempts a social allegory (which is poured on thick but it doesn't really spoil it) and is successful in conveying realism in such an odd way. There is a English premium granted by US audiences to UK productions. I'll subscribe to it myself this time for the sheer eccentricity of the show.

…

Expand