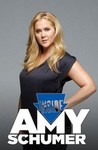 Starring:

Amy Schumer

,

Joe Coots

Summary:

Michael Ian Black, Zach Braff, Janeane Garofalo, Paul Giamatti, Artie Lange, Colin Quinn, Parker Posey, Chrissy Teigen, and Ahmir "Questlove" Thompson are some of the guests on the comedy series' second season.

Genre(s):

Comedy
Please enter your birth date to watch this video:
You are not allowed to view this material at this time.
When Inside Amy Schumer commits fully to that work, it's television unlike almost anything else on the air today.

While not all of the ensuing skits work as well, plenty of gags land, ahem, hard. [18/25 Apr 2014, p.102]

Inside Amy Schumer is triumphantly raunchy as it toggles between stand-up vignettes, person-on-the-street interviews and barbed sketches with a gamy sting.

As with all sketch comedy shows, not every bit connects.... And yet every time you're tempted to suggest that Inside Amy Schumer could potentially succumb to a sophomore slump, the writers bring it back around.

Episodes end with a sit-down interview labeled "Amy Goes Deep"--everything on this show is a double-entendre--in which Ms. Schumer might talk to a sex columnist, a phone-sex operator or a pornography cameraman. That's a lot of extra business for a half-hour sketch show, and as charming and quick on her feet as Ms. Schumer is in these segments, they can feel like filler.

She doesn't explode off the screen. She does make you laugh.
Amy Schumer is by far the funniest actress/comedian on TV. She is a wonderful blend of self-deprecation and biting social commentary. I loved

Amy Schumer is by far the funniest actress/comedian on TV. She is a wonderful blend of self-deprecation and biting social commentary. I loved it when she used to go on redeye every couple of weeks. It's that kind of outsider Outcast comedy that help her make her bones. Similar to Louis, I like the fact that she invites other kooky comedians such as Jim Norton in on the fun. I would love to see her get off of the dead-end that is Comedy Central and eventually get on either FX or HBO as a permanent home.

…

Expand

Amy Schumer manages to take the male dominated Comedy Central by storm. I find it to be one of the best shows the channel currently offers.

Amy Schumer manages to take the male dominated Comedy Central by storm. I find it to be one of the best shows the channel currently offers. Her sketches are diverse and hilarious. Here humor is mostly about sex, relationships, and other things in life all from a women's point of view. Despite that this is one show that can appeal to both women and men because of just how funny Schumer is. That is truly an impressive feat, and I highly recommend that you check out her shows second season.

…

Expand

Greatness in the mix. I'm sure she will get the comparison that the format echo's Louie Ck's epic self parody but she should be extremely

Greatness in the mix. I'm sure she will get the comparison that the format echo's Louie Ck's epic self parody but she should be extremely proud that it even comes near it in quality. Amy has a sharp sardonic wit that, mixed with an undercurrent of vulnerability, creates a special quality in true comic talent. It also helps that she can quickly go from being truly beautiful to somewhat repulsive. A gift not many actors can carry so comfortably. Keep an eye on Amy. She is destined for something wonderful.

…

Expand