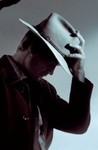 Starring:

Natalie Zea

,

Walton Goggins

,

Timothy Olyphant

Summary:

While Raylan investigates a cold case that is connected to his father, Boyd finds his business slowing down with the arrival of Preacher Billy.

Genre(s):

Drama

,

Action & Adventure
Creator:

Graham Yost

Season 4 premiere date:

Jan 8, 2013

Episode Length:

60
Please enter your birth date to watch this video:
You are not allowed to view this material at this time.
What gives the show its kick is the gleefully childish lack of repentance shown by most of these rascals--countered by Olyphant's coolly amused control. [4 Feb 2013, .39]

The dialogue in the first two episodes of the new season crackles with brilliance.

It keeps going about its business, getting better than ever each season with a restrained but gripping approach that's also sure to wear well decades from now.

The lovely thing about Justified is that it delivers all the shaggy charm of a diverting character piece even as a supple, strongly structured story gives the whole affair an unmistakable energy and direction.

For all its gore, gunfire, and criminal nastiness, it's a joyous show; even when the characters are scowling, the show seems to be grinning at you.

A fourth season of wryly amusing but often shockingly brutal backwoods mayhem.

Always fun, the first two hours of the FX drama's fourth season are also meandering, introducing several new players, but as yet failing to betray much about how or when they'll intersect. Fortunately, star Timothy Olyphant by himself remains ample reason to tune in.
Another great year with Raylan. "Justified" just keeps delivering dialogue that is unmatched by most shows. Here we have baddies that we

Another great year with Raylan. "Justified" just keeps delivering dialogue that is unmatched by most shows. Here we have baddies that we hate to love and baddies that we love to hate. Boyd and Raylan are two beautifully drawn characters that each year become more interesting. We have prostitutes who have hit rock bottom, cops who find it hard to do the right thing and cops who are conflicted, war vets who have totally lost their way and other well defined characters. From the opening song to the end credits "Justified" delivers week after week.

…

Expand

I love this show. Everyone is right--it just keeps getting better. I'm so intrigued by many things this season--the young preacher, the cold

I love this show. Everyone is right--it just keeps getting better. I'm so intrigued by many things this season--the young preacher, the cold case, and especially: the seeming possibility that we'll actually get to spend more time with Tim and Rachel, who are and always have been the most criminally underused elements of the show. I'm crossing my fingers that this is their year. I'm also waiting for a seasonal character to stun me the way Margo Martindale did in Season 2. Mykelti Williamson came close last season with Limehouse, but no supporting character has thrilled me more than Mags Bennett, so I'm curious to see who the top seasonal character will be this year.

…

Expand

Great start to the fourth season. This will probably be another criminally overlooked show by pathetic award shows. F/X seems to have found

Great start to the fourth season. This will probably be another criminally overlooked show by pathetic award shows. F/X seems to have found a niche for brilliant shows that don't get any credit.

…

Expand

Another top tier season from the Kentucky hollers. The mystery storyline seemed to meander a bit, but was taken care of before the season's

Another top tier season from the Kentucky hollers. The mystery storyline seemed to meander a bit, but was taken care of before the season's denouement so I'm only gonna knock Boyd n Raylan down to a 9. This was probably the silver medal season so far (season 2 being the gold) but this is still one of the most consistently entertaining and enjoyable hours on television. It is one of those shows where nearly every week I inevitably look at the guide to see how far along I am and find there are only ten minutes left and glumly wonder how 50 minutes slipped by so fast. I always wish it was longer. That's what she said.

…

Expand

Ok, I'm updating my score higher than the 4 I gave it before. The second episode was 100 times better than the opener. Looks like the show is

Ok, I'm updating my score higher than the 4 I gave it before. The second episode was 100 times better than the opener. Looks like the show is going to be great like usual afterall.

…

Expand

Season 4 changed the story telling in an attempt to make the show fresh. With that said, season 4 wasn't a triumph. It was solid, though. It

Season 4 changed the story telling in an attempt to make the show fresh. With that said, season 4 wasn't a triumph. It was solid, though. It was satisfying despite not achieving its main goal. It was fun along the way. It was incisive at times and revealing at others. Everything about Drew Thompson was a good time and it ended with a great big bang. More or less, Season 4 was a good thing.

…

Expand

This season has just been god awful. The entire plot revolving around this dead man who is really alive. It was such a painfully boring

This season has just been god awful. The entire plot revolving around this dead man who is really alive. It was such a painfully boring mystery that felt like a slap in the face once you figured it all out and not in a good way. Easily the worst season of the show.

…

Expand