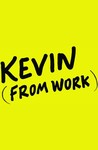 Summary:

Thinking he has a new job overseas, Kevin (Noah Reid) tells his co-worker Audrey (Paige Spara) he loves her in a letter, only to have to return to his original job after his career opportunity falls through.

Genre(s):

Comedy
Season 1 premiere date:

Aug 12, 2015

Episode Length:

20
Thanks to clever writing and smart pacing, everyone from Work gets a chance to shine. [14 Aug 2015, p.56]

You know exactly what you'll get from creator Barbara Adler within five minutes, and that's not bad at all.

[McG's] quirky approach mostly works. That's in part because Reid is just vulnerable and stammering enough as Kevin, and his starry-eyed view of Audrey helps soften the cartoon-like aspects that permeate the show elsewhere, inasmuch as this is ultimately a Kevin-centric look at the world, with Audrey as the center of the universe.

On one hand, the microscopic nature of Kevin from Work is fresh and daring in a millennial-friendly sort of way as are Reid and Spara's attractive visages and tangible chemistry. On the other hand, the webby approach and the caricature heavy supporting cast erode the show's legitimacy.

Random wackiness is only as funny as the story that anchors it, and Kevin relies too much on our Skinnerian tendency to root for the underdog.

Yes, there are awful caricatures among the male characters too, but at this moment it's the female ones who really grate.... It's all supposed to be mindless fun, but the jokes are too unsophisticated and unoriginal to justify the damage.
great script writing and great setting and the adjustments was brilliant and i absolutely loved every single episode from start to the end of

great script writing and great setting and the adjustments was brilliant and i absolutely loved every single episode from start to the end of season 1 i hope and pray there's a season two cause i loved it

…

Expand

Awkward office comedies and comedies featuring unrequited office romances are staples of the genre. "Kevin From Work" likely aspires to be a

Awkward office comedies and comedies featuring unrequited office romances are staples of the genre. "Kevin From Work" likely aspires to be a younger, hipper version of "The Office," based on its two episode sample offered Wednesday night. It's not. The show's not that clever, and the characters aren't that great. This is the best of the sitcoms I've seen on ABC Family, but that's not saying much.

…

Expand