Network:

ABC

Series Premiere Date:

Oct 3, 2017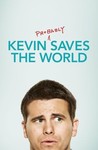 Summary:

Originally called The Gospel of Kevin, self-centered Kevin Finn (Jason Ritter) is chosen by God to save the world, but first Yvette (Christina Alonso), a messenger of God, must help guide Kevin toward the right path in this drama from Michele Fazekas and Tara Butters.

Genre(s):

Drama
Season 1 premiere date:

Oct 3, 2017

Episode Length:

60
This hour-long dramedy relies heavily on Ritter's ability to sell its outlandish, at times confusing, premise, and to the degree that it succeeds, it's almost entirely due to the star's powers of persuasion over any objective standard.

Accepting the celestial quirk takes a leap, but Kevin's dynamic with his grieving twin (JoAnna Garcia Swisher) anchors the tale and Ritter's charisma elevates it. [6 Oct 2017, p.53]

The whole cast is solid and Ritter is the perfect choice to play Kevin Finn. He is as convincing in the dramatic moments as he is in the more comedic moments of the show.

Quibbles about the premise aside, Ritter makes and sells this show. He balances the pathos and the comedy. In lesser hands, this hour just would not be appealing.

The rules explained by the angel (Kimberly Hebert Gregory, replacing Cristela Alonso from the pilot) are both complicated and nebulous, and it's not clear what Kevin is supposed to do beyond being a do-gooder. Maybe "Touched by a Guy Touched by an Angel" is what this show is going for?

The problem is that there is so much stone-skipping across tones in the first episode that it's hard to settle in and get a feel for what kind of show Kevin (Probably) Saves the World, co-created by former Agent Carter showrunners Michele Fazekas and Tara Butters, is going to be. ... For now, based solely on the pilot, I'd say Kevin (Probably) Saves the World is (probably) not worth the space it's going to take up on your DVR.

The first episode is so sappy it belongs on pancakes--and, yes, I realize the world is hurting, but patronizingly low-grade inspirational junk like this is not the answer to anyone's problems.
A show that offers HOPE and feel goods when our reality is crumbling. I love this show and will continue to watch! The entire cast is perfect.

A show that offers HOPE and feel goods when our reality is crumbling. I love this show and will continue to watch! The entire cast is perfect. I'm excited to see where this show takes us, and I'm even more excited to see a show that's not about murder and loss cross my television. I love it!

…

Expand

This show is absolutely fantastic. It has a lot of heart, but it's also funny. Jason Ritter is amazing. As The Mayor, this drama is hopeful

This show is absolutely fantastic. It has a lot of heart, but it's also funny. Jason Ritter is amazing. As The Mayor, this drama is hopeful and believes that there is more good than evil in the world and that's just great. There should be more shows like this on TV. Escapism at its best.

…

Expand

I absolutely love this show - and recommend it to anyone looking for a positive show that will leave you feeling better about humanity. I wish

I absolutely love this show - and recommend it to anyone looking for a positive show that will leave you feeling better about humanity. I wish it had a better timeslot - ratings reflect the challenges of a 10pm Tuesday show that isn't about crime, murder, or sex. Why this is a 10pm and Gotham is an 8pm is beyond understanding. I'd love to let my kids watch Kevin Probably, but they have 8pm bedtimes.

Great cast, wonderful writing, and lots of hearts. I hope it survives for a second season - we need more shows like Kevin!

…

Expand

I think this is one of the better new shows premiering this week. Lots of heart and a very good cast. I think it will find a great many

I think this is one of the better new shows premiering this week. Lots of heart and a very good cast. I think it will find a great many viewers with a original concept of answering the question of "Why Do I exist on this earth and what is my better purpose"? I will most definitely watch and many friends will. I've gotten texts to catch this zany new show. It appears depressing until you watch this show unfold into a very meaningful positive experience. Nothing wrong at all with a positive message about kindness and purpose. Great job. Loved it !!!

…

Expand

This review contains spoilers

, click expand to view

.

This is one of my favorite new shows and I think it is really funny. I love Jason Ritter and Fell he gives a hilarious and stupendous performance. I am really disappointed this show was cancelled.(

…

Expand

I for one loved this show its like another reviewer said before this show offers hope and is all about redemption and faith in the heavenly

I for one loved this show its like another reviewer said before this show offers hope and is all about redemption and faith in the heavenly father along with laughter and enjoyment along the journey you just cant think of a bad thing to say about this show its everything you want in a new fall show and I for one am happy to see this welcoming site and can only hope it gets even better I am also so sick of murder and death on tv bring on more shows like this one please

…

Expand

Silly. Silly. Silly. Silly. Silly. Silly. Silly. Silly. Silly. Silly. Silly. Silly. Silly. Silly. Silly. Silly. Silly. Silly. Silly. Silly.

Silly. Silly. Silly. Silly. Silly. Silly. Silly. Silly. Silly. Silly. Silly. Silly. Silly. Silly. Silly. Silly. Silly. Silly. Silly. Silly. Silly. Silly.

…

Expand