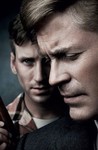 Starring:

Michelle Trachtenberg

,

Ginnifer Goodwin

,

Rob Lowe

Summary:

Based on Martin Dugard and Bill O'Reilly's book of the same name, it shows the events of John (Rob Lowe) and Jackie (Ginnifer Goodwin) Kennedy as well as Lee Harvey Oswald (Will Rothhaar)and his Russian wife Marina (Michelle Trachtenberg) leading up to the assassination of the president.

Genre(s):

Drama

,

Movie/Mini-Series
Show Type:

TV Movie

Season 1 premiere date:

Nov 10, 2013
[A] solidly watchable, quickly forgettable dramatic snapshot of indelible history.

Rob Lowe does a respectable turn as JFK... [But] It's the lesser-known story of Lee Harvey Oswald, expertly played with simmering anger by Will Rothhaar, that's most interesting.

We already know too much and paradoxically too little about the JFK assassination. A TV movie needed to tell us something we don't know. No dice here.

The attempt to make this a story about two men grates. It's as if someone wanted to elevate Oswald in order to humanize Kennedy. It doesn't work--nor does the Oswald funeral scene.

You won't come away from it with any new answers, but it's a useful reminder of why the drama of that day has transfixed Americans for half a century.

Killing Kennedy is so earnest and episodic as to sap any dramatic life from the movie, which weaves in selected news footage to enhance its sense of authenticity. Virtually all the dialogue is stiff and on the nose.... The entire cast is about as animated as the figures in Disney World's Hall of Presidents.