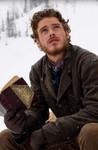 Starring:

Ian Hart

,

Tim Roth

,

Richard Madden

Summary:

The miniseries produced by Ridley Scott and based on the Charlotte Gray's book "Gold Diggers: Striking It Rich in the Klondike," follows the challenges best friends Bill Haskell (Richard Madden) and Byron Epstein (Augustus Prew) face as they set out in the late 1890s to the Yukon Territory

The miniseries produced by Ridley Scott and based on the Charlotte Gray's book "Gold Diggers: Striking It Rich in the Klondike," follows the challenges best friends Bill Haskell (Richard Madden) and Byron Epstein (Augustus Prew) face as they set out in the late 1890s to the Yukon Territory to try to strike it rich.

…

Expand

Genre(s):

Drama

,

Movie/Mini-Series

,

Action & Adventure
Show Type:

Mini-Series

Season 1 premiere date:

Jan 20, 2014

Episode Length:

60
Please enter your birth date to watch this video:
You are not allowed to view this material at this time.
Klondike grabs you with terrific performances, an unusually rich script, magnificently sweeping visuals of jagged mountains overlooking valleys of ice and snow, and such a convincing attention to period detail, you'll believe you're back in Dawson City at the end of the 19th century.

Tremendous footage of mountain treks and river running make the spectacle compelling while the sometimes clunky dialogue gets the message across.

Klondike delivers its dramatic bounty more effectively and compactly [than Black Sails], capitalizing on some of Discovery's favorite obsessions: dangerous vocations, gold prospecting and harsh Alaska-adjacent terrain, in a fictionalized account of the 1897 gold rush.

Scheuring gets sidetracked by the trite redemption stories of a hooker (Conor Leslie) and a Canadian Mountie (Marton Csokas). But those are small hiccups in this entertaining, expansive tale of one man's fight to keep his humanity, which he discovers is more valuable than all the gold in the Yukon.

There isn't much new in this northern Western, but the scenery is lovely, the acting is solid, and the mix of characters is just what you'd expect from the genre.

The series ... is full of the same brutal weather and dubious quests as Discovery's reality shows, but professional actors ... make it a much more compelling attraction than any of that other fare.

Alongside Roth, Shepard and talented character actor Tim Blake Nelson, Madden pulls off the sometimes treacly dialogue, but the insistent no-duh musings ("the die has been cast") wear thin quickly.
In 3 episodes, "Klondike" managed to leave me feeling like I had just watched the finale of a show I have loved for years. The scenery,

In 3 episodes, "Klondike" managed to leave me feeling like I had just watched the finale of a show I have loved for years. The scenery, characters, and plot are all spot on. Here's hoping Discovery Channel can keep up this level of entertainment in their inevitable future in scripted TV.

…

Expand

Not Good - Not Bad.
But not as good as we hoped or expected.
Not sure where the blame should rest ? A rather disjointed affair - withNot Good - Not Bad.
But not as good as we hoped or expected.
Not sure where the blame should rest ? A rather disjointed affair - with unnecessary peripheral sub-plots/stories. We usually blame the DIrector don't we. But some of the writing seems weak.

…

Expand

Definitely a let down given the cast, the drama-rich setting, and Ridley Scott's involvement. Its a paint by numbers miniseries with a bigger

Definitely a let down given the cast, the drama-rich setting, and Ridley Scott's involvement. Its a paint by numbers miniseries with a bigger budget.

It has its moments - with this cast, how could you not - but is more miss than hit.

…

Expand

The 1st most annoying aspect has been the amount of ads Discovery (read Foxtel) has shoved in & at the most inappropriate spots! I am sure

The 1st most annoying aspect has been the amount of ads Discovery (read Foxtel) has shoved in & at the most inappropriate spots! I am sure there is more advertising than episode shown. It ruins the plot build up totally! The 2nd annoying feature is the constant "bleeping" of cuss words. This program is shown at an adult time slot & I've not seen as much "nanny-ism" for a long time on any other program. These characters are meant to be hard grit & the "bleeping" again ruins any kind of build up of storyline. 3rdly I am surprised to see such a quality actor as Tim Roth in such a poorly scripted program! From episode one where the guy falls in an icy river yet survives for at least a day soaked to the skin!, then some unknown business woman's first words to a total stranger are "don't get into the lumber business as its hers!" Then episode 2 where the claim they have staked is suddenly of interest to every shady character in town, (why didn't the bad guys just buy the claim the day before?), same goes with the dry goods store/church. Oh & the shooting of the Jewish man according to the Mounties is "the talk of the Town" (seems nobody else gets shot here.) I think a child could write a more believable script which has been presented even more poorly by Discovery (read Foxtel).It is so frustrating to watch & I am very disappointed so I guess I will give up.

…

Expand

Cowbells review says it all.

A real disappointment considering the art direction, cinematography, scenery, and technical merit. A veryCowbells review says it all.

A real disappointment considering the art direction, cinematography, scenery, and technical merit. A very dumb, cliche-riddled script made this a grueling experience to watch, even with the aid of fast-forward.

…

Expand

Worst dialogue ever, ranging from the ludicrous to the just plain inane. And while I understand that it's a plot necessity, why out of the

Worst dialogue ever, ranging from the ludicrous to the just plain inane. And while I understand that it's a plot necessity, why out of the thousands of faceless miners is our hero the focus of beautiful women, bad guys, the preacher and everybody else?

…

Expand