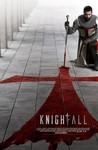 Starring:

Julian Ovenden

,

Padraic Delaney

,

Jim Carter

Summary:

Sir Landry (Tom Cullen) heads up the Knights Templar's search for the Holy Grail in the historical drama series about the the events that will eventually lead to the deaths of the knights on Friday the 13th, 1307.

Genre(s):

Drama

,

Action & Adventure

,

Documentary
Season 1 premiere date:

Dec 6, 2017

Episode Length:

60
The cast is good, the fight scenes prolific, the overall lifting not heavy. Grailies among you could do worse. With lots of blood, some hooey, and even some history, this appears to be a decent--and watchable--period drama.

Some of Knightfall's CGI action, at least in the cut the network offered to critics, is ambitious but unconvincing. When the show settles the swordplay to push plot around, Knightfall rises to far-fetched.

Knightfall is a rather plodding and predictable game of medieval thrones. [27 Nov - 10 Dec 2017, p.9]

Ambitious in its scale, but hamstrung by its conventions, Knightfall often confuses violence and brutality for visceral authenticity.

Knightfall's muddied, dull clash of warring religious nonentities never commits to any aspect of its tale, which renders this newest period piece as dramatically inert as it is historically valueless.

The shots are perfunctory, designed to give us just enough information to keep following the story and nothing more. The performances are fine, but they rarely rise above BBC historical reenactment. The scripts are so wrapped up in explaining how everybody's connected to everybody else that they become exhausting.

In piecing together the why and how of the Templars' decline showrunner Dominic Minghella and his writing team lazily paste together a collage of conceits familiar to any sword and/or sorcery fan--and many of those films did a better job at selling such a story.
as a big fan and cosplayer of the knights Templar, i was excited to hear about this show.
First episode seems interesting enough, and theas a big fan and cosplayer of the knights Templar, i was excited to hear about this show.
First episode seems interesting enough, and the show has great production quality.
i look forward to watching more of it

…

Expand

Just finished watching the last 2 episodes of s1... I am all torn up and having a whole range of emotions. I tend to get right inside the

Just finished watching the last 2 episodes of s1... I am all torn up and having a whole range of emotions. I tend to get right inside the characters of shows I watch, and I enjoy the ride and appreciate the distraction from my personal problems. I looked forward to this show more than anything else on tv, and I really loved several of the characters! The period shows are my absolute favourite of any genre and I soak them up. I haven't watched Vikings yet, it looks more violent than I care for. I would love Knightfall to be renewed for another season. I am inspired to follow up and read some history about this period, having always been a fan of anything with swords, Europe, the crusades, the church, royal courts, etc. I don't see why anyone would bother to write a poor review of Knightfall. It's my kind of show!

…

Expand

Very good show. Not sure why critics don't like it. The action is top notch, has high production values and a good plot to boot. Give it a

Very good show. Not sure why critics don't like it. The action is top notch, has high production values and a good plot to boot. Give it a chance and you might be surprised.

…

Expand

De fato, Knightfall deixou a desejar. Embora seja uma nota mediana, a série era vista como grande expectativa em termos de batalhas, guerras..

De fato, Knightfall deixou a desejar. Embora seja uma nota mediana, a série era vista como grande expectativa em termos de batalhas, guerras.. mas a série nos poupa de tudo.é arrastada e completamente difícil de maratonar. o protagonista não me convence e foi completamente mal escalado. Contudo, a história , se bem planejada nas próximas temporadas, possa nos surpreender.

…

Expand

A dramatized historic television show that might interest a 13-year old about templar knights, with nicely groomed hair who yell and fight

A dramatized historic television show that might interest a 13-year old about templar knights, with nicely groomed hair who yell and fight like WWE wrestlers. Filmed in some kind of archaeological museum, with huge modern windows, safety railings in staircases and exhibition rooms with unclear medieval objects. If you look passed all these mistakes, you can enjoy a basic superhero show about good guys with capes and manly-man looks fighting an evil conspiracy (involving Arabs obviously) and a secret weapon.

…

Expand

I only rated 2 instead of 0 because i can't see any more episodes. Started ok, them got very boring and predictable. I'm Out.

Dei 2 pontosI only rated 2 instead of 0 because i can't see any more episodes. Started ok, them got very boring and predictable. I'm Out.

Dei 2 pontos porque eu não consigo ver nem mais um episodio, começou bem e ficou muito chato e previsivel.

…

Expand

I am most unimpressed with the series to date having watched the first 6 episodes. The script is wafer thin, the acting, mediocre, and the

I am most unimpressed with the series to date having watched the first 6 episodes. The script is wafer thin, the acting, mediocre, and the plot and scenes beggar belief when it comes to plausibility. I am left wondering at every turn "but surely, in real life.......". Frankly I wouldn't recommend this to anyone with an eye for detail & continuity.

…

Expand