Network:

HBO

Series Premiere Date:

May 4, 2015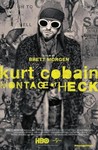 Summary:

Brett Morgen's documentary about the Nirvana frontman uses interviews, personal notes, drawings, and recordings to illustrate his life.

Genre(s):

Movie/Mini-Series

,

News/Documentary

,

Documentary

,

Music
Show Type:

TV Movie

Season 1 premiere date:

May 4, 2015

Episode Length:

132
[Montage of Heck is] shattering, unpredictable and tells you more about Cobain than any previous film.

The filmmaking always crackles. Every song choice, every intimate home movie, every personal moment--they have been carefully chosen from eight years of research for maximum impact.

This is far more than a generous compilation but a two-hour fast-cut that attempts to reassemble a fractured mind from its own filings.

Montage understands Cobain as an icon, but also as the mixed-up kid who got too famous too fast, and it seems content revealing, rather than reconciling, his contradictions.

Montage of Heck is dizzyingly impressionistic and dense with information: snippets of recordings Cobain made, interview excerpts, and images that, in some cases literally, animate his life story.

Anyone with an interest in music will want to see this portrait of the artist as a young man pursued by demons into the pit of heck.

Montage of Heck achieves its goal of intimacy almost too well. It's such a tightly cropped portrait that criticizing it feels like criticizing Cobain. But it's too long and a bit repetitive, and it keeps trying to explain its subject through his own scribblings long after his soul has been laid bare by more direct means.
This is an AMAZING doc, not only of Kurt, but just in general also. I know and have learned a lot about him over the last 20 years, and I was

This is an AMAZING doc, not only of Kurt, but just in general also. I know and have learned a lot about him over the last 20 years, and I was REALLY pleasantly surprised at the rarity and uniqueness of the material. It reminded me a lot o Daniel Johnston's doc(which IMO I'd one of the best artist docs ever).

Also, if the family or partners are reading this, you really should be proud of this doc's 'completeness'. I was a huge Nirvana fan as teen in the early 90's, but, apparently, I didn't even know who Kurt was. This doc really showed the human side of his genius, I had always only seen him as a god, idol, and genius. It was comforting to understand Kurt 'kept it real' ' so real', and not just some snobby fake Rockstar.

…

Expand

This review contains spoilers

, click expand to view

. A magnificently well done documentary on Kurt Cobain's life. The integration of animation into the story provided a nice added element. This documentary really put some substance to an influential grunge band that led a very interesting scene. The inclusion of Nirvana songs during the documentary are very well placed, I found myself jamming out while watching it.

Side note, the decline we see in Kurt throughout the latter half of the documentary is sad to watch. I felt helpless as I watched his spiral downward.

…

Expand

It is an interesting look inside the short life of KC... but with the horrible upbringing, heroin abuse and depression, ultimately leading to

It is an interesting look inside the short life of KC... but with the horrible upbringing, heroin abuse and depression, ultimately leading to his final days disappearing act and (apparent) suicide (apart from text at the very end completely left out), make it a mediocre watch at best. I mean, calling him a genius is a bit of stretch anyway IMO. Put anyone into a room with a pen paper guitar mic and tape recorder, oh and of course an endless supply of drugs, the results would most likely be similarly bizarre. Nonetheless, he wrote a few good songs (why Dave Grohl was also completely left out is a mystery to me). In the end, KC was a coward for killing himself. If he didnt kill himself, then they had even more reason to focus more on his final days and the investigation (or lack of) that followed. Maybe they are saving that little bit of information for part deux ;)

…

Expand

This movie offers some facts about Kurt Cobain's life but it certainly doesn't attempt to be an authoritative documentary on the subject.

This movie offers some facts about Kurt Cobain's life but it certainly doesn't attempt to be an authoritative documentary on the subject. Instead, the movie attempts to convey the late Mr. Cobain's mental state with animated segments set to his music and spoken-word recordings. As a result, the film mostly feels like a 2-hour-long Nirvana music video, and it mostly just made me feel depressed. This movie is probably only for diehard Nirvana fans, and even some of them might find it too abstract and not sufficiently informative.

…

Expand

Heroin addiction is a very serious problem in this country, Mainly because of the war in Afghanistan. That is the legacy of George Bush;s

Heroin addiction is a very serious problem in this country, Mainly because of the war in Afghanistan. That is the legacy of George Bush;s war. a country mired in a huge vat of Heroin. I do not think junkies are people worthy of praise in any way. They are just ruined junkies.

…

Expand