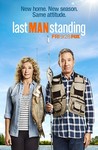 Summary:

The ABC Tim Allen comedy is revived and moves to the Fox network for its seventh season.

Genre(s):

Comedy
Season 7 premiere date:

Sep 28, 2018

Episode Length:

30
Please enter your birth date to watch this video:
You are not allowed to view this material at this time.
It's goofy. It is not Earth-shattering. ... Last Man Standing has chosen to make a swerve toward vulnerability and self-knowledge rather than following the Roseanne path and tripling down on implied racism and curdled resentment. It makes me hope the series has the potential to be more dynamic and thoughtful than I'd given it credit for.

Those who found Last Man funny when Obama was president will no doubt find it funny today. The rest of us can't argue with Mike's command to his family. "We treat each other with dignity and respect, because that's who we are." [28 Sep 2018, p.44]

Last Man Standing is that unusual red fish in a sea crowded with blue ones, and it never lets you forget that. As always and as expected, Mike gets the best lines, the easiest put-downs and literally the last word.

Tim Allen's revived comedy is exactly what it always was: a predictable, kind of lazy sitcom built on easy jokes and the odd, occasionally misguided rantings of a middle-aged, wealthy white guy.

It's all extremely boring. ... The show remains very thin gruel when it comes to nourishing laughter, and it's considerably worse when it gets preachy.
It is nice that "Last Man Standing" is not another left wing Trump hating show that is inundating the airways. High viewership because of

It is nice that "Last Man Standing" is not another left wing Trump hating show that is inundating the airways. High viewership because of snappy dialogue. Willing to bet some left wing pinko will shoot their liberal mouth off and attack the show because it does not fit their ideology, too bad for them the ratings will determine whether the show will last, and not some commie troll's inept thoughts.

…

Expand

O-Great return of The Self-righteous Hypercritical Republicans ! I hate Politic tv shows and Movies and this ones the WORST they constantly

O-Great return of The Self-righteous Hypercritical Republicans ! I hate Politic tv shows and Movies and this ones the WORST they constantly beat you down with it and it's all one sided :( Over and over it never stops and the Laugh track over and over . It's no supersize the show was brought back from the grave by FOX because Fox is on that side . This is just Filth for Filth ... PASS BIG PASS !!!

…

Expand