Network:

NBC

Series Premiere Date:

Feb 24, 2014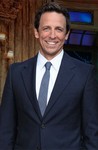 Starring:

Seth Meyers

,

Fred Armisen

,

8G Band

Summary:

Saturday Night Live's Seth Meyers takes over Late Night with Jimmy Fallon's move over to the Tonight Show.

Genre(s):

Talk & Interview
Season 1 premiere date:

Feb 24, 2014
Meyers seems capable of creating chemistry and having quality chats with anyone, from riding the wild waves of Kanye West to spinning a funny anecdote with pal Brad Paisley about accidentally stealing a Porsche. A talk-show host good at talking? Fancy that.

Fred Armisen is a surprising choice as bandleader, but he brings unequaled improv chops to the table, and his little banter with Seth every night has already proven one of the more reliably funny bits. Integrating him as much as possible is certainly a smart idea. Meyers, like Fallon, is also a more-than-capable interviewer.

Mr. Meyers was at ease and disarming in his new role as a talk show host.

Meyers's first monologue was all down-the-middle one-liners, delivered in the exact "Weekend Update" cadence.... Meyers settled in more once he sat down at his desk.

It was... safe, reasonable, unembarrassing, uninspirational.

Meyers is likable and pleasant, and the first show probably isn't a good indication of what his Late Night will eventually be like. In the early going, though, there isn't much fresh happening there.

Virtually nothing about this latest Late Night exhibited a whiff of freshness or originality.... On the plus side, Meyers came across as relaxed and loose, riffing on his show's micro-budget and acknowledging the jokes that fell flat. The writing, however, simply wasn't that strong.
Love Late Night with Seth Meyers. I think he is WAY better than Fallon. Fallon is so full on himself especially after the SNL 40th

Love Late Night with Seth Meyers. I think he is WAY better than Fallon. Fallon is so full on himself especially after the SNL 40th anniversary. Seth Meyers clearly loves what he does and is humble. I really enjoy his show.

…

Expand

Seth Meyers is sympathetic and was the best Weekend Update Anchor ever on SNL. I think this Show is simple but very smooth, don´t got all the

Seth Meyers is sympathetic and was the best Weekend Update Anchor ever on SNL. I think this Show is simple but very smooth, don´t got all the fake **** as some other Late Nights

…

Expand

Just really dull.... the show manages to stay alive with decent guests, but Seth can't hold it up on his own.

I hope he makes some changesJust really dull.... the show manages to stay alive with decent guests, but Seth can't hold it up on his own.

I hope he makes some changes before NBC finds someone else, preferably someone funny.

…

Expand

Please CANCEL this show before it's too late and your stuck with this host. There are plenty of funnier comedians than this guy. He comes

Please CANCEL this show before it's too late and your stuck with this host. There are plenty of funnier comedians than this guy. He comes across as smug and an ****

…

Expand

Honestly, how this show got a meta score of 61 is beyond me. Maybe they owe Lorne Michael's a favour, that seems like the only explanation as

Honestly, how this show got a meta score of 61 is beyond me. Maybe they owe Lorne Michael's a favour, that seems like the only explanation as to why critics gave Late Night with Seth Meyers favourable reviews. THIS SHOW SUCKS, or should i say SETH MEYERS SUCKS. The show itself could be funny if they removed Seth from the equation. Fred would be a much more entertaining host and his segments on the late show are a breath of fresh air in an otherwise stagnant atmosphere. To sum up, go jump of a bridge Seth, it would be the funniest thing you've done. THIS SHOW SUCKS, WATCH CORDEN,KIMMEL,CONAN, COLBERT OR PAINT DRY INSTEAD

…

Expand

Wow! A new benchmark for bad. I can see him read the cards and then he even screws that up. Severely lacking of a personality to carry a show

Wow! A new benchmark for bad. I can see him read the cards and then he even screws that up. Severely lacking of a personality to carry a show like this. Never laughed, chuckled, nor even smiled once during the show. His artificial smile just adds to his annoyances with his grating high pitched **** laugh. I felt so embarrassed for the horrendous writing of the skits on the show. I will never be tuning in to this show again. I miss my Craig Ferguson. Now there was a guy with a personality who made my face hurt from non stop smiling, laughing, and general guffawing. Not so with Seth. Goodbye Seth.

…

Expand

Simply put, Seth Meyers is not funny. He's amused by himself more than anyone else is. He's an awkward interviewer and his need to explain

Simply put, Seth Meyers is not funny. He's amused by himself more than anyone else is. He's an awkward interviewer and his need to explain his "jokes" when they're clearly not funny just shows that when you have to explain a joke, it's not funny. He may have some SNL people in his corner, but that still doesn't make up for his lack of talent. He was only good on SNL when he was on Weekend Update with Amy Poehler, but even she can't save him. I feel badly that Fred Armisen is being dragged down with Seth because he is genuinely funny and being on the show just undermines his talent.

I hope they get someone of talent to take over hosting duties because Seth Meyers is as stale and unfunny as they come.

…

Expand