Network:

HBO

Series Premiere Date:

Mar 3, 2019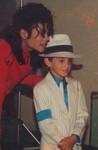 Summary:

Director Dan Reed's two-part documentary features interviews with Wade Robson and James Safechuck as well as their families as they discuss how the then two pre-teen boys were befriended by Michael Jackson.

Genre(s):

Movie/Mini-Series

,

Documentary

,

Music
Show Type:

Mini-Series

Season 1 premiere date:

Mar 3, 2019

Episode Length:

120
The details are still appalling, but what we see and hear in Dan Reed's riveting and sharply convincing four-hour documentary, "Leaving Neverland" (airing in two parts Sunday and Monday on HBO), supplies the viewer with an unexpected measure of calm. Even the outrage feels at last like the real deal, instead of the manufactured byproduct of tabloids and TMZ.

It's a radically empathetic film about the resonating impact of sexual abuse, as well as the personal and social forces that conspire to keep people from talking about it in public. ... The documentary feels like a conversation-realigning milestone.

Unlike Lifetime's recent Surviving R. Kelly, Leaving Neverland doesn't need to make an airtight case against a wealthy pop-music legend who still has access to vulnerable young fans. Yet it's the absence of that active threat (if not a competing narrative from the Jackson estate and a few obsessive fans) that frees up Reed to focus on a wider-ranging inquiry into what it means to be a survivor. Viewers of all genders and ages who share that experience are bound to see their own stories in that of Safechuck and Robson. That's more than enough reason for this eloquent documentary to exist.

Leaving Neverland is not balanced, not by any standard. It is, however, a devastating testament to how childhood sexual abuse rages like a ferocious cancer through survivors and their families.

At times Leaving Neverland feels more like a deposition than a documentary, given we're hearing from only one side, again and again. But Lord does that side present a convincing case.

Leaving Neverland feels long and one could argue a tighter two-hour film would have been equally effective. It just might not have reflected the truth they want to tell. ... It's all complicated and heartbreaking and just as their perspectives aren't the same today (both are relatively new fathers) as when they were pre-teens or in their twenties, it's doubtful you'll feel exactly the same after watching four hours of Leaving Neverland.

It's a harrowing account that doesn't turn away from the brutal realities of what the men describe as meticulously plotted seduction and rape.
Surprised how many people still work for Michael Jackson, protecting an obvious pedophile on this website. There's been nobody in the history

Surprised how many people still work for Michael Jackson, protecting an obvious pedophile on this website. There's been nobody in the history of fame who has been able to sleep with children and con his way out with a soft voice and innocent behavior. Imagine any other celebrity (especially nowadays) who invites a 5 year old on stage and then 2 years later for a sleep over. He was a great singer and performer but a very sick and twisted person. If cell phones were out in the 80s Michael would still be alive...just in prison for child abuse and rape. True story.

…

Expand

Powerful, captivating and shocking. Brave men who tell their stories of child abuse at the hands of a pop icon.

It is a tragic story what happened two these two boys, these two families.

It is equally tragic that there are people trying to review-bombIt is a tragic story what happened two these two boys, these two families.

It is equally tragic that there are people trying to review-bomb this for god knows why. Because they don't want to believe that their hero could do something so awful? Celebrate Michael for his music if you want. it is ok. But separate those feelings from the idea that he couldn't have done this. Listen to the pain these two men feel. It is real.

…

Expand

Why should we believe them? They gave no evidence whatsoever. Not one. Also they have a shady past which makes it hard to believe them. Also

Why should we believe them? They gave no evidence whatsoever. Not one. Also they have a shady past which makes it hard to believe them. Also the film was boring and obviously one sided and clearly biased. I could see the agenda from a mile away.

…

Expand

Badly acted, bad scrip. bad filming, score, sound, color. Everything about it is made in an amateur beginner way. Those two where far from

Badly acted, bad scrip. bad filming, score, sound, color. Everything about it is made in an amateur beginner way. Those two where far from believable "actors". I am gonna call them actors because it felt like they where reading of a script. 90 hours of footage was recorded and this is the best they got? I wonder how many times they filmed one scene. Ne emotion, not one tear was shredded during the entire film. One scene he holds something he claims belongs to Michael Jackson. With out proof of course. While holding it... i dont know why he would still have that. He barely flinches. Makes no reaction. Acting school aint that expensive is it? In summary, i just wasted four hours of my life watching two people talk, just talk. Thank you so much HBO

…

Expand

"Wonderful" times we are leaving in, right? A notorious liar and violator of the constitution being the US Americans' President, the media

"Wonderful" times we are leaving in, right? A notorious liar and violator of the constitution being the US Americans' President, the media frenzy at their height of unverified bogus stories everyday, the infamy of people who are too bugged to live a righteous life, instead seduced by the profit of ratings / fast deals / attention.

It's interesting how biased the so-called "critics" are with sensationalized crap like Dan Reed chose to deliver - going the same route of evil as Martin Bashir who preferred ratings through shady remarks and manipulative editing over actual documental work - that cannot even remotely be compared to the true work of investigative journalists such as Bob Woodward.

Through Dan Reed's distracting statements you'll get the picture: the director and the two alleged "victims" (rather profiteers) can deny and lie about it as much as they want but they are on the same boat and have headed for the treasure of gold that is the big name MICHAEL JACKSON that conveniently guarantuees sensational stories such as this to easily be big sellers due to his uncommon life, with decades of tabloid trash from people allegedly knowing just about everything regarding his private life.

Unlike Reed's attempt to say this would not be tabloid trash because it lasts over 4 hours - as if time would suddenly justify public character assassination - this shows pretty well how you do NOT investigate facts, how you do NOT claim your "work" would be the result of proper research.

This very kind of slanderous work is only possibly because the deceased persons have no voice in the court of public opinion - which due to the free riders of the "#metoo" has been misused by insincere people that come up with bogus allegations. The real victims are those whose voices cannot be heard. In many countries it is also not easy to file a lawsuit for defamation for a deceased person, especially if any such tabloid trash would be "in the public's interest" as courts might argue because the public does not always seek the truth but rather wants to read stories about persons of interest, be it true or completely false.

As you can see, Michael Jackson is being lynched in the court of public opinion - as it has ever been popular since the first bogus allegations. In the USA and other countries there are CURRENTLY no laws that would stop the (malicious) exploitation of popular figures in death by defamation / slander / libel...

Dan Reed knows very well - such as Martin Bashir - how to properly build up the mood he wants to achieve. As, for example, you are being taught in literature in school, you first act as if you had a true intent of being objective and then you present the side you don't want to acknowledge because it doesn't fit with your narrative - here painting Michael Jackson as a pedophile - with very trivial and random arguments.

Part 1 skilfully ends on a cliffhanger, having built up its viewer to be convinced that they are listening to two real victims of sexual abuse - even though that's not the case. Part 2 then acts as the coffin nail to literally destroy MJ while ignoring his naivety made him a sort of "monster" and "text book pedophile" in the eyes of those who do not wish to understand that a man that had no proper childhood, still behaved like a kid when he was grown up and saw the world differently, not wanting to understand he could not be "Peter Pan" and have children in his bed because humanity will rather believe the families and boys that could turn against him when they could no longer be near to him and benefit from his generosity regarding money, gifts and sharing his property with them.

It also distracts from real perpetrators such as Harvey Weinstein. That's why Oprah Winfrey (a friend of Weinstein) rather gives the two leeches a platform instead of providing her audience with real victims' reports about actual sexual harassment.

Ironically Weinstein has power & money but it is Michael Jackson who the media portrays as someone who could get away with it... because of money and power. MJ could not silence the bad news about him. And his lawyers did rightfully show to the world what horrible families the Chandlers and Arvizos have been when their lies have been well-documented, yet the media wants to sell tabloid stories as the truth doesn't make similar headlines, the damage will last forever and bad news are good news as it is well known by business people.

Wade Robson has messed up his career and in order to be relevant again (getting money via production credits and royalties + possible choreography deals) he had no issue with spitting on the person that is no longer alive to defend himself. It is easy to turn against someone who is no longer here and if you are not near to his relatives, there's nothing that would hold you back. Right, Wade?

Do what the director of this "fake-umentation", Dan Reed, won't do. Get to know Robson's and Safechucks's real life issues!

…

Expand