Network:

Netflix

Series Premiere Date:

Jan 13, 2017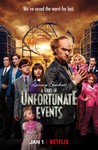 Starring:

K. Todd Freeman

,

Patrick Warburton

,

Neil Patrick Harris

Summary:

Violet (Malina Weissman), Klaus (Louis Hynes), and Sunny Baudelaire (Presley Smith) seek to solve the mystery of the death of their parents and foil Count Olaf's (Neil Patrick Harris) schemes to take their inheritance in this Netflix adaptation of the books by Lemony Snicket.

Genre(s):

Comedy

,

Drama

,

Kids
Season 1 premiere date:

Jan 13, 2017

Episode Length:

50
Please enter your birth date to watch this video:
You are not allowed to view this material at this time.
A Series of Unfortunate Events
This is not just whistling Dixie. Although basically comic, and not without moments of beauty and relief, the series is a dream in which you escape one trap only to fall into another, elude your pursuer only to find him somehow before you, and where hope springs eternal only so it can be eternally snatched away. But you should watch it, anyway, and take your time.

Just as the blunt-in-message and beautiful-to-behold production design works in the series' favor by leaning into its allusions, A Series of Unfortunate Events proves as inspirational and endearing as it claims to be forlorn and heartbreaking.

While adult non-fans might find themselves out-quirked and frankly exhausted by the show's tone, it's deeply Snicket-y, unapologetically dark, and a fresh yet familiar adaptation that should charm grown fans and childhood bingers alike.

The show proves a good deal of fun, and Harris dives into his over-the-top character with considerable gusto. It's also something that parents ought to be able to watch with their older kids -- enjoying the clever wordplay, like an argument over when to say "literally" versus "figuratively" -- which qualifies as a fairly rare occurrence in the realm of premium cable and streaming.

By breaking the books into digestible chunks, it goes down smoothly and, yes, makes you want more.

A little too Lemony, but genial, well-produced and presumably faithful to the Lemony Snicket vision.

Book readers will undoubtedly find things to love in the twisting Gothic sets (thank you, Netflix's generous budget!), its clear affection for the source material, and the generous runtime a movie adaptation could never allow. From the outside looking in, though, unraveling Lemony Snicket's many strange-for-the-sake-of-it twists and scattershot storytelling feels like more trouble than it's worth.
This show is based on Lemony Snicket's A Series of Unfortunate Events, which is written by Daniel Handler who also wrote the teleplay of the

This show is based on Lemony Snicket's A Series of Unfortunate Events, which is written by Daniel Handler who also wrote the teleplay of the show. This perfectly adapted the series with the most important elements in the book also found in the show. The show is perfect for those who desire dark humour or those who want an absurdist show.

…

Expand

An absolute joy to watch, each book is given 2 hour long episodes (actual hour long, not 40 mins + adverts) and they really require that

An absolute joy to watch, each book is given 2 hour long episodes (actual hour long, not 40 mins + adverts) and they really require that amount of time given the content which is on offer here.

One thing to note is that this isn't the type of show you should half watch, there is just so much going on in every scene in every minute of viewing that you should really put down the mobile phones and other distractions and just get lost in the fantastic stories which are being offered up by this Netflix original.

I should say there was just one downside to this whole 8 episode experience for me... I almost felt bad as I watched it that I was just paying €9.99 per month to the service that Netflix offers, honestly this level of content they are creating deserves more cash when you compare it to things like the national broadcast fee in Ireland which offers so little for so much more than Netflix costs per annum, it's just insane.

Also NPH is a God in this, just.. in every way.

…

Expand

This show wont be everyone. I read all these books when I was younger. The show is extremely faithful to the tone. Some people might miss the

This show wont be everyone. I read all these books when I was younger. The show is extremely faithful to the tone. Some people might miss the jokes as they are distracted by the extensive sets and over the top characters. However, for anyone that is a fan of the series this is a home run. Nailed it.

…

Expand

Netflix' adaptation of Lemony Snicket's A Series of Unfortunate Events captures the tone, mood, black humour, grief and tragedy of the book

Netflix' adaptation of Lemony Snicket's A Series of Unfortunate Events captures the tone, mood, black humour, grief and tragedy of the book series perfectly, a word that in here means "without any flaws, and better than almost every other book-to-screen adaptation".

…

Expand

A very solid beginning for a visual depiction of this series. I love that there will still twists put in to keep even the most avid fans on

A very solid beginning for a visual depiction of this series. I love that there will still twists put in to keep even the most avid fans on their toes. I also think it is awesome that Lemony Snicket himself helped write every episode and will be part of the production crew until this is done.

My biggest complaint is with the "gimmies" that are written in. What I mean is, by the end of the first season I am completely exhausted with how many times Count Olaf is able to get away because the devices being used to let him get away are exhausted. We get it: in this world, most adults are oblivious to what is going on around them. However, having Count Olaf in the same room as the adult on the good side only to have the entire plot of the current book explained, then miraculously Count Olaf gets away yet again because the series must go on is just so tried.

It's been over a decade since I read the series, I'll admit. But I've got my fingers crossed and am hoping that next season Olaf's escapes can be written in much better logic for us viewers. In Breaking Bad, Walter White was able to evade his own brother in-law for 5 seasons, but this NEVER felt so stupidly written into the logic of the series. Just let Olaf be significantly more intelligent and perceptive than he is right now. Because we, like the kids in the show, are SHOUTING at our screens, "IT'S CLEARLY OLAF YOU STUPID MOFO! OPEN YOUR EYES!"

…

Expand

i've only watched a couple episodes but so far i'm disappointed, the logic of some of it is ridiculous, those who watched episode 2 will know

i've only watched a couple episodes but so far i'm disappointed, the logic of some of it is ridiculous, those who watched episode 2 will know what i mean, drawing ridiculous conclusions and resolutions. I loved the books but so far i've been unimpressed by the series and think so far it pales in comparison to the even the movie. I like Neil Patrick Harris as much as the next person but he also seems out of place, a young guy playing someone who seems much older. That being said i will continue watching and hope it gets better

…

Expand

A  Series Of Unfortunate Events has become Netflix's newest series. The show is a based on the of 13 book series written by Lemony Snicket.

A  Series Of Unfortunate Events has become Netflix's newest series. The show is a based on the of 13 book series written by Lemony Snicket. The show takes you on the journey of the young Baudelaire children. For the viewers who have not yet read the books here is a brief intro of the first book and first episode. The story begins when the Baudelaire's parents die in a tragic fire and the kids are sent to live with a disciplinable men who is after the large Fortune that they had inherited from their parents. The show is a mysterious genre that is geared towards young adults. The standards of the viewers who have read the books is higher than the ones who have not. The readers have insight and have an idea of what is going to happen based on the books
The readers would expect A Series Of Unfortunate Events to follow the book's best as possible and be full of mysterious clues for the viewers to discover while watching.

The writer Daniel Handler has a huge role in the books. He takes on one of the main character roles which is the narrator. The narrator goes by the name Lemony Snicket. Lemony Snicket's role is talking through what is happening in the story and giving insight to upcoming events. The show could not be a show without  having Lemony Snicket. It is highly important to include him.  A Series Of Unfortunate Events includes the narrator in the show which is a great thing to do on their part. The issue is Lemony Snicket placement during the show. There are times when Lemony Snicket is placed in the show when it is not appropriate for him to be there.  An example of this is in the 2 second episode titled The the reptile room.The kids are having a moment with their Uncle Montgomery. Montgomery says "Kids no harm will come to you in the reptile room" Then the cameras zooms out and Lemony Snicket is their sitting in a chair in the same scene and he says " But little did they know the harm would come in reptile room". Lemony Snicket is guiding the viewers just like he did in the books but it does not look nice and neat in the show like it sounded in the books. What I would do is have Lemony Snicket appear at the beginning of every episode and at the end and maybe in the middle when it was important to do this. I would not have Lemony Snicket in the middle every episode like the series does .It does not make very much sense for him to appear in the middle of the episodes because the viewers are watching what is happening to the children and for that to be interrupted by Lemony Snicket's it makes the show  look look not well put together.
What readers of the books would enjoy about this series is the role the creators gave to  Sunny the youngest Baudelaire child. For those who do not know Sunny is an infant so some people might be asking how the creators could give her a part with lines when she is so little and in real life does not talk. People might also ask what would a baby have to say and why is it important to give her role instead of just having her be a accessory.  What the creators did was a creative and smart way to give sunny a voice. They give Sunny subtitles whenever it was necessary for her to talk. Every time Sunny has something to say the viewers could read the comments on the screen and Violent her sister would translate to the other characters in the show so everyone would know what she is saying. What the creators also did with the role is have half the actor baby and half CGI which helped out when scene called for stunts that the baby would not be safe doing. Sunny the baby also with the help of CGI used her face and body reaction when the scene called for it. For example when some adult would say something unintelligible sunny would make a face of disgust.  Giving Sunny such a big role made the series so much better it added comedy and showed how the world of the Baudelaire Children is such a different place the world we live in. Their world is full of mystery and secrets. The T.V show of the A Series Of Unfortunate Events does a great job and makes the book well. The show follows the book guidelines and adds it's own details and ideas which makes this show work perfectly.

…

Expand