Please enter your birth date to watch this video:

You are not allowed to view this material at this time.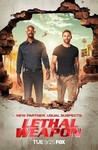 Episode Details & Credits
FOX |
Air Date:
October 9, 2018
Summary:
Cole juggles the realities of his job and his duty to be a good parent, as he and Murtaugh work together to bust a gang running a lottery scam. Murtaugh gets ready to celebrate his 30th anniversary with the LAPD and receives a surprise visit from his competitive father-in-law, Don Bennett.
Genre(s):
Comedy

,

Drama

,

Action & Adventure

,

Suspense
Seasons & Episodes
Season 3

Season 3 Overview

Air Date: September 25, 2018

S3:E15. The Spy Who Loved Me

Air Date: February 19, 2019

S3:E15. The Spy Who Loved Me

Air Date: February 19, 2019

S3:E14. A Game of Chicken

Air Date: February 12, 2019

S3:E14. A Game of Chicken

Air Date: February 12, 2019

S3:E13. Coyote Ugly

Air Date: February 12, 2019

S3:E13. Coyote Ugly

Air Date: February 12, 2019

S3:E12. The Roger and Me

Air Date: January 15, 2019

S3:E12. The Roger and Me

Air Date: January 15, 2019

S3:E11. Dial M for Murtaugh

Air Date: January 8, 2019

S3:E11. Dial M for Murtaugh

Air Date: January 8, 2019

S3:E10. There Will Be Bud

Air Date: January 1, 2019

S3:E10. There Will Be Bud

Air Date: January 1, 2019

S3:E9. Bad Santas

Air Date: December 4, 2018

S3:E9. Bad Santas

Air Date: December 4, 2018

S3:E8. What the Puck

Air Date: November 27, 2018

S3:E8. What the Puck

Air Date: November 27, 2018

S3:E7. Bali

Air Date: November 13, 2018

S3:E7. Bali

Air Date: November 13, 2018

S3:E6. Panama

Air Date: November 6, 2018

S3:E6. Panama

Air Date: November 6, 2018

S3:E5. Get the Picture

Air Date: October 30, 2018

S3:E5. Get the Picture

Air Date: October 30, 2018

S3:E4. Leo Getz Justice

Air Date: October 16, 2018

S3:E4. Leo Getz Justice

Air Date: October 16, 2018

S3:E3. A Whole Lotto Trouble

Air Date: October 9, 2018

S3:E3. A Whole Lotto Trouble

Air Date: October 9, 2018

S3:E2. Need to Know

Air Date: October 2, 2018

S3:E2. Need to Know

Air Date: October 2, 2018

S3:E1. In the Same Boat

Air Date: September 25, 2018

S3:E1. In the Same Boat

Air Date: September 25, 2018

Season 2

Season 1