Network:

CBS

Series Premiere Date:

Sep 22, 2015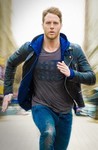 Starring:

Hill Harper

,

Mary Elizabeth Mastrantonio

,

Jake McDorman

Summary:

Based on the film of the same name, with the help of the NZT drug to utilize all of his brain's capabilities, Brian Finch (Jake McDorman) works with the FBI in New York with Special Agent Rebecca Harris (Jennifer Carpenter) and Special Agent Boyle (Hill Harper) to help solve cases. Brian

Based on the film of the same name, with the help of the NZT drug to utilize all of his brain's capabilities, Brian Finch (Jake McDorman) works with the FBI in New York with Special Agent Rebecca Harris (Jennifer Carpenter) and Special Agent Boyle (Hill Harper) to help solve cases. Brian also secretly knows Senator Edward Mora (Bradley Cooper), who has big ambitions for both of them.

…

Expand

Genre(s):

Drama

,

Suspense

,

Science Fiction
Season 1 premiere date:

Sep 22, 2015

Episode Length:

60
Please enter your birth date to watch this video:
You are not allowed to view this material at this time.
Something about this show just works from the crisply polished start, using a premise that is squarely within one of CBS's favorite wheelhouses--the edgy hero who is gifted with extraordinary mental powers that he or she directs to the purpose of solving crime.

The show could go interesting places, too, even explore provocative ideas--although the pilot pokes at those only halfheartedly. Limitless instead sets up as just another buddy cop show, with a superhero component and a sinister subplot. Those potentially interesting ideas are kicked to the curb.

It's lithe and funny for this kind of show, yet another series about a very special crime-solver.

It's relatively engaging and slickly produced, with effective visuals showcasing Brian's new talents, but the side effect of this show may be fatal blandness.

The superhero aspects can be fun to watch, but they don't make a lot of sense.

One of the most narrow and timid fall seasons in memory. This premise is particularly tired.
Hi
After a long time we have a great show here and now i realized this show have been canceled. this is a very funny show and its differentHi
After a long time we have a great show here and now i realized this show have been canceled. this is a very funny show and its different why someone want to cancel that??

…

Expand

It is has been a long time since I watch a incredible well written tv show and with smart dialog and acting. This show has and incredible

It is has been a long time since I watch a incredible well written tv show and with smart dialog and acting. This show has and incredible fresh view of what is comedy, it doesn't over do it either.They implemented very well every aspect of the movie as a tv show.

The cinematography is beautiful and very like the movie, but, with his own take on it as a tv show.

P.s. Honestly a must watch.

…

Expand

Bringing a Movie to a tv series is risky but CBS done good with limitless this is something hardly seen on teleivision i actually really enjoy

Bringing a Movie to a tv series is risky but CBS done good with limitless this is something hardly seen on teleivision i actually really enjoy the show and ratings also prove that it is a great show staying just barely below 10 million viewers each week whcih is something not seen alot for new CBS shows. Yes alot of the negative views just look at the eye candy and yes i have to agree there is eye candy in the show but the acting is great.

…

Expand

An excellent re-adaptation of the also very good film. The show is very engaging, witty and imaginative with a very dark sub-plot that

An excellent re-adaptation of the also very good film. The show is very engaging, witty and imaginative with a very dark sub-plot that involves Senator Edward Morra played by Bradley Cooper. Couldn't have asked for something better to keep me going through the next few months. Now, where's my NZT?

…

Expand

I mean it's not changing the face of TV as we know it, but the pilot was strong with action and I am looking forward to see what direction the

I mean it's not changing the face of TV as we know it, but the pilot was strong with action and I am looking forward to see what direction the show will take.

…

Expand

This review contains spoilers

, click expand to view

. Limitless, an excellent movie, an excellent premise, a show with great potential... if... they would actually have him be smarter than the audience, and smarter than those around him.

My experience of watching Limitless is that its "Awfully... Good". Three episodes in, and I both enjoy the overall show, yet cringe every 3-5 minutes. If Brian Finch is the "smartest man in the room" while on NZT, then why are other people pointing things out to him that he didn't think of?

The writers need to consider the implications of his choices, as he would, not as they would. The audience must not be able to see pit falls before Brain does. The rest of the cast must rarely be able to as well.

In season 1 episode 3 Brian, on the way to work while on NZT, meets his x-girlfriend from 3 years prior. To an average person meeting an X, while single, while "on top of your game", when they left you at "the bottom of your game" is a great opportunity. Right? No. Not Really. Sure there's a bit of ego gratification in the "I can win back what I lost" game.
If your intellect was "limitless" you would be kind and generous, but would not likely try to rekindle an old relationship. Why statistics, and realism.

Brian Finch isn't a different person, and is smart enough to know he's not a different person. When I watched the seen I immediately thought, would I be interested in a relationship where the person was attracted to me only at my best? It was obvious to me (not as smart as he's supposed to be) that there was an NZT based fling possible, yet it would be cruel and pointless. It was equally obvious to me (not as smart as he's supposed to be) that an actual relationship would not work as she's attracted to Brian on NZT. SO hes attractive when at work, and average on evenings and weekends, which are the time she would get to see him.

The larger issue is that this occurred to me (not as smart as he's supposed to be) while he was chatting her up on the train. It never occurred to Brian. Instead, once he had made a date with her for 9PM, after the NZT wears off, "Mike" one of his assigned agents had to point it out to him. Now "Mike" is not on NZT, so what happened?

In season 1 episode 2 a similar thing happens where he plays trivial pursuit with his family. Instead of just winning, he destroys them. Smartest man in the room? First, he would have been able to anticipate the various outcomes of "performing well", "winning", or "being a jerk and sticking it in there face just how smart he was." The result would be a tempering of his behavior due to discretion. Second, his perception is suppose to be very heightened. Even if he hadn't anticipated it he would have quickly perceived the shift from "fun, joy and play" to "annoyance, boredom, and frustration". Its called being a good sport. Its not some rare phenomenon. Hasn't he ever had his face rubbed in someone else success.

The audience must not be able to feel smug about the situation. The idea that he is smart but we are wise and experienced, is a poor excuse. If he was between the ages of 8 and 13 it would be more believable that he had zero social or emotional intelligence. Yet how quickly could he study that.

Wait didn't he read an article in "Psy Today" on Emotional Intelligence, while waiting in the dentists office...

Thank YOU, Its so much easier to criticize than create. My feedback is an expression of support.
Great show. Please fix it.

…

Expand

It seems too constricted and too fake. Not a lot of thought was put into the show. May be a budget constraint? However, I've seen some amazing

It seems too constricted and too fake. Not a lot of thought was put into the show. May be a budget constraint? However, I've seen some amazing tv shows and movies with much more lower budgets. This limitless looks very limited, mentally. For example, reading 22 000 files in two hours, that means he read one file per .34 mili-seconds. Though we know that the human brain is more powerful than the most powerful computer today, the time it will take him to open a file physically will reduce his ability to do so. If he was to read a file per second, it would take around 6 hours. So thats debunked, they should have said maybe 10 000 employees. Not to mention the countless other flaws, such as the bullet in the leg scene, whereby the FBI mentions it without any prior knowledge. I give it 0 out of 10, just another weak uneducated FBI CRIME show for dropouts and losers. It also Doesn't click with the movies main character (the movie is and was 100 times better). Only the first episode is a decent watch. The rest is limited.

…

Expand