Network:

Netflix

Series Premiere Date:

Apr 13, 2018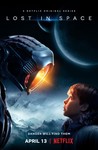 Summary:

Danger, Will Robinson (Max Jenkins)! The remake of the 1960s series is set 30 years in the future where the Robinson family led by John (Toby Stephens) and Maureen Robinson (Molly Parker) are stranded on a planet far-away from their destination with Dr. Smith (Parker Posey) and Don West

Danger, Will Robinson (Max Jenkins)! The remake of the 1960s series is set 30 years in the future where the Robinson family led by John (Toby Stephens) and Maureen Robinson (Molly Parker) are stranded on a planet far-away from their destination with Dr. Smith (Parker Posey) and Don West (Ignacio Serricchio).

…

Expand

Genre(s):

Drama

,

Science Fiction
Season 1 premiere date:

Apr 13, 2018

Episode Length:

60
First-rate production values, a stellar cast, and a perfect blend of action and character development make Lost in Space a must-watch series.

The cast is solid, the FX are top-shelf and the survival-related drama comes at a steady pace, with some episodes (the pilot included) delivering no less than white-knuckle sequences.

There's nothing particularly challenging here narratively, and the series starts on some rocky terrain before it finds its footing, but this is high-caliber escapism, the kind of well-done show that develops a propulsive rhythm as you get to know the Robinson family.

Lost In Space is at its strongest when the unknown is coming for the Robinsons, not the other way around. The Netflix series never fulfills the wasted promise of Lost In Space, but for a show that's navigating such well-trod territory, it does turn up some intriguing unknowns.

The thrill of exploration, or the examination of family dynamics, never feels like it arises organically from the action, in the way it might have on the show's most obvious forebear that isn't its direct predecessor: Lost.

The show is watchable, but mostly for the special effects. The scripts are plodding and formulaic and the direction consistently flabby.

From Batman ('60s camp classic became morose Dark Knight movies) to Battlestar Galactica (bad utopian '70s sci-fi became good dystopian sci-fi), the idea is to complicate the original premise and go for a realism signified by a somber tone and a cynical, knowing air. Knowing this, the new version of Lost in Space seems to be trying to have it both ways, and loses in the process. ... After checking out the first few episodes of the Netflix series, I found myself wishing [Matt] LeBlanc would rocket-ship in for a cameo.
All I can say is WOW! I am a hard one to win over. I'm 56 years old. Lost in Space was my escape in the mid-late 60's. Saw the original show's

All I can say is WOW! I am a hard one to win over. I'm 56 years old. Lost in Space was my escape in the mid-late 60's. Saw the original show's episodes over and over and over again. First season was always my fave and I had wished it had remained more like season one, but I didn't lose any love over it. The way they bring the personalities and essences of the characters, the technology, and the story of the original to today's audience's expectations of that tech AND special effects, is just wonderful. Judy and Maureen have been treated awesomely, empowered. The back stories of the characters add so much depth. The combination of adventure and excitement, emotion and humor make a nice balance in the story telling. I got excited, laughed, and even cried! They are treated this so carefully and so well, it's great story telling. I'm already hoping for a season 2.

…

Expand

What an amazing reboot. This was an inventive twist on a great show. I can't wait for season two. I even joined this metacritic site just so I

What an amazing reboot. This was an inventive twist on a great show. I can't wait for season two. I even joined this metacritic site just so I could vote and encourage Netflix to keep it going.

…

Expand

Not your parents Lost in Space but very enjoyable. It has flaws, and characters that grate but overall I recommend it. However, if I was in

Not your parents Lost in Space but very enjoyable. It has flaws, and characters that grate but overall I recommend it. However, if I was in charge on that planet I would cast the Robinsons adrift because otherwise I would have shot them for being so arrogant.

…

Expand

Uma série satisfatória, à exceção da "Dr." Smith, que parece ser completamente irremediável. Eu quero vê-la morrer numa morte lenta e

Uma série satisfatória, à exceção da "Dr." Smith, que parece ser completamente irremediável. Eu quero vê-la morrer numa morte lenta e dolorosa. A história tem os seus altos e baixos, sendo caracterizada pelos seus momentos de tirar o fôlego ( + ) e pelo seu lento desenvolvimento das personagens ( - ).

…

Expand

Juvenile in every respect. This CGI-fest is replete with lazy writing, for a 6-14 year old crowd, which Netflix conveniently forgets to warn

Juvenile in every respect. This CGI-fest is replete with lazy writing, for a 6-14 year old crowd, which Netflix conveniently forgets to warn anyone of. In episode one we get to see an amazingly futuristic ship strapped to something as basic as the I.S.S., with an intelligent computer that is proclaimed as being completely trustworthy, yet cannot detect major flaming debris approaching from the rear, or take evasive maneuvers. Many law of physics, from friction to impact stress, as well as biology/ecology are ignored for the sake of a cartoonish tale, where panoramic shots trump immersion. Cap it all off with a metric tonne of convenience (per episode), and you have a good understand of this show. Even binge-watching with heavy use of skip will not help much if you are an adult. This should have been an animated series on Saturday mornings.

…

Expand

Bored, tedious and bad narrative. The script is confusing with a mix of flashbacks that break the narrative. The characters are in a constant

Bored, tedious and bad narrative. The script is confusing with a mix of flashbacks that break the narrative. The characters are in a constant discussion of relationship, with dramas signs in a Mexican soap opera, not of a sci-fi movie with perils and action in the exploration of a new world. The new Dr. Smith is a very erased shadow of the old character played by Jonathan Harris. I stopped in the fourth episode because for me it´s a waste of time...

…

Expand

No spoiler here. Nothing to spoil. Within 5 minutes you can already tell that this is one of the worst series or remakes that you have ever

No spoiler here. Nothing to spoil. Within 5 minutes you can already tell that this is one of the worst series or remakes that you have ever seen. Horrible on all fronts but worst of all was the writing which was laughable. Don't waste your time as I did. Geez.

…

Expand