Network:

Netflix

Series Premiere Date:

Feb 19, 2016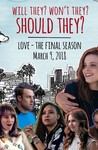 Starring:

Paul Rust

,

Gillian Jacobs

Summary:

Gus (Paul Rust) moves into a new apartment after the end of his relationship and meets Mickey (Gillian Jacobs) in the relationship comedy from Judd Apatow, Paul Rust and Lesley Arfin.

Genre(s):

Comedy
Season 1 premiere date:

Feb 19, 2016

Episode Length:

20
Please enter your birth date to watch this video:
You are not allowed to view this material at this time.
Love communicates the honesty its creators strived for, if only for the believable way it draws Gus and Mickey together across time, space, and their own insecurities. Put in the time with Love, and that time will be rewarded.

Rust and Jacobs are the drive shafts, though, keeping Love on all fours with characterizations that likely will keep most viewers invested.

Love is a funny, winning version of the format, and the casting is spot on. Ms. Jacobs's Mickey has a prickly melancholy, like a more naturalistic version of her Britta Perry from "Community." Mr. Rust is well-cast to nerd-connoisseur type.

As delightful as it is to watch Gus and Mickey learn what they love and like (and loathe) about one another, too many obstacles will feel contrived sooner rather than later. As it currently stands, though, Love's rambling introduction is one that most won't mind accommodating.

Love doesn't reach the comic heights of You're the Worst, but it does bring the funny, much of it supplied by Claudia O'Doherty (Trainwreck) as Mickey's put-upon Australian roommate.

Love's first four episodes are so overstuffed with bland filler that episodes two, three, and four could've been cut altogether, and the show could've skipped right from the pilot with "The Date" without the plot losing much importance. The show's saving grace is that the far more interesting end of season one is a promising sign for season two, which Netflix ordered months before the show even premiered.
If you asked me to watch hours of a slow developing rom-com, I would have slapped you across the face, but the show is just undeniably

If you asked me to watch hours of a slow developing rom-com, I would have slapped you across the face, but the show is just undeniably enjoyable. Paul Rust and Gillian Jacobs are funny and likable. There are side plots, and solid jokes that keep that show moving. Eagerly awaiting season two.

…

Expand

There are few shows that focus on the trivial moments between major events as well as this one. Love portrays the doldrums of 30-hood in a

There are few shows that focus on the trivial moments between major events as well as this one. Love portrays the doldrums of 30-hood in a raw and laughable fashion. Where the characters compare their awkward moments only to poke fun at themselves and the generation of people who skipped out on marriage for a life less expected. Gillian Jacobs and Paul Rust are a match made in the purgatory before midlife.

…

Expand

Great show! I loved the finale, it came together wonderfully, and I can't wait for the next season. Definitely one to binge watch, if you like

Great show! I loved the finale, it came together wonderfully, and I can't wait for the next season. Definitely one to binge watch, if you like Judd Apatow movies you should like this. One of my favourite Netflix originals so far.

…

Expand

The overlong pilot episode didn't generate much interest in seeing the rest of the first season. However, after a year I decided to give the

The overlong pilot episode didn't generate much interest in seeing the rest of the first season. However, after a year I decided to give the series more of a chance and watched the second episode, which was a vast improvement. It begins exactly where the first episode left off, rendering the pilot episode unnecessary. One conceit of the show is that unlike most romantic comedies, there's no sense of destiny in the relationship of the two main characters. In the case of Gus (Paul Rust) the writers create a seemingly endless stream of contrivances to keep him and Mickey (Gillian Jacobs) in each others' lives. It's as if the writers (Rust included) are so convinced that audiences won't accept the not conventionally attractive Gus with Mickey, that they must continually provide reasons to keep them near each other. This includes making Mickey a complete emotional mess. At times, Mickey's personal baggage (and to a lesser extent Gus's), makes it more difficult for the audience to root for them. Things would be helped if there was someone else that could serve as an access character to keep Gus and Mickey's relationship in proper perspective. Mickey's roommate Bertie (Claudia O'Doherty), could be that character, but she's on only a slightly stronger moral footing than the two leads. She's kind of the adorable nerdy girl, popularized by the likes of Greta Gerwig, who is there mainly for comic relief. Once the series settles down a little bit midway through the season, things get a little more interesting, but it's still a bumpy ride. It's kind of like watching a slow moving train wreck. You constantly get the feeling that disaster is around the corner, but you still watch anyway. However, despite its many flaws, "Love" ultimately sustains enough interest to see what happens in the next season.

…

Expand

This show is getting a lot of crap, and weirdly enough, not for the right reasons. Everyone seems to be thrown off by the supposed ugliness of

This show is getting a lot of crap, and weirdly enough, not for the right reasons. Everyone seems to be thrown off by the supposed ugliness of the male love interest, but I think that just highlights the shallowness of those reviewers. Gus, despite not being conventionally attractive, manages to spark the interest of a lot of women and for some reason this seems to bother a lot of viewers. It's juvenile to think that pretty women (or women in general) are all shallow and only interested in someone nice to look at. I think this is the whole point of the show: it reinforces stereotypes at first but breaks them down as the series progresses, fully highlighting the depth of the characters and this ultimately makes the show more realistic. Real life isn't black or white, people aren't as shallow as everyone seems to think and charm goes a long way for people, especially those who are in their late 20s, early 30s and have had their fair share of "pretty boy" partners who didn't end up making the cut. It's not a perfect attempt, but kudos to Judd for trying.

The substance of the show is somewhat dry and predictable and at some points a bit awkward and crude, but if you're looking for something so-so and mildly interesting to pass the time, look no further. It's a (love?) story/social commentary on the So-Cal lifestyle and what it's like being young and trying to date in this day and age. Like I said, there isn't anything here that hasn't been done before, and anyone going into this looking for an Emmy-award winning comedy (though I don't understand how anyone could have expected that in the first place) is going to be disappointed.

…

Expand

Judd Apatow's Netflix original series "Love" starts strong then fizzles out by the end. It's great to have flawed characters, but not if the

Judd Apatow's Netflix original series "Love" starts strong then fizzles out by the end. It's great to have flawed characters, but not if the self-sabotage feels a little bit too scripted.

…

Expand

I'm normally pretty forgiving of Judd Apatow branded stuff, but I hated this on every level. The writing is abysmal, it's self serving

I'm normally pretty forgiving of Judd Apatow branded stuff, but I hated this on every level. The writing is abysmal, it's self serving (co-creator shoehorns himself into a gratuitous threesome scene -groan!), I didn't break into a laugh once, the characters are absolutely loathsome and not intentionally, and it's so wrote that the whole thing is utterly trite, cliched and painful to endure. It's hacky, tacky and worst of all boring. I never write reviews normally but I actively hate this series so much I felt compelled to warn everyone: Save youself the pain.

…

Expand