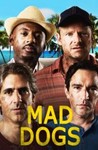 Summary:

Based on the British series of the same name, Milo's (Billy Zane) early retirement brings together his college friends (Ben Chaplin, Michael Imperioli, Romany Malco and Steve Zahn) in Belize where their vacation exposes secrets and involves them in murder.

Genre(s):

Comedy

,

Drama
Season 1 premiere date:

Jan 22, 2016
The repetitive nature of the guys' dilemma--it's essentially "Gilligan's Island" as serialized cable drama--becomes even harder to ignore when watched all in a row.... Yet for all this, it's never boring. The four leads have terrific chemistry, and play the roles with energy that belie their characters' suburban complacency. And the show continually throws interesting guest actors at them.

[Mad Dogs] is perfect escapist fare--by turns funny, frank, and frightening, with terrific, color-saturated cinematography and a central foursome whose long history feels immediately palpable.

It moves along at a thriller's pace, as the men's troubles accumulate, and there are a lot of satisfying plot turns, blackly comic moments, and guest appearances along the way.

It's a familiar theme, but thrillingly executed in the early going.... Like many streaming series, though, it seems to be marking time in the middle (Amazon previewed six of 10 episodes for critics), as the characters try to escape Belize and the plot tosses them among so many frying pans and fires that the whole thing threatens to overcook.

It's frustrating to watch these four men fumble every opportunity to straighten out the mess they descend ever deeper into.... But it's worth giving Mad Dogs a chance to prove itself to the end of season one. If the action ramps up and the bickering dies down, these dogs could have a few more miles in them.

The tropical backdrop looks great--it's like watching an episode of Survivor with a bunch of hyped-up macho actors (in other words, exactly like an episode of Survivor, minus Jeff Probst). But you have to put up with a lot of macho bluster and silliness, with dialogue that sometimes shades over into Three Stooges territory. ("Why were you running?" "I was running because you were running!") If your tolerance for tough-guy bravado with flashes of violence is high, you might enjoy running with these mad dogs.

Mad Dogs does [stall], frequently and interminably, as the quartet repeatedly makes groaningly dumb choices between boggy respites where they can grouse both about each other and their mundane disappointments.
EXCELLENT show. I stumbled upon it, and I am so glad I did. The writing, the characterization, all of it came together in a really well

EXCELLENT show. I stumbled upon it, and I am so glad I did. The writing, the characterization, all of it came together in a really well written story. Twists and turns. Expect the unexpected with this one. A total ten!!!

…

Expand

I'm always the guy people ask for recommendations for new/cool tv shows and movies. Mad Dogs is my latest find! All four of my roommates and

I'm always the guy people ask for recommendations for new/cool tv shows and movies. Mad Dogs is my latest find! All four of my roommates and I loved it and watched all 10 episodes in one weekend! Couldn't turn it off. Can't wait for the second season. Have no idea where they are going to go with it. and I LOVE THAT. Amazon is starting to stack up a bunch of cool original shows.

…

Expand

Great show! Love the mix of comedy and drama and the amazing cast handles both really well! The writing is really strong and the twists keep

Great show! Love the mix of comedy and drama and the amazing cast handles both really well! The writing is really strong and the twists keep coming all the way to end. Definitely finishes on the best episode of the season too! Hope to see more next year!

…

Expand

Edge of your seat intrigue, best dark humor out there. Great idea, great acting, Beautiful location. Impressive how they can came out with

Edge of your seat intrigue, best dark humor out there. Great idea, great acting, Beautiful location. Impressive how they can came out with such unexpected twist and turns. You Have to watch Mad Dogs!!!

…

Expand

It won us over! We want more! I don't like to be frightened or particularly enjoy watching crime genre, but I somehow related to these guys on

It won us over! We want more! I don't like to be frightened or particularly enjoy watching crime genre, but I somehow related to these guys on vacation The acting and the storytelling reeled me in. About half way through the series my husband put down his game controller and watched it with me. WIN!!!

…

Expand

Mad Dogs was given a single season before Amazon decided to not renew. While I did like the show, it is probably for the best.

A prettyMad Dogs was given a single season before Amazon decided to not renew. While I did like the show, it is probably for the best.

A pretty dark comedy that is following 4 forty-somethings who go down to Belize for a reunion that evolves into a nightmare of lies, deception, and murder. Based on a British show of the same name.

Overall the people were pretty good in it, Billy Zane (of a dozen movies including The Phantom) and Michael Imperioli (of Sopranos) were the ones I specifically recognized and were my favorite characters in the show.

It was an entertaining show, each of the ten episodes they would make the absolute worst choice, people would die, strange people would wander into the show (one example, a little person dressed in a cat mask). Unlike a lot of other shows like this, it didn't let itself get too dark either.

The biggest problem was ten episodes was too long for the situation. The original British show (which I hear one of the other actors in this Mad Dogs played the Billy Zane part in the original) was four episodes the first season (and two additional seasons for a total of 10). Meaning this season was two and a half times longer then the British first season and had too much filler.

Pros: Funny and surprising regularly with decent acting.

Cons: The material isn't enough for ten episodes, they should have cut it down a bit.

Maybe I will try the British version now.

…

Expand

What a waste of talent and location. Suspense in episode 1 descends into repetitive and frankly boring farce.An utterly risible plot or lack

What a waste of talent and location. Suspense in episode 1 descends into repetitive and frankly boring farce.An utterly risible plot or lack of it. A real disappointment after Netflix other triumphs like House of Cards

…

Expand