Network:

AMC

Series Premiere Date:

Jul 19, 2007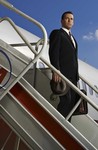 Creator:

Matthew Weiner

Season 1 premiere date:

Jul 19, 2007

Episode Length:

60
Please enter your birth date to watch this video:
You are not allowed to view this material at this time.
The Making Of Mad Men: Women's Hair Styles
The acting (from a mostly unknown cast), cinematography (you can just stare at this series) and especially Weiner's writing carry the series to exceptional heights.

This sleek, sexy, smartly cynical drama about selling everything from cigarettes to Nixon also nails the era's attitudes of casual prejudice and sexual manipulation.

"I'm living like there is no tomorrow because there isn't one." Not a pretty sentiment, to be sure, but it makes for an intriguing character in what's likely to be the best new summer series of 2007.

As a witty social history viewed through the tempestuous prism of office and sexual politics, Mad Men is big fun ... classy entertainment with a brain.

Mad Men is infinitely more concerned with entertainment, an effort at which it succeeds, thanks mostly to its first-rate cast, disarming humor and period detail.

The mood is serious, not campy, and there aren't laugh-out-loud moments, just a lot of groaners--at which point, the show simply becomes a reflection of its characters: depressing.
Though it takes quite a bit of time and effort to really submit into the world of "Mad Men", after a few episodes it's worth the patience.

Though it takes quite a bit of time and effort to really submit into the world of "Mad Men", after a few episodes it's worth the patience. Once you become submerged in the business world of the '60's, it's ruthless, realistic atmosphere is so interesting that it's impossible to not be convinced that the actors involved really exist in our time. The show is consistently well-written, and every performance, particularly by Jon Hamm and January Jones, give it a sense of power that most TV shows beg for.

…

Expand

Excellent. Was a bit skeptical at first; due to the subject of the show. It didn't really pique my interest at first. But, I gave the first

Excellent. Was a bit skeptical at first; due to the subject of the show. It didn't really pique my interest at first. But, I gave the first episode a try, and was completely drawn in by all of it. The atmosphere and authenticity of the time period is nailed perfectly here; you really do feel like your watching real life in the '60s. From the offices and rooms of the advertising agency, to the musty bars and taverns -- everything feels spot on. The characters are well developed & interesting; there's a lot to enjoy just from the characters themselves. The character development in this show is very in-depth and well thought out. Characters don't just stay stagnant and stay the same, they change and grow over time (Peggy being the greatest example of that -- this season, at least) as the show progresses. The acting is top-notch as well; Hamm, Moss, & Slattery in particular.

There is no reason not to love this show. Give it a try before you knock it.

…

Expand

Amazing, beautiful and captivating.

Further proof that TV has vaulted past the movies in dramatic writing and even production design. Completely engaging.

This is certainly the best drama since the first season of the Sopranos. Mature, elegant, exquisite writing and art direction. And

This is certainly the best drama since the first season of the Sopranos. Mature, elegant, exquisite writing and art direction. And compelling, voluptuously braided story lines.

…

Expand

I for the best feature of the series is it's subtle and unsentimental critique of the manipulating enterprise known as advertising. The

I for the best feature of the series is it's subtle and unsentimental critique of the manipulating enterprise known as advertising. The weaknesses of the series lie in the actors. Jon Hamm seems as if he's made of stone, inexpressive to the point of being entered. On the other hand Betty Draper just needs to take some acting lessons. Her timing is off by about one third the second, and it kills every line sheet of hers. It is a joy to watch Christina Hendricks being framed in all sorts of interesting Color contrasting settings. But I wish they would resist the predictable butt shot as she leaves rooms. It is a thing of beauty to watch, but overdone. The other weakness as well as a potential strength is the understatement, the refusal to explain, and the reliance upon short intense visuals to convey emotions – mostly on the faces of women stunned by the great task behavior of their male counterparts. I know there must be something obvious in it then I missing, but I do not quite understand all the gratuitous sex, unless it is to keep the audience titillated, and the ratings up.

…

Expand

Mad men made this show alright. I don't know what kind of audience they are trying to target with Mad Men but I'm 20 and this show doesn't

Mad men made this show alright. I don't know what kind of audience they are trying to target with Mad Men but I'm 20 and this show doesn't appeal to me at all, I guess they are going with the older crowd. This show has very poor dialog, very uninteresting plots nobody cares about, I like the idea of a show being set in the 1960s but couldn't they have picked anything more boring than an advertising agency?

I don't care about this show at all, it's completely boring and bad.

…

Expand