Network:

Netflix

Series Premiere Date:

Dec 18, 2015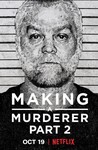 Summary:

Moira Demos and Laura Ricciardi's 10-part documentary series focuses on the case of Steven Avery, a man convicted of sexual assault, before being exonerated by DNA evidence 18 years later. A few years later, he is convicted in the disappearance and murder of another woman.

Genre(s):

Documentary
Season 1 premiere date:

Dec 18, 2015

Episode Length:

30
Please enter your birth date to watch this video:
You are not allowed to view this material at this time.
It's a completely hypnotic enterprise--a nightmare you are compelled to remain within, to see what happens.

It's as engrossing as they come, impactful and devastating, and it left me with a hollowed-out despondence generally treatable only with alcohol and ranting.

As far as longform journalism goes, it's something of a masterstroke. Ricciardi and Demos deliver a decade's worth of assembled surveillance footage, interviews, press conferences, police interrogations, courtroom testimonies and more, so much information in fact that the series feels like it's racing to deliver it all even with a 10-hour-plus runtime (Making a Murderer feels like it could have gone on for hours more).

Demos and Ricciardi serve their subjects well, but they also serve their case well. They take complex legal subjects and make them interesting, boiling down mundane legal bureaucracy into a cohesive story that still is able to treat all victims--no matter what side of the cell bars they are on--with respect.

Making a Murderer doesn't have that arresting peg of the audience surrogate, which can so often be a galvanizing force in and out of a dense journalistic tale. But it's worth observing that while Making a Murderer is more detached than those other docuseries—with a very uncinematic, nonfiction, brass-tacks style—the series also can't help but evoke some other critically acclaimed series of the past few years.

Clearly, Ricciardi and Demos are on the side of justice, attempting to shed light on the dangers of imperfect police work and the very real potential for conspiracy. But when they showcase the awful thrill with which some members of the media reacted to the "great story" of Avery's second arrest, it's tough not to see a double standard. It is a great story, which is why they and Netflix chose to tell it.

Overlong compared to the compact, well-edited six hours of "The Jinx," "Making a Murderer" could use a lot of tightening. ... And yet it's a fascinating story.
I didn't think part 2 could be as gripping and intense as part 1 but I was wrong. Kathleen is the hero everyone needed to know still existed

I didn't think part 2 could be as gripping and intense as part 1 but I was wrong. Kathleen is the hero everyone needed to know still existed in today's corrupt world. The new evidence and testing they go into is detailed and interesting. I really hope there is a part 3

…

Expand

Should be required viewing for every American. A documentary about an injustice in Wisconsin. Imagine the West Memphis, Arkansas case and then

Should be required viewing for every American. A documentary about an injustice in Wisconsin. Imagine the West Memphis, Arkansas case and then multiply the corruption in that by about a 1000 percent. This is a documentary--but I think it's also one of the greatest horror films ever made.

…

Expand

Amazing documentary series. This riveting real life crime drama is a must see. The second part focuses more on the broken US justice system

Amazing documentary series. This riveting real life crime drama is a must see. The second part focuses more on the broken US justice system where it is an uphill battle for the defendants to prove their innocence in a system that is geared to favour the state and government. One only hopes there is justice in the end. You need to see this!

…

Expand

The most captivating show I have watched in a long time. Completely addicted. My heart was pounding during some of the court scene, where

The most captivating show I have watched in a long time. Completely addicted. My heart was pounding during some of the court scene, where those involved had everything on the line. The show is totally enthralling as a whodunit, but also reveals the severe failings of the criminal justice system in the US, where police (rather than courts) act as judge and jury. The show reminds us of the immense power the state has over the individual (even in the country like the US which proudly exclaims the rights of the individual). If you are young, dumb (let alone Black) and the cops decide you did something that you didn't, your chances of getting justice seem slim.
This show reminds me of The Jinx, which I also loved. Watching these two show together highlights the opposite scenario; how those with deep pockets and a keen mind can twist the system with impunity.
If I was going to compare the shows, I would say Making a Murderer is more gripping throughout , but The Jinx has the better climax.

…

Expand

if you want to see true evil that exists in this world then look no further, this will pull at your heart strings in the deepest of manners,

if you want to see true evil that exists in this world then look no further, this will pull at your heart strings in the deepest of manners, it will upset you it will make you want to smash your tv. the true power of propaganda, manipulation and corruption are here to see in the most transparent of forms. it gave me a true sense what the system can do to a family if it is not seen in the right light, what people with power are capable of, if they striving forward with ignorance, fear and prejudice. when the truth of it all or lack of it seeps into your skin, you might realize that things need to change but whats first is needed is a change of perspective and if you need that then you need to watch this.

…

Expand

Serial meets The Jinx. So gripping, so depressing, so hard to watch because you can't believe how bad and unfair things can really be but you

Serial meets The Jinx. So gripping, so depressing, so hard to watch because you can't believe how bad and unfair things can really be but you also stop and question yourself for siding with the protagonist because maybe, just maybe you're wrong, he's guilty.... A MUST watch!

…

Expand

This is an emotionally manipulative "documentary" told from the point of view of the killer of an innocent young woman, who, like most guilty

This is an emotionally manipulative "documentary" told from the point of view of the killer of an innocent young woman, who, like most guilty people in prison, says he's innocent. He's not. Be sure to look into the evidence before you make your mind up, and ask yourself why the people who made the documentary left out facts like his history of domestic violence, sexual deviance, and sociopathic behavior.

…

Expand