Network:

FOX

Series Premiere Date:

Mar 5, 2017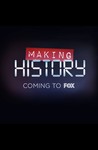 Starring:

Leighton Meester

,

John Gemberling

,

Neil Casey

Summary:

Computer science professor Dan Chambers (Adam Pally) travels back in time to the 1700s and falls in love with Deborah (Leighton Meester), Paul Revere's daughter. Dan's adventures in the 18th century changes history and he brings his history professor friend Chris (Yassir Lester) to try and

Computer science professor Dan Chambers (Adam Pally) travels back in time to the 1700s and falls in love with Deborah (Leighton Meester), Paul Revere's daughter. Dan's adventures in the 18th century changes history and he brings his history professor friend Chris (Yassir Lester) to try and fix history.

…

Expand

Genre(s):

Comedy

,

Science Fiction
Creator:

Julius Sharpe

Season 1 premiere date:

Mar 5, 2017

Episode Length:

30
This newest Fox comedy isn't quite at the Brooklyn Nine Nine's level, but Making History is incredibly fun.

A bright dumb comedy for stupid-gloomy times. [24 Feb/3 Mar 2017, p.93]

It's all very silly, but there's bite beneath some of the yuks.

As the lone comedy of the bunch, Making History feels like the more expansive concept, with the latitude to drop its central trio into a variety of settings. That's especially true if it can continue wryly using the past to effectively comment on the present.

Bouncy, wholehearted and totally flighty, in ways both good and bad, it might just have the stamina to keeping this past-traveling series continuing for the foreseeable future.

In short, Making History is supposed to revolve around the character with the least at stake, which isn't terribly interesting, and in every episode it has to find ways to get around that problem. Pally's a very funny guy, and Dan would make a fine supporting character. But as written, he's not dynamic enough to carry the show.
Only 2 episodes in and this show is already a hoot. The dynamic between the 2 main leads could be worked on a little more. (They could be a

Only 2 episodes in and this show is already a hoot. The dynamic between the 2 main leads could be worked on a little more. (They could be a smidge more likable.) But the cast, both main and supporting, is funny and lively.

With a lot of shows recently taking time travel too seriously, it's nice to see a show just have fun.

…

Expand

'Making History' starts small but it is filled with funny jokes that suits perfectly well in the already tired theme of time travel. Adam

'Making History' starts small but it is filled with funny jokes that suits perfectly well in the already tired theme of time travel. Adam Pally and Yassir Lester are surprisingly full of energy in their roles, making this pilot very enjoyable.

…

Expand

Enjoyable pilot. reminds me a bit of Hot Tub Time machine but only 2 characters. One screws up the world, then realizes he screwed it up and

Enjoyable pilot. reminds me a bit of Hot Tub Time machine but only 2 characters. One screws up the world, then realizes he screwed it up and needs help to fix it. Yea the characters could use fleshing out more, but hey there's only been 2 episodes so hopefully we learn more about each character. as well that helps them fit into this TV series.

…

Expand

When I first heard of this, I thought I would like it as I like a good sic-fi, but the problem was it wasn't good. Some might thing it is

When I first heard of this, I thought I would like it as I like a good sic-fi, but the problem was it wasn't good. Some might thing it is funny, but I for one don't, and the plot is **** and stopped watching after the second show, mainly apart for not being funny or have a good plot, but because it was only about twenty minutes long. I like my shows to be about forty-five minutes to an hour long.

If you are into **** laughs, with no real plot and short show times, than this is for you... but sadly I don't see how people can like it. It must be a generation, as those born after 2000 seem to have a strange seance of what is funny.

…

Expand