Network:

ABC

Series Premiere Date:

Sep 24, 2013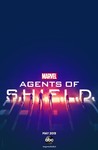 Starring:

Ming-Na

,

Clark Gregg

,

Henry Simmons

Summary:

Agent Phil Coulson (Clark Gregg) leads a group of S.H.I.E.L.D. agents: Grant Ward (Brett Dalton), Melinda May (Ming-Na Wen), Leo Fitz (Iain De Caestecker), Jemma Simmons (Elizabeth Henstridge), and new recruit Skye (Chloe Bennet) to investigate and protect the world from the unknown. The

Agent Phil Coulson (Clark Gregg) leads a group of S.H.I.E.L.D. agents: Grant Ward (Brett Dalton), Melinda May (Ming-Na Wen), Leo Fitz (Iain De Caestecker), Jemma Simmons (Elizabeth Henstridge), and new recruit Skye (Chloe Bennet) to investigate and protect the world from the unknown. The first live-action series set in the Marvel Cinematic Universe comes from The Avengers director Joss Whedon, along with Jed Whedon and Maurissa Tancharoen.

…

Expand

Genre(s):

Drama

,

Action & Adventure

,

Science Fiction
Please enter your birth date to watch this video:
You are not allowed to view this material at this time.
Marvel's Agents Of S.H.I.E.L.D.
As with "The Avengers," Whedon's ear and sensibilities match the material perfectly.

Marvel's Agents of S.H.I.E.L.D. looks to be the most fun you'll find in an hour of prime time this fall.

Beyond the breezy dialogue, MAoS is terrific-looking and has action scenes that are above par for primetime. Not enough to wow you, but a fun date.

Just enough geeky insider stuff to keep the fan-boys from grousing too much, but an even bigger portion of well-written action, drama, humor and intricate plot details to hook viewers who gave up comic books before Steve Canyon was grounded.

Gregg's resurrected Coulson so far is the much-needed glue, lending a familiar presence and sturdy countenance.

Everything works and the actors range from fine to good--although the fast-talking chatter between De Caestecker and Henstridge gets old quickly--but it doesn't exactly crackle with excitement. It's fun, but a little flat in spots.

The shame is that a series about a band of heroes trying to hunt down more potential heroes could be the perfect antidote to TV's own overly dark cliché: the anti-hero. But instead it resists the call, too self-serious to be really goofy, and yet too fan-boyish to rescue even one hour of television from mediocrity.
Great pilot, delicious teasers, more than a few nods to the Marvel movie history. There is just enough CGI to be interesting and the ratio of

Great pilot, delicious teasers, more than a few nods to the Marvel movie history. There is just enough CGI to be interesting and the ratio of reality and fantasy is perfect to keep you immersed and enamored.

And the casting, of course, is just perfect.

…

Expand

SHIELD is increasingly achieving what it is intended to do for its fan base.

It is delivering on both the graphic novel/comic book andSHIELD is increasingly achieving what it is intended to do for its fan base.

It is delivering on both the graphic novel/comic book and long-arc plot genres. It has action, tech, emotions and romantic overtures that other programs can only hope for. It can appeal to a range of demographics. From a arc perspective, each week pulls back the curtain on tech gee wiz (the plane hover!), character back-story and undercurrents (internal SHIELD intrigue and villains).

Balance is difficult. Unfolding too fast and superficial would disappoint core fans hungering for depth. Too slow will make it more difficult to engage new-comers. Some criticize for insufficient tie from episode to episode. Yet, how many times have series failed by being so serialized, new-comers can't easily join in?

Stress is on the strengths. As the storyline unfolds it's generally getting better and planting seeds for a rich list of future episodes. While I have my favorite episodes (6 & 7 were especially strong in many ways compared to the pilot), mostly would be delighted to be a fly on the wall in the writing room to see the chemistry that produces the scripts and inspired the casting. Recall, it was the writing team and Clark Gregg that breathed life into Phil Coulson a character not in the the Marvel canon. That's a fan accomplishment.

Consider the business model. ABC's, really Disney's, commitment to the franchise and excellent track record in managing such franchises, gives SHIELD runway to unfold in this balanced way that could weave together the movies and games for years to come. Too many reviewers emphasize the number drop without realizing numbers are still respectable and the integrated business model might be quite respectable including the Verizon tag-on. SHIELD's demographics also are pleasing buyers for key advertisers.

…

Expand

Marvel's Agents of Shield is far from perfect. Many fans criticized the show for not being "Marvel" enough, however the show is slowly taking

Marvel's Agents of Shield is far from perfect. Many fans criticized the show for not being "Marvel" enough, however the show is slowly taking viewer's advice. With Mike Peters becoming Deathlok; Agent Maria Hill, Nick Fury, and Lady Sif making appearances; Donnie Gill from episode 12 becoming a version of Blizzard; Bill Paxton becoming Agent John Garrett; the strange blue alien at the end of episode 14; and future tie-ins with Marvel movies (like Captain America: The Winter Soldier) the show is genuinely trying to improve. With each passing week, Agents of SHIELD. is becoming a more fully developed show; after many episodes it has finally managed to redeem itself. The show's characters are generic, to say the least, but they have been changing for the better. I get that fans want to have more Marvel superheroes and stuff in the episodes, and I agree with that, but it's a bit too much to ask for people like Robert Downey Jr and Scarlet Johansson to appear on the show. Another initial problem with SHIELD was that it had "case of the week"-like episodes. There was no overall story arc (a problem Fox's Almost Human faced). Now though, there is Centipede and the Clairvoyant.

I liked the references to the Marvel Phase One group of movies with plot elements like Extremis. While I had my doubts when I watched the first episode, I think this show is good now and I now highly recommend it. I think it's better than The Avengers and the show has potential. My only major complaint is that it's too unrealistic at times, like with the little robots and the flying car at the end of episode one, unlike the Marvel Cinematic Universe which is grounded in reality (for the most part). I also like the plot twists in the episodes and the premises. I think they should merge the Marvel One-Shot "Item 47" with this; that would be cool.
I personally always liked the show, despite all its faults. I think a big problem was that some people had really high expectations for this show, and those high expectations weren't met. I get that, because I had high expectations for The Avengers and Iron Man 3, and I was disappointed when they weren't met. High expectations can ruin otherwise great films/TV shows, so I recommend that if you don't already—don't expect too much from this show. If you liked this review, read my other reviews on a wide variety of movies and TV shows by clicking on my name and mark this review as helpful. Remember, every vote counts and I'd really appreciate it.

…

Expand

One of the better TV dramas I've watched, though admittedly that's a pretty short list. I love the character of Coulson and they've evolved

One of the better TV dramas I've watched, though admittedly that's a pretty short list. I love the character of Coulson and they've evolved him over the course of this show many times more then they were able to do in the films. The strength of a show like this is in it's characters: Not just Coulson, but Skye, May, Lincoln, Calvin, and a host of others. The CG and guest list isn't anywhere up to the level of the movies, and its a little bit jarring how they only seem to get C-list marvel characters, though maybe that's the point.

…

Expand

I had high hopes, but no, this is garbage. And annoying garbage at that. Outside of Coulson and um, sometimes that May woman, the characters

I had high hopes, but no, this is garbage. And annoying garbage at that. Outside of Coulson and um, sometimes that May woman, the characters on this show are horribly written and acted. And they are not half as interesting, cool, or quick-witted as they think they are. If they wanted to save this show, which I predict will last this season and plummet the next, in my opinion they need to kill off the team except Coulson, and reboot with characters that have more life than a corpse and are not as egotistical as a teenager. Seriously though, why if this was such a top secret project, did they recruit a bunch of 14 year olds who look as if they're in the middle of a growth spurt? And they act like 14 year olds too! Honestly, I keep waiting for the episode where they study for their SATs. Ugh, my head hurts thinking how disappointing this whole thing is, can't watch anymore. Also, scale the writing back, not everything needs to be a pun, or quippy, I feel like I'm watching an episode of Sex and the City.

…

Expand

Very disappointing. I like the idea, but not the delivery. It makes me feel like I'm watching a show from the "CW". It's predictable, clichéd,

Very disappointing. I like the idea, but not the delivery. It makes me feel like I'm watching a show from the "CW". It's predictable, clichéd, vanilla, and tedious. It has too many of those too young, too pretty, too unbelievably talented for their age, characters. This is all about the looks and the gizmos, and not the story. Does every show Whedon makes have to have the hot uber-women types? Which wouldn't be horrible if there were other characters to counter balance them? Firefly was an awesome example of a show built around characters and imperfection. Here, there's no grit, no angst. The only attempts at any humor are cheesy one-liners, and any witty banter feels forced and is not very witty. There aren't any imaginative or interesting characters here, there's no stimulating dialogue. This show wants and tries so hard to be a hit and make everyone happy, it simply falls flat. Kids might like it, if I were 12, I might like it. If this show was on Saturday mornings, it would help me understand where its coming from a lot better.

…

Expand

I had little interest in watching this show but stuck it out to watch it and i am never going to get those hours back! Crap dialogue,

I had little interest in watching this show but stuck it out to watch it and i am never going to get those hours back! Crap dialogue, extremely repetitive and just plain boring. It had all the potential to be great but just never went anywhere. most people i know who watch it just say "omg, its awesome!". but when i ask why its awesome, nothing comes to mind so its like they see its by Marvel and just assume its awesome, its like they watch it and minor action turns into a Michael Bay action sequence... Its utter nonsense and should not be watched and renewed... my advise is to stop watching this crap and watch other shows that take a nice large crap on this one.

…

Expand