Network:

ABC

Series Premiere Date:

Sep 29, 2017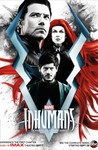 Starring:

Anson Mount

,

Ken Leung

,

Sonya Balmores

Summary:

The first two episodes are set to air in IMAX theaters September 1st before premiering on ABC. The series will follow the royal family of Inhumans, led by their King, Black Bolt (Anson Mount), after they are split up by a military coup and end up in Hawaii in the latest television series set

The first two episodes are set to air in IMAX theaters September 1st before premiering on ABC. The series will follow the royal family of Inhumans, led by their King, Black Bolt (Anson Mount), after they are split up by a military coup and end up in Hawaii in the latest television series set in the Marvel Cinematic Universe.

…

Expand

Genre(s):

Drama

,

Action & Adventure

,

Fantasy

,

Science Fiction
Season 1 premiere date:

Sep 29, 2017

Episode Length:

60
Please enter your birth date to watch this video:
You are not allowed to view this material at this time.
Inhumans doesn't seem to know what it wants to be. It tries for a joke now and again, but it is overall somnolent and solemn where it should crackle and kid.

Inhumans is more comic book-y, with an emphasis on special effects. The target audience appears to be teenagers rather than a mass audience. The effects, though, which include a teleporting giant dog, are pretty cool.

Inhumans has an eight-episode run on ABC, but by the second hour, it already feels like they're stalling, or running out the clock.

The dialogue is stilted, the costumes are too literal, the sets are drab and the action scenes are poorly directed and hard to follow.

Marvel's excessively miscalculated series is nearly performance art. It's theater of the absurd. Or maybe it's just a sloppy and hastily thrown together TV show to satisfy a corporate obligation, and no amount of Terrigen Mist is going to turn it into something interesting.

Inhumans has nothing at all to recommend it. Its only superpower is its sheer ineptitude.
I hate all these bad reviews so much!! I really like the show and i hate that it's getting all these negative reviews! I was a little sceptic

I hate all these bad reviews so much!! I really like the show and i hate that it's getting all these negative reviews! I was a little sceptic in the beginning, but i really like it now! I am so glad i kept watching! I am giving this a 10 because i like where they're going with this. They could maybe invent something so Black Bolt can speak, cause now i am super curious! I wouldn't say that the effects are as bad as everyone says they are! Come on guys give the show a shot!

…

Expand

I believe that certain people which are focused on the visual effects are doing this series a injustice
The story and the overarching plot isI believe that certain people which are focused on the visual effects are doing this series a injustice
The story and the overarching plot is both interesting and poses some really interesting philosophical questions about our socio-politic reality
if u are a cinematographic puritan this is not your series, otherwise i strongly recommend it

…

Expand

I have only seen the two-hour TV pilot, so my review is not of the entire series. I think the special effects and costumes are somewhat

I have only seen the two-hour TV pilot, so my review is not of the entire series. I think the special effects and costumes are somewhat passable, but unfortunately, there was no compensating for the poor quality of writing in the TV pilot. The choreography of the fights was surprisingly very amateurish. I have my doubts as to whether the series will be salvageable.

…

Expand

From what could have been a great Marvel movie along the lines of Guardians of the Galaxy and then demoted to a TV spin-off from Agents of

From what could have been a great Marvel movie along the lines of Guardians of the Galaxy and then demoted to a TV spin-off from Agents of Shield, Inhumans has failed to live up to even Marvel's worst small-screen efforts, let alone the show it sprang from.

Marvel's proven it can take even the silliest of settings and spin it into gold. Just look at Thor, a movie that probably should have been terrible, but turned out great. The problem with Inhumans lies not with the idea but the execution. The story is predictable, the dialogue is cheesy, the characters are wooden, and you know you've got a problem when the best acting is coming from the only guy who's a mute. Even Iwan Rheon seems like he's drowning, trying to keep his head above the bad writing. This is not Game of Thrones.

To be fair, the fight scenes are entertaining. Mortis is funny. Maximus (a.k.a. Loki with a beard) is somewhat fun. That's about it.

Agents of Shield has witty dialogue, likable characters, interesting stories that cleverly borrow ideas from the comics, clever tie-ins with the movies, and a self-aware sense of humor. Daredevil and Jessica Jones have dark, gritty atmospheres, flawed, human protagonists, and a dramatic sense of poetry and tragedy. This show has a magic bulldog.

I made it six episodes in and I can't do it anymore. I'd rather rewatch Iron Fist or Defenders over this, and they're both pretty bad. The show has passed the point of no return. It can't be saved. It's got gangrene and it needs to be amputated.

…

Expand

It lacks commitment, entertainment and seems to have been written in a caffé with nothing better to do. The characters are childish and

It lacks commitment, entertainment and seems to have been written in a caffé with nothing better to do. The characters are childish and uninteresting.

…

Expand

I've watched all 4 episodes to date, and this show is just embarrassingly bad in nearly every way, even by Marvel TV standards. This is like

I've watched all 4 episodes to date, and this show is just embarrassingly bad in nearly every way, even by Marvel TV standards. This is like taking a 20 or 30 year backward step in tv time. The special effects are almost non existant, and when they use one its like something you would have seen in the 80s. The story SUCKS, the dialog is terrible and even the cinematography is horrible. I wont mention the acting, because I havent seen any.
Someone scammed Marvel to shoot a show in Hawaii, and thats all there is to say about it. I really cant believe it isnt cancelled yet.

…

Expand

Medusa and the hair, the giant dog that saves the day and a normal who starts a coup d'etat. Kept looking for something decent in this show

Medusa and the hair, the giant dog that saves the day and a normal who starts a coup d'etat. Kept looking for something decent in this show and was at every turn sorely disappointed. The Marvel brand is long past overextended and the blame falls on inept tv executives who buy up these minor comics hoping they will get the next Avengers or Fantastic Four. Pull the plug quickly and let this horrible experiment go away.

…

Expand