Network:

Netflix

Series Premiere Date:

Aug 18, 2017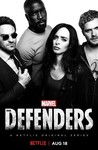 Starring:

Eka Darville

,

Krysten Ritter

,

Scott Glenn

Summary:

Luke Cage (Mike Colter), Jessica Jones (Krysten Ritter), Matt Murdock (Charlie Cox) and Danny Rand (Finn Jones) join together to defeat a major threat.

Genre(s):

Drama

,

Action & Adventure

,

Fantasy

,

Science Fiction
Please enter your birth date to watch this video:
You are not allowed to view this material at this time.
Intense, mysterious, action-packed and flat-out fun, this series takes all the best aspects of earlier Netflix Marvel shows and rolls them into one great package.

The images are sharper and more inspired, the dialogue is wittier, and the pace is breezier than the usual Marvel-Netflix escapade. Kudos to showrunners Douglas Petrie and Marco Ramirez--the team behind the disappointing second season of Daredevil--for upping their own game, honoring the best parts of every series, and elevating the franchise.

The ultimate weakness of The Defenders is found in its plotting, especially the way it indulges in one massive superhero storytelling cliche towards the end. But when the show focuses on character, it's at its best, especially when the secondary characters,--the women!--get a chance at the spotlight.

The Defenders is a workmanlike series that gets the job done with a reasonable amount of energy and a few bursts of flair.

The Defenders is yet another Netflix ultra-slow burn. None of the heroes interact at all in the first hour. ... The parts of Defenders that actually, you know, feature all the Defenders are promising enough--if only for the chance to watch Jessica continually insult the others--for me to gladly watch the second half.

The Defenders is a pretty grim slog for the most part, enlivened mainly by Jessica's hard-bitten one-liners, "surprise" appearances by major characters from Marvel's other Netflix shows, and a couple of lively fight scenes (though not the opening bout, which is so darkly lit and chaotically edited as to be barely comprehensible).

The story's larger stakes aren't always clear, and momentum falters, especially in the episodes that jarringly shift focus between the four characters. The Defenders' adversary complicates narrative coherence in the early going, with vague motivations and unclear means.
superior to all CW garbage TV shows MCU once again prove to be a true and only king when it comes to superhero series... like with movies

superior to all CW garbage TV shows MCU once again prove to be a true and only king when it comes to superhero series... like with movies
Defenders are pure masterpiece and awesome TV show that combine four awesome characters in epic story. 10/10

…

Expand

The series begins slowly but when the four protagonists meet the series improves a lot.
I love the color changes according to the characterThe series begins slowly but when the four protagonists meet the series improves a lot.
I love the color changes according to the character and the cast is great.
The only bad thing is that they give much importance to Iron Fist and very little to the other characters, especially they miss Jessica Jones and Luke Cage.
Overall very good.

…

Expand

While nowhere near perfect, this season was thoroughly enjoyable by anyone who's been a fan of Netflix's Marvel shows since the beginning.

While nowhere near perfect, this season was thoroughly enjoyable by anyone who's been a fan of Netflix's Marvel shows since the beginning. The villains could have been fleshed out better, the side characters could have been handled a little better than throwing them into a box together and shaking it up, and the chemistry between the 4 defenders felt a little off. Or rather, the chemistry between Daredevil and everyone else in the show felt off, or forced. The other three heroes meshed well eventually.
The plot was good but not great. The fighting scenes were great, but never felt like there was much consequence attached to them. A lot of people complained that the show started slow, but that's a given when you're forcing 4 strangers together into an heroic situation.
Essentially, while this season will never be "must watch" tv, it was still a great way to spend a couple lazy afternoons. Very entertaining despite it's flaws!

…

Expand

Huge disappointment. The fight scenes were awful, In most scenes you could see that their punche hit nothing but the air. Very slow plot, lots

Huge disappointment. The fight scenes were awful, In most scenes you could see that their punche hit nothing but the air. Very slow plot, lots of talking, Weaver was a wasted opportunity and very bad acting from the majority of the actors. Cox shines once again and he proves that he is a level above all the other actors (Weaver too). Pity. It could be great

…

Expand

Don't know what it is, but after the last two Daredevil seasons, these Marvel shows have been getting more campier, predictable, and very

Don't know what it is, but after the last two Daredevil seasons, these Marvel shows have been getting more campier, predictable, and very formulaic. Very ABC network cookie cutter type of show, much like agents of shield. Why even have this on Netflix if you can't be a little edgier or put more thought into a storyline. I will say I got through it all unlike Iron Fist.

…

Expand

Just wow. This was mediocre. To put it short: the threat wasn't threatening enough and the so called super heroes wasn't super heroic enough.

Just wow. This was mediocre. To put it short: the threat wasn't threatening enough and the so called super heroes wasn't super heroic enough. Even the non super heroic characters of the show put up a good fight against the villains and it felt like the writers wasn't able to come up with any situations where a super hero were needed. Just some uninspiring fights, which didn't impress. In that sense, "The Defenders" could've just as well been a season of "24", but far less intriguing and much worse written. Something that could've and should've been a "Avengers" light or a Marvel tv show x4 became just as weak and messy as the first season of "Iron Fist."

…

Expand

Show started too slow and had little payoff. It seems that Netflix is regressing to the crappy era of superhero movies that was ashamed of the

Show started too slow and had little payoff. It seems that Netflix is regressing to the crappy era of superhero movies that was ashamed of the source material and had the characters/settings be more "realistic". These characters are supposed to be larger than life. That is one of the reasons kids liked to read the comics, because it was an escape from reality. The Netflix Marvel stuff is currently getting fairly boring and lame. I hope that Daredevil does not continue in this awful direction.

…

Expand