Network:

Showtime

Series Premiere Date:

Sep 29, 2013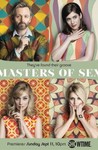 Starring:

Nicholas D'Agosto

,

Lizzy Caplan

,

Teddy Sears

Summary:

Michael Sheen and Lizzy Caplan star as pioneering human sexuality researchers William Masters and Virginia Johnson in a 1950s-set drama based on a book by Thomas Maier.

Genre(s):

Drama
Season 1 premiere date:

Sep 29, 2013

Episode Length:

60
Please enter your birth date to watch this video:
You are not allowed to view this material at this time.
The characters get better and more complex, the story builds, strange things start to happen and now I can't wait to see how its interweaving plots unfold.... It's rare that a show can intuit what the viewer wants and deliver it, but that's precisely what happened.

There is no more fascinating, or entertaining, new series this fall season.

Performance is never a problem for the cast of Masters of Sex. Caplan, Sheen and the supporting players keep everything humming in the best new drama of the fall season. You'll want to watch.

It makes the most of its pay-TV platform by showing plenty of skin, but the sex scenes service a bigger story made all the more compelling by a couple of strong leads in Michael Sheen and Lizzy Caplan.

Although it's a medical drama on one level, Masters of Sex is frequently laugh-out-loud funny, with romances, mysteries and coming-of-age stories unfolding throughout its large cast.

It's an inviting, beautifully acted, and smartly written period drama set in the 1950s

Regardless of historical veracity, though, some of the drama here is shopworn.
Saw the first two episodes and they're great. Michael Sheen and Lizzy Caplan will get Emmy nods next year. Happy that Showtime finally have a

Saw the first two episodes and they're great. Michael Sheen and Lizzy Caplan will get Emmy nods next year. Happy that Showtime finally have a good series after Homeland. This is very promising.

…

Expand

I am reviewing this show after watching the first 2 episodes. Masters of Sex looks like the best new show of 2013. The acting from Sheen and

I am reviewing this show after watching the first 2 episodes. Masters of Sex looks like the best new show of 2013. The acting from Sheen and Caplan are amazing. The uncensored pilot episode is available for free on YouTube. Yes, there is nudity in the show, but the way they use it, the nudity doesn't seem excessive or gratuitous. Please watch this new great drama.

…

Expand

You don't get a more titillating topic than the dawn of America's sexual revolution... The writing and directing strikes just the right

You don't get a more titillating topic than the dawn of America's sexual revolution... The writing and directing strikes just the right balance between the clinical and the profane allowing the audience to walk the same tightrope as the character. LIzzy Caplan is divine and the chemistry between her and Michael Sheen and Caitlin Fitzgerald (whom I hope we see blossom in many ways), is delicious and fraught with tension. Beau Bridges brings his usual comic genius while keeping his performance reigned in enough to assert his character's authority and the dignity of the institution.

…

Expand

Compelling, well acted and crafted show with an interesting premise unlike anything else on television. Impeccable writing, authentic to it's

Compelling, well acted and crafted show with an interesting premise unlike anything else on television. Impeccable writing, authentic to it's period, rare and engrossing.

…

Expand

The series is much improved from Season 1. I wonder how accurately it portrays the actual events since since so little is written about

The series is much improved from Season 1. I wonder how accurately it portrays the actual events since since so little is written about Masters and Johnson on line. I hope the ratings are good enough for a 3rd season renewal!

…

Expand

Its provocative title delivers intrigue and attention that fortunately it deserves. this is no "Game of Thrones" epic historical drama or

Its provocative title delivers intrigue and attention that fortunately it deserves. this is no "Game of Thrones" epic historical drama or Showtime own house of conspiracy "Homeland".nonetheless, this show has shown its own merits in solid storytelling that involve complex relationship and interesting character.
The set production is well design that kept the mood of that period intact and the performance is
brilliant with Lizzy Caplan bringing the charms and wits and MIchael being more serious and thoughtful as the leading man.
"Masters of Sex" might as well is one of the best new entry for television in 2013 and another achievement for Showtime.

…

Expand

The MOST boring & ugliest stories about ridiculously prostituting medical professions!!! just disgusting scientific masked... no love just

The MOST boring & ugliest stories about ridiculously prostituting medical professions!!! just disgusting scientific masked... no love just like animal testing???

…

Expand