Network:

Netflix

Series Premiere Date:

Oct 13, 2017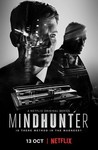 Summary:

The David Fincher series set in the 1979 where two FBI special agents (Holt McCallany and Jonathan Groff) in the Elite Serial Crime Unit create profiling techniques to solve cases was based on Mark Olshaker and John E. Douglas book Mind Hunter: Inside FBI's Elite Serial Crime Unit.

Genre(s):

Drama
Season 1 premiere date:

Oct 13, 2017

Episode Length:

60
Mindhunter is telling a long story, one that is engaging on multiple levels, understanding that you need strong characters and a compelling episodic structure to make a show great. It covers a lot of ground in 10 episodes.

Groff is immediately persuasive as a person whose raw talent is as much a hindrance as an advantage, and Fincher's surgically precise touch is evident in even tiny details like the police bullhorn that distorts a cop's voice to just the right unnerving degree. ... It's never less than engrossing. Fincher's proven time and again that he can make even the most mundane activities and actions riveting.

Patience is recommended, because it takes a while for Mindhunter to embed its hooks and acclimate Groff, who at times seems to be almost painfully "finding" his character. ... Based on what we have, Mindhunter is plodding at times but promising in the main.

An unusually cerebral and chillingly absorbing drama. [16-29 Oct 2017, p.15]

Penhall, Fincher, and the rest of the creative team take a dry, no-frills approach to most of the narrative. The overall aesthetic isn't flashy, but that's the point--this is exhausting, sad work involving both victims and perpetrators who led small lives that have become shockingly big--and the drama is more potent because of how plain-spoken so much of this is.

What Mindhunter lacks in energy it makes up for in better attention to character details. Mindhunter grows significantly more interesting in its second hour once Holden gets paired with veteran FBI agent Bill Tench (Holt McCallany, "Lights Out") and starts interviewing co-ed killer Ed Kemper (Cameron Britton, who nails a so-serene-it's-creepy vibe).

The show struggles to make Holden make sense--which makes for a slow, rocky start through his career woes and love life. Though the pilot's tone is an intriguing combination of wry humor and '70s noir, it's otherwise a slog of exposition and painfully on-the-nose scene-setting. Things pick up considerably as soon as McCallany's Bill appears in Holden's life.
While not historically correct in its time-line, the series get the late 1970's right. Lots of old cars, constant smoking everywhere

While not historically correct in its time-line, the series get the late 1970's right. Lots of old cars, constant smoking everywhere imaginable, music etc. Some great portrayals of serial killers and good acting from the leads.

…

Expand

I just started yesterday and this show is good, the interaction between the characters as well as the interviews with the prisoner..

I just started yesterday and this show is good, the interaction between the characters as well as the interviews with the prisoner.. especially the interviews with the prisoner is amazing.. its one of those shows where you just want to go on to see what will happen.. it's an interesting topic to find out what goes on in a mind of a serial killer and how he became what he is

…

Expand

It pays off very well. The series on the new FBI unit in the 1970s contains coolness and intelligence. This exquisite taste that has been

It pays off very well. The series on the new FBI unit in the 1970s contains coolness and intelligence. This exquisite taste that has been brought most of the northern european series and film.
The development of atmosphere and characters is harmonious.

…

Expand

I'm on episode three and find myself unable to stop watching. By coincidence, I just finished reading "Whoever Fights Monsters: My Twenty

I'm on episode three and find myself unable to stop watching. By coincidence, I just finished reading "Whoever Fights Monsters: My Twenty Years Tracking Serial Killers for the FBI" by
Robert K. Ressler. True Crime has never really been my thing but Ressler's book, which covers much of the same ground as the series (based on "Mindhunter" by John E. Douglas), was interesting, if dark and disturbing.

Surprisingly, Mindhunter the TV series is often funny, while still remaining fascinating and staying mostly true to the actual events. The well drawn characters make this show a must watch.

…

Expand

Unfortunately I got bored after 2 episodes. Not very original for me. New ideas for the agents at that time but not for us viewers today I

Unfortunately I got bored after 2 episodes. Not very original for me. New ideas for the agents at that time but not for us viewers today I think. But nice dynamics between the two agents.

…

Expand

The first half of the show is great. It's interesting to see them get together, starting interviewing these killers and then building the

The first half of the show is great. It's interesting to see them get together, starting interviewing these killers and then building the science. There should have been more of that imo. In the second half of the season, They attempted to make this needless drama where personal problems start effecting their work and it just doesn't fit with the show. Well not really fit with the show, The problems just weren't that interesting and the show kind of fades from a strong 8 (nearly a 9) to barely a 7. Now as for the characters:

Wendy is a rather boring character that isn't given enough time to shine or really given any character exploration. I felt that Debbie was a surprisingly enjoyable wild card to the show, A yin to Holden's yang and a polar opposite of him in every way and that to me made their interactions very enjoyable to watch. And then you have Bill, the experienced vet who isn't given enough dialogue because he's quite an interesting character.

…

Expand

I just don't get the praise for this show. To me the acting comes off stiff, stilted, forced and very amateurish--think high school play. The

I just don't get the praise for this show. To me the acting comes off stiff, stilted, forced and very amateurish--think high school play. The delivery and timing is just off and the "witty banter" isn't. I found the characters unconvincing--I felt like I was watching practice takes, with the actors still learning their lines and pacing. Maybe it's not completely their fault, maybe the writing and directing share some of the responsibility. I couldn't finish the first episode--and not because it was slow, I just couldn't keep subjecting myself to the acting.

…

Expand