Network:

ABC

Series Premiere Date:

Jun 3, 2013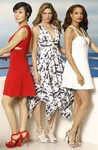 Starring:

Alyssa Milano

,

Brett Tucker

,

Jason Winston George

Summary:

April (Rochelle Aytes), Karen (Yunjin Kim), Savannah (Alyssa Milano), and her sister Josslyn (Jes Macallan) are four friends who become involved in affairs in this US remake of the BBC series of the same name.

Genre(s):

Drama
Season 1 premiere date:

Jun 3, 2013

Episode Length:

60
Please enter your birth date to watch this video:
You are not allowed to view this material at this time.
Once past an introductory flow of steamy images--plenty of stripping and unzipping, couplings in darkened rooms--it takes no time to recognize the quality in this sharply written and entertaining saga of four women destined to lead exceedingly complicated lives.

The scripts are serviceable, although some lines land with a Richter Scale thud.

The problem with Mistresses may lie with the expectations it has set. If the sex isn't going to be fun, what is it going to be? It would be good if we found that out soon.

[A] disappointingly thin, damp new series. [10 Jun 2013, p.47]

The writing is stock, the acting is hollow, and the direction is perky and workmanlike. It lacks any of the clever stylistic accents and camp humor of the somewhat similar "Desperate Housewives," and pity the poor viewer who tries to apply logic to some of the plot twists.

Mistresses is more vaporous than vapid; its meticulously styled sex scenes wind up seeming antiseptically dispassionate and too serious by half.
This review contains spoilers

, click expand to view

.

My favorite show right know, it has drama, romance, family. Its the new desperate housewives. I love how this serious just keeps you guessing on what the next scandal will be. This is a show I would recommend to anyone looking to start a good serious and I have gotten several people hooked on it. It one of those shows I look forward to coming home and watching. And season 3 I know will be a good one with the love triangle between savy, zac and dom. Joss and Harry find themselves in love as does savy wanting harry back. I cant wait!!!

…

Expand

Here is another show that was canceled and show have NEVER been canceled.. These are very good shows that keep you interested and keeps you

Here is another show that was canceled and show have NEVER been canceled.. These are very good shows that keep you interested and keeps you wondering how their lives will play out from season to season, the acting was great and the show held my interest and made me cry at times as well. This show should come back and wish another station would pick them up. Please bring this show back.

…

Expand

It's a sexy thriller show with it's flaws and it's filled with melodramatics and it's a sexy show that is like an erotic play with PG-13 sex

It's a sexy thriller show with it's flaws and it's filled with melodramatics and it's a sexy show that is like an erotic play with PG-13 sex scenes and it's so corny, that women will love and men will hate it but I am a guy who likes this show. Grade A-

…

Expand

although viewership was bad, the plot has mysteries. Not mysteries we haven't heard before but very interesting ones that are usually shown in

although viewership was bad, the plot has mysteries. Not mysteries we haven't heard before but very interesting ones that are usually shown in movies. I would compare it to desperate housewives charm and NOT plot. I really look forward to it because I'm really enjoying it and only 2 episodes have aired!

…

Expand

The show has potential, especially with four talented actresses on its leading roles. However, the writing has been too soap-operatic and not

The show has potential, especially with four talented actresses on its leading roles. However, the writing has been too soap-operatic and not really consistent. I hope there will be a second season for the show to redeem itself.

…

Expand

the first problem this show had was the casting. It's just so difficult to watch. The show is extremely boring. If you're looking for a new

the first problem this show had was the casting. It's just so difficult to watch. The show is extremely boring. If you're looking for a new show to watch, don't waste your time. Skip this one, its really not worth it.

…

Expand

Americans has tried many times to remake British success stories with not much success; this series is no surprise it did not come out as good

Americans has tried many times to remake British success stories with not much success; this series is no surprise it did not come out as good as the Brit's version. Acting is mediocre, script is so-so, storyline is a little off... The character who is supposed to be Jessica in the UK version, resembles nothing like Jess... The American character seems a little empty headed individual.. and Jess (UK) was nothing like that. I give 1 star... worth a try, but no success.

…

Expand