Network:

ABC

Series Premiere Date:

Sep 23, 2009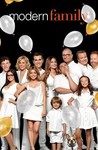 Please enter your birth date to watch this video:
You are not allowed to view this material at this time.
This remains far and away the best prime-time sitcom: crisp and farcical, but very kind. [25 Oct 2010, p.37]

In a fall season surprisingly flush with good sitcoms, the best new comedy by far--and it's not that close of a race - is Modern Family on ABC.

Tthe best new half-hour of funny television in a season rife with half-hours of funny television.

Most of the episodes so far have ended with a simulacrum of a group hug, an acknowledgement that, even though they don't always get along, this family loves one another. So far, these moments have worked on the show, but the formula could get tired.

It's not too early, however, to heap praise onto this astute, well-written show and its many specific wonders.

For the first time since Married...With Children stood the genre on its head two decades ago, somebody has come up with a new take on the family sitcom, and the results are riotously funny.

With its deft writing and sharp performances, the show is a telling snapshot of how families live now.
A breath of fresh air in the comedy genre. The whole cast is likeable and the writing is superb. The best comedy on TV right now. If you

A breath of fresh air in the comedy genre. The whole cast is likeable and the writing is superb. The best comedy on TV right now. If you haven't watched this yet then you are missing half your life, and I mean it.

…

Expand

This is the only recent (as in the last twenty years) sitcom I like. No stupid, insulting one-liners or irritating innuendo.

Love it love it love!! It makes me laugh each episode. I still can't believe someone other than HBO could create something so creative

Love it love it love!! It makes me laugh each episode. I still can't believe someone other than HBO could create something so creative and funny! Perhaps this is a sign that networks are finally paying attention to something other than reality tv again!

…

Expand

An intelligent and fresh comedy with an excellent cast. The way each episode unfolds will keep you bound wit itsmultilinear stories with rich

An intelligent and fresh comedy with an excellent cast. The way each episode unfolds will keep you bound wit itsmultilinear stories with rich structure and dialogues.

…

Expand

The best new show of the season. The acting can sometimes lack in a few characters but besides that, superb writing and believable

The best new show of the season. The acting can sometimes lack in a few characters but besides that, superb writing and believable performances carry the show. The Office is my favorite show, but this one is catching up in my books.

…

Expand

Completely unfunny boring Office knock-off I'm shocked at how high the score is here