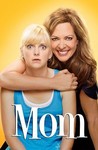 Starring:

Anna Faris

,

French Stewart

,

Mimi Kennedy

Summary:

The latest sitcom from Chuck Lorre stars Anna Faris as a newly sober single mother who works as a waitress in Napa Valley but whose life is complicated further by the return of her estranged mother (Allison Janney), herself a recovering alcoholic.

Genre(s):

Comedy
Please enter your birth date to watch this video:
You are not allowed to view this material at this time.
This is dark material, yet Faris balances it with a genuine winsomeness, able to wring laughs out of the most innocuous lines.

[Mom is] both both wittier and sweeter than the new Fox show "Dads."

Mom is about shtick, and it has hired a core group of actors who know how to do it.... The whole cast is just about perfect.

While the show breaks little ground, it's a fairly polished and inordinately well-cast pilot. ... Mom has the bones of a pretty durable TV show.

Mom is a bit all over the place in its pilot.... The show is at its best when the focus is on Christy and her relationship with her own mother, Bonnie.
i just love anna faris. The pilot was terrible but after 2nd epsiode it's been good for our
amusement and every single eposide is hilarious,ii just love anna faris. The pilot was terrible but after 2nd epsiode it's been good for our
amusement and every single eposide is hilarious,i just like this show tbh.

…

Expand

I LOVE this show!!! I Laugh Out Loud with each episode. There is so much talent in the writing and acting... I'm really looking forward to

I LOVE this show!!! I Laugh Out Loud with each episode. There is so much talent in the writing and acting... I'm really looking forward to the next season!

…

Expand

I love this show. Anna faris and Allison Janey make me laugh out loud. They are such a hilarious combo. Anyway I always watch this show. So

I love this show. Anna faris and Allison Janey make me laugh out loud. They are such a hilarious combo. Anyway I always watch this show. So yeah you should watch it too.

…

Expand

this show shows a different point of view of human, an addict point of view. i watch their struggles, and yet i can say this is so true. many

this show shows a different point of view of human, an addict point of view. i watch their struggles, and yet i can say this is so true. many addict in real life much more miserable. this show open my eyes a little more biggie. sometimes this show can be stressful to watch not funny.

…

Expand

This show is horrible. The acting is good, however the writing is not. The mother chemistry is good. I think the actors are very good, it is

This show is horrible. The acting is good, however the writing is not. The mother chemistry is good. I think the actors are very good, it is just that the jokes are painful to watch.

…

Expand

Mwah, simply said, it just not that funny, not that good and after episode one, you're stuck with the question of where they want to take this

Mwah, simply said, it just not that funny, not that good and after episode one, you're stuck with the question of where they want to take this show.

Anna Faris plays Christy. A semi-recovered alcoholic in her early 30's who wants to pull her life back together but can't because there are two kids she needs to take care of. Then there is Allison Janney (whoohoo!) who plays Christy's mom. She's got the same problem as her daughter, recovering alcoholic, became a mom to young etc.

After watching the first episode, there are a couple of things bothering me. First of all, the characters are difficult to relate to. Christy and her mom are not likable, you just feel sorry for them, and not in a good way! She messed up her own life, don't bother us with sorting it all out!

Then there is the casting. Allison Janney is just a great actress, she just looks to young for the part she's playing. The strange thing is that this is also the case with Anna Faris. Last time I saw her was in Friends, playing Erica. This was ten years ago but it looks like she didn't age at all! So in real life; thumbs up for Anna, well done! Show-wise: they are making the same mistake twice. Casting Anna and Allison playing mom and daughter and introducing Sadie Calvano as Christy's 16/17-something daughter is just weird, it's not believable and kinda icky.

Finally there is the unbelievable dumb guest-starr appearance by Jon Cryer (two and a half men). What were they thinking? He only orders food in a restaurant, the (live?) audience cheers because they recognize him and then.... that's it! Looked like a extra didn't show up and Jon happened to be on a break in the studio next door. Hey Jon, can you order food on camera? Yes? Let's go!

Conclussion
Story wise, you can't judge a series after one episode, everyone is just introduced and stories to tell haven't been rolled out, so that's for a later moment. On the other hand, this show did everything wrong a comedy could have done in episode one, so little hope for the series as a whole.

…

Expand

I and my family are avid watcher of Mom We feel it is one of the best new series on TV. However the last episode with Rosy O'Donnell was

I and my family are avid watcher of Mom We feel it is one of the best new series on TV. However the last episode with Rosy O'Donnell was terrible. I hope the show does not continue with this type of programming.

…

Expand