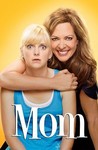 Please enter your birth date to watch this video:
You are not allowed to view this material at this time.
The story is a little sweet, a little uncomfortable, and very Chuck Lorre.

Mom remains funny, thanks in large part to the great work of Allison Janney as Christy's potty-mouthed mom, Bonnie. And the show continues to make excellent use of actress Mimi Kennedy (now a series regular and pictured above at left) as a foil for Bonnie and friend to Christy.

Even if they're barely keeping hope alive through mordant laughter, Mom is oddly uplifting in its portrayal of scrappy survival against the economic odds.

That it's still funny is probably a kind of miracle, the kind you just might not want to miss.
Mom is back and Mom is still the best comedy show on television. The writing is crisp, quick-witted, and actually funny. Allison Janney is

Mom is back and Mom is still the best comedy show on television. The writing is crisp, quick-witted, and actually funny. Allison Janney is so terrific in this show that it's almost easy to overlook the excellent work being done by Anna Faris and Mimi Kennedy. Ms. Kennedy has slowly grown into a well-deserved leading role on the show. Mom is a comedy show with real laughs, real humor, and even a bit of a message.

…

Expand

Bonjour

Série très agréable a regardé et pourvue quelle dure encore longtemps

Cordialement

After such a wonderful first season, it went a little squishy and a little slack. Still deserves high marks for being female centric without

After such a wonderful first season, it went a little squishy and a little slack. Still deserves high marks for being female centric without being obvious and making the serious topic of addiction accessible and funny, which is the best way to tackle it...

…

Expand

There are times when Mom is so brutal and frustrating that I feel like giving it a negative review, but the fact is, I keep coming back to

There are times when Mom is so brutal and frustrating that I feel like giving it a negative review, but the fact is, I keep coming back to watch it.

Sure the comedy is funny but I watch the show because of the drama. In can be pretty painful at times but I'm sure in a couple of years from now, when the show reaches its finale, Christy and Bonny will have themselves one helluva fairy tale of an ending.

…

Expand

This show is not funny. That is the entire gist of it, it is not funny, but on a more pressing note it is genuinely sad. Every episode leaves

This show is not funny. That is the entire gist of it, it is not funny, but on a more pressing note it is genuinely sad. Every episode leaves me with my mouth agape at the things they think they can make funny. No doubt there is a way to handle such heavy material (not the least of which includes an alcoholic relapsing and another trying to commit suicide) that might warrant a laugh. Characters enduring hardships and finding the humor in the situation is one way to endear them to the audience, but I leave every episode of Mom feeling a general sense of malaise, and every time the laugh track erupts from the slightest provocation, it just gives the show a very morbid atmosphere that makes it hard to watch. It is depressing. The jokes are not funny. You should by no means watch this show.

…

Expand

I find it amazing that the jokes within the trailer are not funny. Wouldn't the best material go in to a trailer? This show has a laugh track.

I find it amazing that the jokes within the trailer are not funny. Wouldn't the best material go in to a trailer? This show has a laugh track. It's generic nonsense you can feel confident in skipping.

…

Expand

as much as i loved the first season as much i hated the second season
what just happen !!!!
from the beginning i struggled to finish at theas much as i loved the first season as much i hated the second season
what just happen !!!!
from the beginning i struggled to finish at the 6th episode
it make me sad
i can't watch anymore

…

Expand