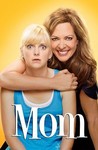 Please enter your birth date to watch this video:
You are not allowed to view this material at this time.
It would be very easy for the remaining producers of multi-cam to leave that [dramatic] stuff to their more fashionable counterparts and just stick to telling jokes. Mom, thankfully, is a strong reminder of just how elastic this 64-year-old format is.

One of the best things about Mom is that it isn't always funny. That's a compliment of course..... The darkly comedic season 3 premiere us a perfect example. [6 Nov 2015, p.57]

It's a show that feels at once ribald and like a quintessential Lorre production (the second episode is titled "Thigh Gap and a Rack of Lamb"), but it's also surprising in its emotional relevance and thematically astute in filtering enormously difficult social issues--from domestic violence to addiction to classism--into a ridiculously watchable modern sitcom.

Mom is back for a third season on Thursday night, and the sitcom has really found its comic groove. Also its tragic groove. Because that's the way Mom works--its present-day laughs are always threatened by fragile futures and haunted pasts.
When you think that the show couldn't be more original, funny or surprising, it amazes you with a new twist and hilarious comments brought to

When you think that the show couldn't be more original, funny or surprising, it amazes you with a new twist and hilarious comments brought to life by the extraordinary cast, distinguishing the performances of Ana Farris and Allison Janney, whose chemistry it's electrifying.

I have watched this TV Series since it aired on 2013 and it has evolved to a more consistent show and spectacular dialogues.

This is one of the best TV shows of 2015/2016.

…

Expand

Bonjour

Série très agréable a regardé et pourvue quelle dure encore longtemps

Cordialement

Back in Season 1 of Mom, I wrote that I originally didn't like the show but stuck with it due to the actors involved and Chuck Lorre. I also

Back in Season 1 of Mom, I wrote that I originally didn't like the show but stuck with it due to the actors involved and Chuck Lorre. I also wrote, "the show is hitting important issues".

Well, going in to season number three, I'm still watching. This is not an easy sitcom to watch, and I mean that as a compliment. The show tackles tough issues, issues that need to be addressed, if for no other reason than to bring them more into the forefront of discussion.

The season opener this year was a great example. I had to hit pause a couple of times as emotions overwhelmed me. But I was glad I stayed with it through to the end of the episode. I don't want to have to put a spoiler alert on this review, so I'll stop there.

This show really doesn't fit into the sitcom category, but I don't know how else to categorize it, as it is breaking some new ground.

I'll be watching for another season....

…

Expand