Network:

USA

Series Premiere Date:

Jun 24, 2015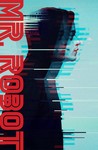 Summary:

Grace Gummer joins the cast with Dorothi Fox, Sandrine Holt, Joey Bada$$, Michael Maize, Luke Robertson, and Craig Robinson set to appear on the second season of the drama.

Genre(s):

Drama

,

Suspense
Season 2 premiere date:

Jul 13, 2016

Episode Length:

60
Please enter your birth date to watch this video:
You are not allowed to view this material at this time.
[Showrunner and creator Sam Esmail is] a Kafka in the director's chair, who sees alienation where everyone else sees a Facebook "like." It's as compelling and timely a vision as there is in a primetime series at the moment, and darkness is the price of admission.

Mr. Robot remains one of the most dizzying, intoxicating, challenging shows on television, a gripping look at mental illness and brilliance run amok, tied to an essentially sweet, if damaged, character. It's a show that poses Big Questions and dares to leave them hanging.

The show's centerpiece remains Malek's mesmerizing turn as Elliot, as well as his chemistry with Slater's Mr. Robot. Excavating that much emotion from deadpan narration is a tough gig, but Malek continues to find new shades of neutral both in voiceover and in his scenes.

Mr. Robot returns for its second season 10 p.m. Wednesday, as enigmatic and intriguing as ever.

Mr. Robot and creator Esmail have earned this quirky, almost mild and studious, way to commence the second season; for fans, trust in the show has been established.

In its two-part, two-hour premiere, some problems from season one resurface, but, for the most part, this is entertaining, accomplished television that has to something to say.

As usual with Mr. Robot, there's a sense that the creators care only about establishing pretenses to mount their formally self-conscious kitsch. The series is too busy being cool to matter.
Season 2 of Mr. Robot was complex, deep and dark. It changed the formula of regular television by being different from Season 1. I loved

Season 2 of Mr. Robot was complex, deep and dark. It changed the formula of regular television by being different from Season 1. I loved Season 1 and Season 2 was better. Rami Malek, Christian Slater, Carly Chaikin, Portia Doubleday, Stephanie Corneliussen, Martin Wallström, and Grace Gummer are all truly amazing here and they prove Mr. Robot has one of the best casts on Television. Don't expect it to be like Season 1, this a continuation of the events after the Five/Nine hack, not a rehash to make everyone happy.

…

Expand

This series is so great, the balance between psycho and genie. And how the balance changes. The dialogues and characters are written great and

This series is so great, the balance between psycho and genie. And how the balance changes. The dialogues and characters are written great and the story is deep and believable.

…

Expand

I have viewed hour one and regret doing so... because I am drooling for hour two later today. Within moments of hour one it is clear that

I have viewed hour one and regret doing so... because I am drooling for hour two later today. Within moments of hour one it is clear that Season 1 was no fluke and Season 2 shoots out of the gate with swag and confidence. This is film quality television. Masterpiece. Relevant. Thrilling. Disturbing. Top-notch. If I recall there is a moment where Mr. Robot mentions something about "the rollercoaster" that Eliot is currently on - mentally. I'm buckled in - this feels like it will be another doozie of a season.... possibly even stronger than S1 if that is even possible.

…

Expand

Mr Robot is more art than science, more sensory, more avant-garde. Its thread is more jump-around than sequential, and it keeps you off

Mr Robot is more art than science, more sensory, more avant-garde. Its thread is more jump-around than sequential, and it keeps you off balance. Most of the time in season 2 I didn't really know what was happening or why. I would've been hard pressed to explain it to someone else. All this turns many people off and I get that. I have to force myself to watch, to understand, to make some sense. It's a challenge of sorts. And I know I'm watching something special, something unique even if I don't fully understand. I can't say it's a favorite show because of that, but it's something I don't want to miss. It's a weird hold this show has on me and others. I just finished watching season 2 just as season 3 is starting so hopefully I can at least make some connections between the two.

…

Expand

I can't help but feel the Seinfeld references, with it being a show about nothing, was sort of alluding to how the first half of season 2 of

I can't help but feel the Seinfeld references, with it being a show about nothing, was sort of alluding to how the first half of season 2 of Mr Robot would be. Because not a lot happens. Basically we get it pounded into our minds over and over again how the main character is crazy, which was already known since season 1 but I guess we needed to be shown that again. Over and over.

Ignoring that we get these redundant scenes, I also feel there's a lot of padding in the sense scenes take longer than necessary. We need to be shown for almost 3 minutes that a smart house became a noise hell due to hacking. The same with a chess scene, where we find out you can't beat yourself playing chess........ There are a lot of these kind of scenes, which feel stretched out because frankly there was not much else happening to fill the time better with.

Probably due to the big 'reveal' midway in the season which pretty much made most of what you saw in the first half of the season pointless. Because of this constraint they couldn't really further the story.. A reveal which made no sense at all, because why would he lie to his 'invisible firend' to begin with? Other than the writers wanting to force another "Fight Club"-esque reveal moment into the season.

It's the 2nd half of the season which sort of saves it in my opinion. mainly because things actually happen and the story gets furthered along. Yeah some characters are turning into charicatures with their speeches or conversations which seem unrealistic. Especially the 'bad guy' and the sister. And we get some silly scenes with the girlfriend being tested by a little girl. But at least things happened, for real and not make believe,

…

Expand

The first season was great. Original, beautiful and unexpected. Great characters and enough plot development to keep you addicted.
I am nowThe first season was great. Original, beautiful and unexpected. Great characters and enough plot development to keep you addicted.
I am now already 4 hours in the second season and I cannot recognize this show. The original plot is completely lost and all the mistery related to the season 1 finale is just ignored. We have to deal with psychological issues of the protagonist battling himself. In every episode the same topics are touched and they repeat all the time the same "issues" without any plot development whatsoever.

4 just because the photography is great.

…

Expand

This review contains spoilers

, click expand to view

.

Over-hyped, Instagram-filter-ish, self-important vacuousness populated by cardboard-cutout, two-dimensional characters performed by lackluster actors. Rami Malek, the lead, is actually alright in his performance, though the "autistic and/or socially inept genius" cliché was already an exhausted resource by the time Mr. Robot was first released: Sherlock, Elementary, Monk, the Mentalist, etc... Not to mention that the whole premise behind Mr Robot (both the split personality and the project to bring down financial institutions) are literally lifted from Fight Club. Don't waste your time with this show. The second season is even worse than the first one.

…

Expand