Network:

Netflix

Series Premiere Date:

Aug 28, 2015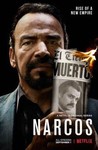 Summary:

The drama depicts the 1980s Medellin cocaine cartel run by Pablo Escobar (Wagner Moura) and the efforts of DEA agents Steve Murphy (Boyd Holbrook) and Javier Peña (Pedro Pascal) to capture Escobar.

Genre(s):

Drama
Season 1 premiere date:

Aug 28, 2015

Episode Length:

60
Please enter your birth date to watch this video:
You are not allowed to view this material at this time.
Intense, enlightening, brilliant, unnerving, and addictive, Narcos is high-concept drama at its finest.

Catching Escobar then becomes an exciting and suspenseful story arc, and makes Narcos the first cool show of the new season.

Moura as Escobar doesn't bring the overall manic and sometimes comic intensity of Al Pacino's Tony Montana in Scarface. He's never dull, though, giving Narcos a thoroughly sinister presence who's capable of anything and will stop at nothing.

The series begins to find its pacing not long after, and we see the strength of Moura's acting, which to his credit never races, in the early going, toward over-the-top menace or the drug-lord cliches we're all used to at this point. Credit also the fact that Padilha brings a documentary feel to Narcos.

The new Netflix drama is burdened with so much annoying voice-over narration, the series at times falls somewhere between an audiobook and one of the more grittier Investigation Discovery crime shows. This dramatization of the rise of Pablo Escobar into the most notorious and lethal drug kingpin of South America is nonetheless compelling, and the story moves briskly, making it a great bingeworthy treat.

Virtually every performance is equal to the quality of the script, but Moura is especially compelling as he manipulates the seeming incongruities of Escobar's character to heighten his aura of unpredictable menace.... Brancato does make one significant misstep by having the entire series heavily narrated by Murphy.

Mostly the show is a breezy tour through history, sometimes informative but rarely affecting.
Narcos is very good and well done. I am actually from MEDELLIN. I am 30 years old and I grew up with that environment of violence in the

Narcos is very good and well done. I am actually from MEDELLIN. I am 30 years old and I grew up with that environment of violence in the streets and TV. The research is very accurate. There is something special and epic about this series. Many things work on many levels. In fact, I have seen it like a kind of "docu-drama". I find very clever the mix between fictional and real facts with the use of real footage. According to it, it keeps you watching and wondering what's next. It is like a kind of class history of the drug-war. I like the beginning when it makes reference to the MAGIC REALISM. Just that in this case, all that really happened. All the things about being close to a policeman was true, you didn't want to be around them because you could die with a lost bullet or something. Shootings in the night in your own street (even if it was a "good neighbourhood") and If there was a Car-Bomb and you were at home, you would look around the house thinking and counting : "are we all here?" "where is my brother"… not cell phones then by the way…Every single person you know from Medellin was touched or was a victim of that war. For a long long time we didn't have Colombian movies or TV shows with that topic, because people were tired of all that; like a kind of "mediatic" trauma. That war was all the time in TV, in the radio, in our streets and sometimes in our homes. In film and TV things have changed with new filmmakers and screenwriters who are bold to tell those stories. Yeah, it's a sad history, but it is what we have, we can't hide it or change it. I am glad something very well done like NARCOS was made to the "world" thanks to NETFLIX. Because people can understand the stigma all the Colombians have thanks to Pablo Escobar. If you are a "gringo" who makes fun of a Colombian asking him for cocaine, that "joke" is for us a reference and a memory of blood, violence and lost. NOT FUNNY.

…

Expand

Narcos, Season 3 is one of the most suspenseful show I have ever seen on TV. I enjoyed the first two seasons, and I was skeptical about the

Narcos, Season 3 is one of the most suspenseful show I have ever seen on TV. I enjoyed the first two seasons, and I was skeptical about the third installment, since it seemed unnecessary and artificial to continue the show after the closure in Season 2. Even though Season 3 started a bit slow and uneven, after a few episodes it evolved into a masterpiece of tension and anxiety. The character of Jorge Salcedo is fantastic. It is impossible not to root for him. Warning to all: you will binge if you start watching.

…

Expand

Narcos is a intriguing and entertaining series. The show educates you on the Medellin cartel and it is a very interesting topic to learn

Narcos is a intriguing and entertaining series. The show educates you on the Medellin cartel and it is a very interesting topic to learn about. I would recommend this show to all my friends and anyone looking for a great show to watch! It is by far my favorite show right now. Can't wait for the next season to come out!

…

Expand

Great fun, great acting and I love the sort behind the scenes look of the Colombian drug industry. Really like that the dalogue is in spanish

Great fun, great acting and I love the sort behind the scenes look of the Colombian drug industry. Really like that the dalogue is in spanish and English.

…

Expand

This review contains spoilers

, click expand to view

.

What really stood out for me on this show was Wagner Moura's acting (Pablo Escobar). He quickly rose to being one of my favorites (if not my favorite) actor. I was even eager to see what other show or movie he had done. When he was killed in season 2, I had very very low expectations for season 3, but it surprised me, being just as good as the other two seasons without him. The storytelling gets even better and intriguing. Fav Seasons: all of them.

…

Expand

The cast did a great job portraying their real life counterparts. The show itself does a great job at re-telling the history behind Pablo and

The cast did a great job portraying their real life counterparts. The show itself does a great job at re-telling the history behind Pablo and his rise to power. It was very entertaining to watch and I quickly grind watch it just to get to season 2.

…

Expand

This series is a cheap copy of a Colombian series called "El Patrón del mal". Narcos story line is so compressed that it became bad american

This series is a cheap copy of a Colombian series called "El Patrón del mal". Narcos story line is so compressed that it became bad american action action non-stop action style.....booooooring....to add insult to injury Pablo speaks with a Brazilian accent, maybe in season 2 they can have an US embassador with a Russian accent, what a joke!

…

Expand