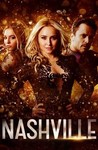 Season 4 premiere date:

Sep 23, 2015

Episode Length:

60
Please enter your birth date to watch this video:
You are not allowed to view this material at this time.
Overall, Nashville will give fans what they want out of the season 4 premiere, for better or worse. The show's got some problems (a minor one of which: whoever runs wardrobe has not met a deep-V they didn't love to see every male lead in), but they're mostly easy to ignore, especially if you can let yourself get lost in the homey, southern pace of it all.

The show is nothing more than a soap with good music but it has a sense of humor often enough to keep me entertained.
GREAT MUSIC! On the whole mostly an great CAST! MADDIE and DAPHNE are certainly two young ladies who are on the rise in a TOUGH industry.

GREAT MUSIC! On the whole mostly an great CAST! MADDIE and DAPHNE are certainly two young ladies who are on the rise in a TOUGH industry. Their interactions are now evolving as they get a bit older and have their own interests that might not be shared by the other.

Now as far as Scarlett goes; she is without a doubt the most self-centered person on the show. She is never happy in love or career. She goes through bed-mates like water through an open ended glass! It could well be the "All Scarlett All the Time" show. They need to give her better direction now that her "momma"' is gone (thank goodness).

Juliette's role is cast so perfectly and her writers have really nailed down how success does not mean happiness. Drinking and now drugs control her life (no matter how much they show her putting each into the toilet) and when she makes one stride forward she slides back three; happiness will not come easily for her - if it comes at all. AVERY will be done with her - but alas before the ink dries n the papers he will have another love interest and their roll in the hay will be his downfall.

Luke, Will, Gunnar and the rest of the "crew" do superb jobs in exposing the way life in the industry is never on solid ground. One day it is the top and the next a flop. Well done by all!

…

Expand

First season started out with promise (though Connie Britton's singing chops were only adequate and could never live up to the "reigning

First season started out with promise (though Connie Britton's singing chops were only adequate and could never live up to the "reigning country music superstar" the show wanted us to believe she was), but it has digressed into a poorly written country soap opera. It was recently cancelled and it's an honor that the show richly deserved.

…

Expand