Please enter your birth date to watch this video:

You are not allowed to view this material at this time.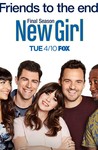 Episode Details & Credits
FOX |
Air Date:
March 20, 2012
Summary:
A student's wealthy father asks Jess out on a date. Nick tried to buy a new cell phone. Winston and Schmidt get competitive during a game of trivia.
Seasons & Episodes
Season 7

Season 6

Season 5

Season 4

Season 3

Season 2

Season 1

Season 1 Overview

Air Date: September 20, 2011

S1:E24. See Ya

Air Date: May 8, 2012

S1:E23. Backslide

Air Date: May 1, 2012

S1:E22. Tomatoes

Air Date: April 24, 2012

S1:E21. Kids

Air Date: April 17, 2012

S1:E20. Normal

Air Date: April 10, 2012

S1:E19. Secrets

Air Date: April 3, 2012

S1:E18. Fancyman, Part 2

Air Date: March 27, 2012

S1:E17. Fancyman, Part 1

Air Date: March 20, 2012

S1:E16. Control

Air Date: March 13, 2012

S1:E15. Injured

Air Date: March 6, 2012

S1:E14. Bully

Air Date: February 21, 2012

S1:E13. Valentine's Day

Air Date: February 14, 2012

S1:E12. The Landlord

Air Date: February 7, 2012

S1:E11. Jess and Julia

Air Date: January 31, 2012

S1:E10. The Story of the 50

Air Date: January 17, 2012

S1:E9. The 23rd

Air Date: December 13, 2011

S1:E8. Bad in Bed

Air Date: December 6, 2011

S1:E7. Bells

Air Date: November 29, 2011

S1:E6. Thanksgiving

Air Date: November 15, 2011

S1:E5. Cece Crashes

Air Date: November 8, 2011

S1:E4. Naked

Air Date: November 1, 2011

S1:E3. Wedding

Air Date: October 4, 2011

S1:E2. Kryptonite

Air Date: September 27, 2011

S1:E1. Pilot

Air Date: September 20, 2011