Please enter your birth date to watch this video:

You are not allowed to view this material at this time.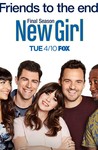 Episode Details & Credits
FOX |
Air Date:
April 12, 2016
Summary:
Jess' former boyfriend has a restraining order served on her, and she doesn't hold back in her efforts to clear her name with help from Winston. Meanwhile, Nick and Schmidt are up in arms over a trendy bar that opened on their street and plot against the attractive owner.
Seasons & Episodes
Season 7

Season 6

Season 5

Season 5 Overview

Air Date: January 12, 2016

S5:E22. Landing Gear

Air Date: May 10, 2016

S5:E21. Wedding Eve

Air Date: May 10, 2016

S5:E20. Return to Sender

Air Date: May 3, 2016

S5:E19. Dress

Air Date: May 3, 2016

S5:E18. A Chill Day In

Air Date: April 26, 2016

S5:E17. Road Trip

Air Date: April 26, 2016

S5:E16. Helmet

Air Date: April 19, 2016

S5:E15. Jeff Day

Air Date: April 19, 2016

S5:E14. 300 Feet

Air Date: April 12, 2016

S5:E13. Sam, Again

Air Date: March 29, 2016

S5:E12. D-Day

Air Date: March 22, 2016

S5:E11. The Apartment

Air Date: March 15, 2016

S5:E10. Goosebumps Walkaway

Air Date: March 8, 2016

S5:E9. Heat Wave

Air Date: March 1, 2016

S5:E8. The Decision

Air Date: February 23, 2016

S5:E7. Wig

Air Date: February 16, 2016

S5:E6. Reagan

Air Date: February 9, 2016

S5:E5. Bob & Carol & Nick & Schmidt

Air Date: February 2, 2016

S5:E4. No Girl

Air Date: January 26, 2016

S5:E3. Jury Duty

Air Date: January 19, 2016

S5:E2. What About Fred?

Air Date: January 12, 2016

S5:E1. Big Mama P

Air Date: January 5, 2016

Season 4

Season 3

Season 2

Season 1