Network:

Netflix

Series Premiere Date:

Jan 6, 2017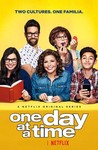 Summary:

The reimagining of the Norman Lear 1970s sitcom focuses on newly single ex-military mom Penelope (Justina Machado) raising her teenage daughter Elena (Isabella Gomez) and her son Alex (Marcel Ruiz) with the help of her mother (Rita Moreno) and the building manager (Todd Grinnell).

Genre(s):

Comedy
Season 1 premiere date:

Jan 6, 2017

Episode Length:

30
Please enter your birth date to watch this video:
You are not allowed to view this material at this time.
Well, they only had to remake a jillion TV shows from yesteryear to finally get one exactly, perfectly right. Not only is Netflix's reimagined "One Day at a Time" a joy to watch, it's also the first time in many years that a multicamera sitcom (the kind filmed on a set with studio-audience laughter) has seemed so instinctively comfortable in its own skin.

This is the sort of series that makes difficult things seem easy, so easy that you often don't realize how artful it is until you think back on it.

The show that is, both as entertainment and as cultural commentary, exceptionally good. The revived One Day at a Time is fantastic in part because of all the things that will typically make a sitcom fantastic: sharp, witty writing; charming, multi-faceted characters; plot lines that, in their seamless synthesis of the wacky and the serious, suggest life in all its messy complexity.

Not perfect, but pretty darned good, and Moreno and Machado are a formidable comedy team indeed.

It doesn't try to get too edgy (looking at you, Netflix's The Ranch), yet feels new all the same.

It feels even better that the new One Day is so good, and so vital--a throwback to an earlier era that also feels like it absolutely belongs in this one. ... Lydia winds up occupying a lot of the space that Schneider did in the original, which leaves the new hipster iteration a bit adrift. Grinnell is amiable and has his moments, but Schneider's among the new version's thinner characters.

The show is nicely written, but just that, and the performances are almost universally engaging. The exception to that is the performance that kicks the whole reboot up several notches: Rita Moreno's.
This show is really funny, but more than that, it talks about some serious problems, some actual problems. The actresses are really good. I am

This show is really funny, but more than that, it talks about some serious problems, some actual problems. The actresses are really good. I am so looking forward for the second season !!

…

Expand

I loved this show. I thought, despite it was a remake of an old tv show, it was witty, fresh, up to date and had a fascinating dynamic between

I loved this show. I thought, despite it was a remake of an old tv show, it was witty, fresh, up to date and had a fascinating dynamic between all the characters, especially Justina Machado and Rita Moreno. It was also unafraid of tackling some big topics which I hope they can develop in the next series. Definitely one to watch! (I binged it in about 3 days...)

…

Expand

This show is incredible. It's funny, warm, and honest. It made me cry on more than one occasion. To me, that's a sign of great acting and

This show is incredible. It's funny, warm, and honest. It made me cry on more than one occasion. To me, that's a sign of great acting and great writing. It was not at all what I expected but I will tell you it's EVEN BETTER than I could have imagined. I can't wait until the next season. As a proud Latina, I'm happy to report "Netflix: you hit the mark and then some!"

…

Expand

Although it takes a couple of episodes for it's charm to warm up, One Day at a Time makes the wait worth it. By mid way through the season I

Although it takes a couple of episodes for it's charm to warm up, One Day at a Time makes the wait worth it. By mid way through the season I was totally hooked. Some jokes are better than others, but on the whole this is a really great comedic show.

At times they pack the serious issues a bit to thick and in bulk, which often means some of them are left a little too superficial, but it's efforts to incorporate and explore difficult topics with heart, will keep this show going strong for seasons to come.

Ultimately it had me laughing out loud and crying in almost equal measure.

…

Expand

This show is more reminiscent of the 1970s PBS series, "¿Qué pasa, U.S.A.?" than the sitcom on which it was based. The most obvious reasons

This show is more reminiscent of the 1970s PBS series, "¿Qué pasa, U.S.A.?" than the sitcom on which it was based. The most obvious reasons are that both "¿Qué pasa, U.S.A.?" and the new series focus on a Cuban family which speak in English peppered with untranslated Spanish words. Aside from some references to the war in Afghanistan and some modern technological advances (e.g., home computers and gaming consoles), this re-imagining of "One Day at a Time" feels in many ways like it was made in the 1970s or 1980s instead of the 2010s. For one thing, the new series employs a laugh track, which used to be standard for sitcoms until recently. Also, like previous shows produced by Norman Lear (e,g., "All in the Family" and "Maude") it injects a fair amount of drama and social commentary between the jokes. This is not necessarily a bad thing, but requires a fair amount of skill to pull off effectively. The series largely succeeds, despite the occasional moments where the drama feels a bit forced. Perhaps because the series is based on an existing series, the characters seem overly familiar (even with some obvious differences from the 1970s incarnation).

Overall, the series is worth a watch, particularly if you're interested in seeing a show that deals with issues that many families with adolescent children face.

…

Expand

The series begins well, but for me i think it's too much abusive the way they want to exposed society problems. They did excellent critics in

The series begins well, but for me i think it's too much abusive the way they want to exposed society problems. They did excellent critics in a good way, but you fell tired of watch them every episode. However, the series is funny, familiar and can live for a much time.

…

Expand

I respect the messages this show is trying to portray but the delivery is forced. This series reminds me of a Disney series with very fake

I respect the messages this show is trying to portray but the delivery is forced. This series reminds me of a Disney series with very fake acting. I was disappointed.

…

Expand