Please enter your birth date to watch this video:

You are not allowed to view this material at this time.

Now Playing: Parenthood: Vegas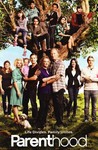 Summary:
Based on the 1989 film of the same name, 'Parenthood' is an hour long comedy-drama produced by Jason Katims and Ron Howard. The show addresses the modern challenges of raising kids in this post-technological world, addressing issues that affect both kids and parents.
Seasons & Episodes
Season 6

Season 5

Season 4

Season 3

Season 2

Season 2 Overview

Air Date: September 14, 2010

S2:E22. Hard Times Come Again No More

Air Date: April 19, 2011

S2:E21. Slipping Away

Air Date: April 12, 2011

S2:E20. New Plan

Air Date: April 5, 2011

S2:E19. Taking The Leap

Air Date: March 29, 2011

S2:E18. Qualities and Difficulties

Air Date: March 1, 2011

S2:E17. Do Not Sleep With Your Autistic Nephew's Therapist

Air Date: February 22, 2011

S2:E16. Amazing Andy and His Wonderful World of Bugs

Air Date: February 15, 2011

S2:E15. Just Go Home

Air Date: February 8, 2011

S2:E14. A House Divided

Air Date: February 1, 2011

S2:E13. Opening Night

Air Date: January 18, 2011

S2:E12. Meet the New Boss

Air Date: January 11, 2011

S2:E11. Damage Control

Air Date: January 4, 2011

S2:E10. Happy Thanksgiving

Air Date: November 23, 2010

S2:E9. Put Yourself Out There

Air Date: November 16, 2010

S2:E8. If This Boat Is a Rockin'

Air Date: November 9, 2010

S2:E7. Seven Names

Air Date: October 26, 2010

S2:E6. Orange Alert

Air Date: October 19, 2010

S2:E5. The Booth Job

Air Date: October 12, 2010

S2:E4. Date Night

Air Date: October 5, 2010

S2:E3. I'm Cooler Than You Think

Air Date: September 28, 2010

S2:E2. No Good Deed

Air Date: September 21, 2010

S2:E1. I Hear You, I See You

Air Date: September 14, 2010

Season 1