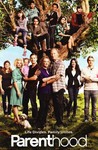 Episode Details & Credits
Starring:
Craig T. Nelson, Lauren Graham, Monica Potter, Mae Whitman, Bonnie Bedelia, Peter Krause, Sarah Ramos, Dax Shepard, Max Burkholder, Erika Christensen, Sam Jaeger, Joy Bryant, Miles Heizer, Savannah Paige Rae, Tyree Brown
Summary:
Amber enjoys her new freedom, while Sarah tries to remain part of her life. Crosby is not sure how to feel about Jasmine dating and she wonders if she now fits in the Braverman family. Meanwhile, Kristina is concerned about Crosby and Adam's new business. Also, Alex receives good news and Zeek imparts relationship advice to Drew.
Seasons & Episodes
Season 6

Season 5

Season 4

Season 3

Season 3 Overview

Air Date: September 13, 2011

S3:E18. My Brother's Wedding

Air Date: February 28, 2012

S3:E17. Remember Me, I'm The One Who Loves You

Air Date: February 21, 2012

S3:E16. Tough Love

Air Date: February 14, 2012

S3:E15. Politics

Air Date: February 7, 2012

S3:E14. It Is What It Is

Air Date: January 17, 2012

S3:E13. Just Smile

Air Date: January 10, 2012

S3:E12. Road Trip

Air Date: January 3, 2012

S3:E11. Missing

Air Date: November 29, 2011

S3:E10. Mr. Honesty

Air Date: November 22, 2011

S3:E9. Sore Loser

Air Date: November 15, 2011

S3:E8. In-Between

Air Date: November 8, 2011

S3:E7. Forced Family Fun

Air Date: November 1, 2011

S3:E6. Tales from the Luncheonette

Air Date: October 18, 2011

S3:E5. Nora

Air Date: October 11, 2011

S3:E4. Clear Skies From Here On Out

Air Date: October 4, 2011

S3:E3. Step Right Up

Air Date: September 27, 2011

S3:E2. Hey, If You're Not Using That Baby...

Air Date: September 20, 2011

S3:E1. I Don't Want to Do This Without You

Air Date: September 13, 2011

Season 2

Season 1