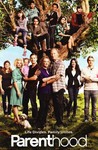 Episode Details & Credits
Starring:
Craig T. Nelson, Lauren Graham, Monica Potter, Mae Whitman, Bonnie Bedelia, Peter Krause, Dax Shepard, Max Burkholder, Erika Christensen, Sam Jaeger, Joy Bryant, Miles Heizer, Savannah Paige Rae, Tyree Brown, Xolo Mariduena
Summary:
Kristina is devastated upon learning that Max has to give his speech in his bid for class president on the same day as her surgery while Adam fights to contain his nervous energy. Sarah's decision to move the family into Mark's apartment doesn't sit well with Drew. Elsewhere, Ryan asks Amber on a date.
Seasons & Episodes
Season 6

Season 5

Season 4

Season 4 Overview

Air Date: September 11, 2012

S4:E15. Because You Are My Sister

Air Date: January 22, 2013

S4:E14. One Step Forward Two Steps Back

Air Date: January 15, 2013

S4:E13. Small Victories

Air Date: January 8, 2013

S4:E12. Keep On Rowing

Air Date: January 1, 2013

S4:E11. What To My Wandering Eyes

Air Date: December 11, 2012

S4:E10. Trouble In Candyland

Air Date: December 4, 2012

S4:E9. You Can't Always Get What You Want

Air Date: November 27, 2012

S4:E8. One More Weekend With You

Air Date: November 20, 2012

S4:E7. Together

Air Date: November 13, 2012

S4:E6. I'll Be Right Here

Air Date: October 23, 2012

S4:E5. There's Something I Need To Tell You

Air Date: October 9, 2012

S4:E4. The Talk

Air Date: October 2, 2012

S4:E3. Everything Is Not Okay

Air Date: September 25, 2012

S4:E2. Left Field

Air Date: September 18, 2012

S4:E1. Family Portrait

Air Date: September 11, 2012

Season 3

Season 2

Season 1