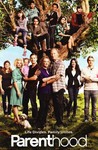 Episode Details & Credits
Starring:
Craig T. Nelson, Lauren Graham, Monica Potter, Mae Whitman, Bonnie Bedelia, Peter Krause, Sarah Ramos, Dax Shepard, Max Burkholder, Erika Christensen, Sam Jaeger, Joy Bryant, Miles Heizer, Savannah Paige Rae, Tyree Brown, Xolo Mariduena
Summary:
Julia copes with an empty house while Kristina and Adam take a much needed mini-vacation. Crosby learns of Zeek and Camille's plans to sell the house. Sarah clashes with Hank yet again, but things take an interesting turn with Carl. Drew grows more concerned about Amy.
Seasons & Episodes
Season 6

Season 5

Season 5 Overview

Air Date: September 26, 2013

S5:E22. The Pontiac

Air Date: April 17, 2014

S5:E21. I'm Still Here

Air Date: April 10, 2014

S5:E20. Cold Feet

Air Date: April 3, 2014

S5:E19. Fraud Alert

Air Date: March 27, 2014

S5:E18. The Offer

Air Date: March 20, 2014

S5:E17. Limbo

Air Date: March 13, 2014

S5:E16. The Enchanting Mr. Knight

Air Date: March 6, 2014

S5:E15. Just Like at Home

Air Date: February 27, 2014

S5:E14. You've Got Mold

Air Date: January 23, 2014

S5:E13. Jump Ball

Air Date: January 16, 2014

S5:E12. Stay A Little Longer

Air Date: January 9, 2014

S5:E11. Promises

Air Date: January 2, 2014

S5:E10. All That's Left is the Hugging

Air Date: December 12, 2013

S5:E9. Election Day

Air Date: November 21, 2013

S5:E8. The Ring

Air Date: November 14, 2013

S5:E7. Speaking of Baggage

Air Date: November 7, 2013

S5:E6. The M Word

Air Date: October 31, 2013

S5:E5. Let's Be Mad Together

Air Date: October 24, 2013

S5:E4. In Dreams Begin Responsibilities

Air Date: October 17, 2013

S5:E3. Nipple Confusion

Air Date: October 10, 2013

S5:E2. All Aboard Who's Coming Aboard

Air Date: October 3, 2013

S5:E1. It Has To Be Now

Air Date: September 26, 2013

Season 4

Season 3

Season 2

Season 1