Network:

NBC

Series Premiere Date:

Apr 9, 2009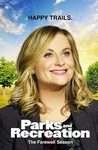 Starring:

Rashida Jones

,

Rob Lowe

,

Adam Scott

Summary:

The comedic minds that brought you The Office and Saturday Night Live have now conspired to create Parks and Recreation. Amy Poehler plays Leslie Knope, a mid-level government employee who is trying to convert an abandoned construction pit into a usable community park while a documentary

The comedic minds that brought you The Office and Saturday Night Live have now conspired to create Parks and Recreation. Amy Poehler plays Leslie Knope, a mid-level government employee who is trying to convert an abandoned construction pit into a usable community park while a documentary camera crew follows her every step and misstep.

…

Expand

Genre(s):

Comedy
Please enter your birth date to watch this video:
You are not allowed to view this material at this time.
Parks And Recreation: Entertainment 720
Parks, in a sense, is Li'l Sebastian: shaggy, small-boned, charming and lovably stupid. [31 Jan 2011, p.39]

What makes these episodes feel extra-special is the sense of purpose to them. There's a big story being told here--not one that requires you to watch every episode (though your funny bone will thank you if you do), but one that seems to raise the stakes for everyone involved, and which makes the jokes funnier, the characters richer, in the process.

The cast is phenomenal, the writing inventive and genuinely funny, and you could pick just about any character--Andy or Ann, or Ron or Tom (Aziz Ansari) and almost mistake them for the show lead instead of Poehler. But still not quite in the same league as the show that precedes or the one that follows.

Seriously, one day, NBC will be run like a real network--and bask in the fact that our Pawnee pals have returned, and there are plenty of excellent episodes in store.

It consistently pokes fun at our culture and foibles in ways that are clever and sometimes sharp but never mean.

This season, the writers have taken her even further away from the cliche of the incompetent boss--currently being flogged to death by The Office. Leslie is now both realer and more amusing, the humor of her character stemming from the fact that she's good in a profession that no one, including her boss and her subordinates, seems to care too much about.

Poehler has great skill at delivering outrageous lines in a droll deadpan. That sets the tone for a cast, including Lowe and Scott, with similar abilities. Too many of the sketches, though, cross that fine but visible line between bemused absurdity and slapstick.
The most loveable show I've ever watched. Perfect in just about every way.

Rating - 98%

Ron Swanson is the greatest character on TV. This show is just flat out GREAT! Amy does a great job. I hope this replaces the office Time for

Ron Swanson is the greatest character on TV. This show is just flat out GREAT! Amy does a great job. I hope this replaces the office Time for a MEAT TORNADO

…

Expand

As a fan of the series from its beginning, I have seen Parks and Rec go from decent to fantastic. Season 3 continues this shows legacy as the

As a fan of the series from its beginning, I have seen Parks and Rec go from decent to fantastic. Season 3 continues this shows legacy as the funniest, smartest, and sweetest sitcom currently on TV. No other show on television has as many laughs per episode as Parks and Rec. No show has characters as interesting and lovable. No other show creates a town as real and like able as Pawnee. Step aside, Springfield, Pawnee is now TV's most beloved town. Parks and Recreation Season 3 is easily the best show on TV. If you haven't yet seen it, you are missing out on a lot of laughs.

…

Expand

The most clever and funny show currently on television. There is no excuse for not watching this show.The cast blends together so perfectly.

The most clever and funny show currently on television. There is no excuse for not watching this show.The cast blends together so perfectly. Every person that had something to do with this show, brought their A-game. Pure hilarious fun!

…

Expand

This show is hilarious. Hands down, funniest show on TV. The dry, sarcastic delivery mixed with timely digs at government makes the show

This show is hilarious. Hands down, funniest show on TV. The dry, sarcastic delivery mixed with timely digs at government makes the show pitch perfect.

…

Expand

Consistently hilarious, with lovable characters who never fail to deliver. Who doesn't love the comic mayhem, and the wonderful drama of the

Consistently hilarious, with lovable characters who never fail to deliver. Who doesn't love the comic mayhem, and the wonderful drama of the Leslie-Ben romantic situation? Literally awesome.

…

Expand

This season is not as funny as season two in my opinion. There is a bit more focus on relationships between the character than there is jokes

This season is not as funny as season two in my opinion. There is a bit more focus on relationships between the character than there is jokes and laughs. I really like the addition of Ben as a character. I thought Nick Offerman became funnier and funnier as the season went on and he has become one of my favorite characters. Season 4 here we come!

…

Expand