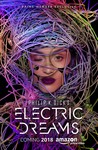 Summary:

The sci-fi anthology series based on Philip K. Dick's short stories features 10 standalone episodes adapted by such writers/producers as Michael Dinner, David Farr, Matthew Graham, Francesca Gregorini, Tony Grisoni, Peter Horton, Jessica Mecklenburg ,Ronald D. Moore, Dee Rees, and Alan

The sci-fi anthology series based on Philip K. Dick's short stories features 10 standalone episodes adapted by such writers/producers as Michael Dinner, David Farr, Matthew Graham, Francesca Gregorini, Tony Grisoni, Peter Horton, Jessica Mecklenburg ,Ronald D. Moore, Dee Rees, and Alan Taylor. Steve Buscemi, Geraldine Chaplin, Bryan Cranston, Mireille Enos, Holiday Grainger, Greg Kinner, Richard Madden, Janelle Monae, Anna Paquin, Timothy Spall, Maura Tierney, and Benedict Wong are some of the cast featured.

…

Expand

Genre(s):

Drama

,

Science Fiction
Season 1 premiere date:

Jan 12, 2018

Episode Length:

60
The series' variety of story, themes, and mood, coupled with an incredible cast and high-quality world-building make Electric Dreams a must-watch for any sci-fi fan worth their salt.

Whereas Netflix's "Black Mirror" deals with near-future technology angst, the Amazon series is more speculative. Each episode differs not only in look but in tone. So in this binge climate, it is nice having something worth binging that you can also take your time with, and "Philip K. Dick's Electric Dreams" is that.

Unless your mind is very fresh to these subjects, it will not be blown, but that is not to say you won't fret over the fate of the characters, or feel their feelings, or hope for the hopeful rather than hopeless outcome. (You will get both sorts of conclusion, in more or less equal portions.)

Like all anthologies, some hours are better than others (but most of these are good), and what Dreams lacks in razzle-dazzle, it makes up for in brains.

It is uneven in the extreme. ... With this series and Netflix's Black Mirror, the sci-fi anthology series is now back as a revitalized genre.

In a series that doesn't meet its potential, "The Commuter" is the best of alternatives.

"The Commuter" benefits from having Timothy Spall as its bedrock; his performance as railway employee Ed Jacobson, a man with a chance to undo some of his life choices, is classic Twilight Zone stuff. ... It's downhill from there.
Loved the series! Philip K. Dick would be proud!! Beautiful storytelling. Commuter was my favorite. But all the episodes have something special.

A Science Fiction reader's dream come true!!

An excellent rendition of PKD's actual body of works. This is a GREAT show for you if you areA Science Fiction reader's dream come true!!

An excellent rendition of PKD's actual body of works. This is a GREAT show for you if you are a fan of Sci Fi, especially high quality Retro-Futurism! Also if you are a fan of PKD's books. Simply put this isn't a show that you compare to say, something like Black Mirror, which is also a great contemporary science fiction, with a lot of ideas that rooted in Science Fiction works of the 20th century, largely including PKD.

All said in done their are a few weak episodes, but this is a Science Fiction reader's DREAM COME TRUE SHOW!! Seeing this could open the flood gates for other adaptations. Ray Bradbury short story collection, please Amazon?

Also MORE PKD!! Let the genius's works live on in new mediums!!

…

Expand

I'd like "A Confused Mess" of beautiful top shelf SciFi, over just about anything else, all the time, more of this please, thank you very

I'd like "A Confused Mess" of beautiful top shelf SciFi, over just about anything else, all the time, more of this please, thank you very much. I hope a season 2 is in the works.

…

Expand

É inegável que a série lembra bastante Black Mirror,mas seus episódios não costumam sempre ser pessimistas. Dos 10 episódios, 6 são

É inegável que a série lembra bastante Black Mirror,mas seus episódios não costumam sempre ser pessimistas. Dos 10 episódios, 6 são interessantes e viciantes.

…

Expand

Admit I have not seen them all yet but this show is what I would call decent mediocrity. Not the most creative television, not even close to

Admit I have not seen them all yet but this show is what I would call decent mediocrity. Not the most creative television, not even close to the cutting edge, but they do wonders with CGI even with a show with a middling budget.
Not sure how many of these stories even stay close to the original Philip K. DIck stories, or if they have combined elements of multiple short stories to make one hybrid teleplay. Of course stories can be updated for tech, or given modern themes, but these episodes seem rewritten in stereotypical television fashion, with the typical Twilight Zone twist. Read "Autofac", and the television episode has been changed to a completely different idea that doesn't really even make sense.
Also, a lot of mild gratuitous sexual situations/ mild nudity are added to spice things up, but they are not very erotic. Seems silly and unnecessary,

…

Expand

This is one of those sci/fi series that takes a lot of work to get into. Armies of "we love the books" and elite Philip K. Dick royal guards

This is one of those sci/fi series that takes a lot of work to get into. Armies of "we love the books" and elite Philip K. Dick royal guards can't help, simply because it's largely emotionless and derivative.

…

Expand

Yes what I should say in addition. Visually really well to us dressed up, but what Dick in a time without technical toys of the today's time

Yes what I should say in addition. Visually really well to us dressed up, but what Dick in a time without technical toys of the today's time thought up, today is of all reality. Some examples are the drones and the terrorists.
2-3 episodes are OK, however, the series must increase.

…

Expand